Kentucky Football: The Stoops Era – Part 3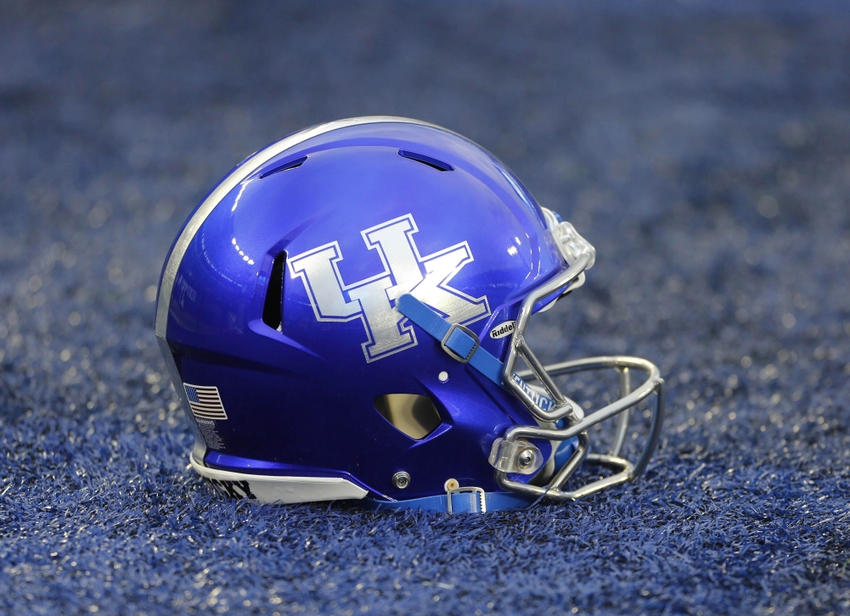 Kentucky Football has made great strides this season under Mark Stoops, all to get the Cats back to where they've already been, if infrequently, .500 in the SEC
(This is Part 1 of a 3-Part look at Kentucky Football's Past, Low Points, and the Mark Stoops Era)
The Stoops Era
Way back in September, the state of Kentucky's football program indeed seemed dire. The second half meltdown in the home opener against Southern Miss, the uninspired, streak-extending shellacking in the Swamp, then even in the win where the Cats couldn't stop New Mexico State—it looked as though Kentucky football fans were destined to hear that familiar refrain. A losing season, continued SEC irrelevance and no chance for a bowl game—the perpetual cycle of being a die-hard Wildcat fan seemingly had no end. But just as the season looked its darkest on the outside, something was happening within the program.
Mark Stoops inherited a program in full disarray. Joker Phillips' tenure ended badly, with a 2-10 season and a fan base that all but abandoned the Cats—the 2012 Vanderbilt game is the very definition of Wildcat misery. But the Stoops hire looked solid, coming off a successful stint as defensive coordinator at Florida State.
However, the cupboard was bare to be sure, and Stoops' first season produced a 2-10 record in 2013, including losses over a Bobby Petrino-led WKU, Louisville, and the predictable defeats to Alabama, Florida, Georgia and Tennessee. But miraculously, despite the first-year ineptitude, the recruits started coming in. Matt Elam reportedly chose Kentucky over Alabama, Drew Barker was a sought after QB and Boom Williams looked as though he could play for anyone. It was a top 25 class, with enough talent and potential to build a program upon.
The early success of the 2014 season was so unexpected, it made the impending doom all the more resounding. The Cats started 5-1 with wins over Tennessee Martin, Ohio, Vandy, South Carolina and Louisiana Monroe. The only loss was a memorable 36-30 overtime gut punch from the Gators. But as bad as that stung, through six games Kentucky had five wins, including two in the SEC East.
And then the wheels absolutely fell off. LSU predictably rolled over the Cats, and Mississippi State won by 14. Missouri won by 10, and then Georgia hung 63 on Kentucky. Finally, Tennessee administered yet another spanking, scoring 50, setting up a showdown with the Cards for bowl eligibility. Louisville won 44-40, and the Cats finished 5-7.
Expectations were high in 2015, and the Cats opened the season 4-1 with a tough 14-9 loss to Florida the only blemish. But Kentucky looked competitive, and combined with wins over Louisiana Lafayette, EKU and Missouri—a conference win no doubt—the Cats' first bowl game since the 2010 season looked well in hand. And then Kentucky inexplicably dropped five straight. Auburn by 3, Dak Prescott and Mississippi State put up 42, the Vols another 52, Georgia handled UK by 24, and then finally the Vandy game happened. The Commodores won by 4, all but assuring Kentucky would be home for the holidays yet again. A win over hapless UNC Charlotte got UK to 5 wins, but then Louisville, for the second consecutive year, emphatically handed the Cats its seventh loss, 38-24 in Lexington, and Kentucky finished 5-7. Like Yogi Berra so famously said, "It's like déjà vu all over again."
So now it's 2016 and Mark Stoops enters the season with his seat a little warm. By halftime of the New Mexico State game, where the Cats gave up 35 first half points to a team out of the Sun Belt Conference, Stoops' seat was on fire. But the Cats stiffened in the second half, holding the Aggies to 7 points, and Kentucky picked up its first win.
Stoops took over the defense, and the Kentucky offense found its identity of smash mouth football. Since then, the Cats have averaged nearly 275 rushing yards per game, a mind-boggling stat that puts Kentucky 17th in the country and 3rd in the SEC in rushing.
"We may not be perfect," Stoops said. "We all know that. There's a lot of things in every game that we could do better. But they're always striding to get better and to work and to have that fight."
More importantly, Kentucky started winning. South Carolina, Vandy, Mississippi State and Missouri all fell. And after that abysmal 0-2 start, the Cats were suddenly 4-2 in the conference with a real shot of winning the SEC East. And then it happened, that Kentucky football kind of thing happened. The Cats dropped a tough game, one in which it had so many chances to win, 27-24 to Georgia. Then defensive breakdowns and mistakes cost dearly in Knoxville, even after rushing for an incredible 443 yards, and the Cats fell 49-36, and the SEC East talk was gone again. More disturbingly, the passion of the fans seemed to be dwindling as well. Only two weeks after CWS rocked during the Georgia game, the familiar whispers of "At least its basketball season" were starting to be heard in Lexington.
"We told the team right after the game – never will we accept losing," Stoops said. "But I'm not going to let people take away from the good things we've done."
And while Kentucky football fans have certainly had their hearts broken many times before, this Kentucky team, despite whatever it lacks, is competitive. Taking stock, Kentucky has four SEC wins and played an inspired first half against Alabama. Georgia was firmly within Kentucky's grasp, and even after that tough loss the Cats gave a talented Tennessee team all it wanted. Kentucky has no doubt been close to SEC teams before, in any given game, in any given season. But it hasn't felt quite like this in some time. Kentucky hasn't been able to line up and play muscle-on-muscle consistently since the Claiborne era. And in this conference, that still means something.
So here we are, despite the road traveled, despite what was potentially within our reach in this year of the weak SEC East, the Cats finding themselves sitting at .500 for the season, 5-5 overall, including a 4-4 conference record, our best since 2006.
"I know it was very tough as we were building to this point, to go on the field where we were physically, it was not a good look," Stoops said. "That's difficult to go coach in that position. I know we've closed that gap big time. We're going to continue to work on it."
And while some Kentucky football fans are frustrated at what could have been, it's important now to realize just how far we've come. With a win over Austin Peay, Kentucky is a second half meltdown against Southern Miss from equaling the high-water mark of the program since the Claiborne era!
That's right, since that memorable 1984 9-3 season, which included a Hall of Fame Bowl win over Wisconsin and victories over No. 19 Miss St and Tennessee in Knoxville, Kentucky has managed only six seasons of seven wins or more. Four of those seasons came during the Rich Brooks era, which is comparable to what Stoops and his staff are facing in terms of competition and non-conference scheduling.
Want your voice heard? Join the Wildcat Blue Nation team!
It's been a tough road thus far for Mark Stoops and his staff. Who out there didn't know it would be? But the program is in as good of shape as it has been in sometime, one win away from bowl eligibility, and maybe, just maybe, standing on the precipice of SEC relevance again.
And that would be truly remarkable.
More from Wildcat Blue Nation
This article originally appeared on