Kentucky Football: Tavin Richardson Turning Heads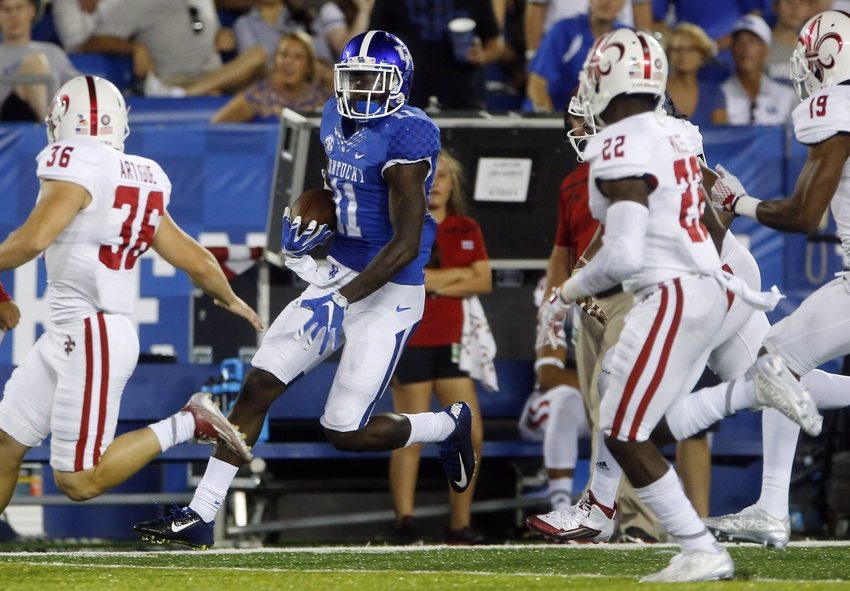 Sophomore wide receiver Tavin Richardson could be the breakout player for the Kentucky football program in 2016. He's already turning heads.
---
The Kentucky football program is coming off of one of the worst offensive seasons in school history. Erratic quarterback play plagued Kentucky throughout the season, thus resulting in it ranking No. 96 in the country in points per game.
Though it's all on paper at the moment, the Wildcats project to be far more explosive offensively in 2016.
Sophomore quarterback Drew Barker is flashing significant potential under center. Kentucky legend Tim Couch recently praised Barker by saying that he sees, "Big things," in his future.
According to Jen Smith of Kentucky.com, offensive coordinator Eddie Gran is loving what he's seeing from ambitious sophomore Tavin Richardson.
"It's awesome. It's the great thing that we have right now, right? Right now, Tavin's the guy. You just got to move forward. You can't worry about it. You've had some competition and those guys get the opportunity. He's made the most of it. He's gone out here and competed and so I'm proud for him. I really am."
The Wildcats are gaining more weapons at wide receiver by the day.
The list of talented targets includes Jeff Badet, Dorian Baker, Garrett Johnson, Richardson, and Ryan Timmons. Beyond that group of five quality wide receivers is C.J. Conrad, who has elite upside at tight end.
If nothing else, Barker has options.
ESPN rated Richardson as a three-star recruit coming out of high school. He received scholarship offers from the likes of the Arkansas Razorbacks, Florida Gators, Louisville Cardinals, Nebraska Cornhuskers, and Ole Miss Rebels.
Standing at 6'3″ and 218 pounds, Richardson fits the bill of the big and athletic wide receivers that Gran loves to have on the field.
Richardson's primary appeal is found in his dynamic nature as a return man. He's turning heads at wide receiver, however, which bodes well for Barker and the Wildcats.
Gran and Darin Hinshaw have already made tremendous strides towards turning Kentucky's offense around in Year 1.
More from Wildcat Blue Nation
This article originally appeared on