Kentucky Football: Seniors Achieve 1st Bowl, Program Goals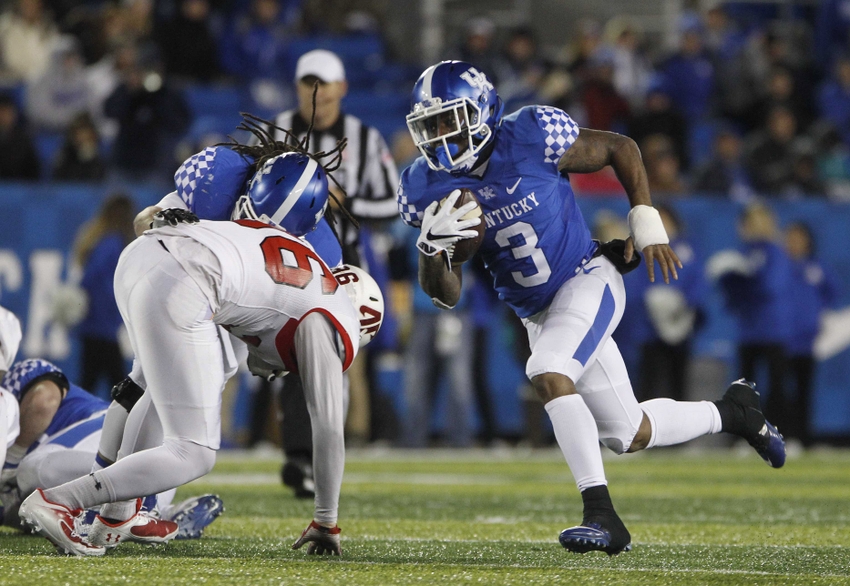 Kentucky Football Sends Seniors Out with Bowl Eligibility, Achieves Major Goal in Turning Around Program in Stoops' 4th Year
Kentucky's football program cleared a major hurdle in the win over Austin Peay, getting its sixth win and securing bowl eligibility in the final game in Commonwealth Stadium for a gritty group of Wildcat seniors.
"It's a happy locker room," coach Mark Stoops said following the game. "I told the team that we talk about toughness and an attitude, every day, and being resilient, and this team has showed that. It wouldn't have happened without the great leadership of our seniors, and I'm very happy for them. They have been through some ups and some downs. And they knew very clearly when I got here that what we were up against and what we were trying to do, there was going to be some tough times. And they stayed the course. They never flinched. And it's not always easy, but that's been a fun group to coach, and we're going to continue to push forward."
For Kentucky, the win marks several milestones for a program desperately seeking to attain relevance again in the always competitive SEC. As such, the sixth win will send Kentucky to its first bowl game since the 2010 season. The Wildcats are now 6-5 on the season, including a 4-4 record in the conference, its best SEC slate since 2006. After an 0-2 start this season, the accomplishment is both a relief and remarkable.
"It's hard to control the emotions right now," Stoops said. "It is because I'm very thankful and appreciative of this team, the administration, our fans, the people that sat out there tonight – and it was cold, nasty day – and stuck with us through the good times and the bad. And I greatly appreciate everybody. I said it day one and I continue to say it, that it's going to take all of us to take this program to new heights. So, it is. It's hard, for me right now, to be totally honest with you, because I'm very proud that have group."
For Kentucky's 14 players honored on this Senior Day, tonight's comeback victory-the Cats trailed Austin Peay 13-0 early-exempafies not only the season as a whole, but the career each of them perceived through to reach the goal of sending the program to new heights.
"I feel joy in knowing that I was able to affect so many people in this community and state," said senior running back Jojo Kemp, who had two scores in his final game in CWS. "I said I wanted to come here and change the culture and outlook of Kentucky football, so just knowing that we took a step forward is just an awesome feeling. I just want to keep going, and when I leave I just want to keep getting better and better. I will always bleed blue."
If Stoops and his staff can maintain the momentum created this season and build upon the accomplishments, Kentucky indeed has a chance to become more competitive, relevant in the SEC East, and possibly more. And if any or all of that were to come true, the impact of this group of Wildcats, on the last four years and the legacy passed onto the players going forward, should not be forgotten. Kentucky simply couldn't be where it is, or where it potentially headed, without them.
"These seniors really deserved it," said cornerback Chris Westry. "They put so much hard work and dedication into this season. What the fans don't see on a Saturday isn't the summer workouts and practices we do. These guys have been here for four plus years. This is a good experience for them to go out with something they didn't have. It just feels good."
More from Wildcat Blue Nation
This article originally appeared on