Kentucky Football's Johnson Leads Cats to Upset of Cards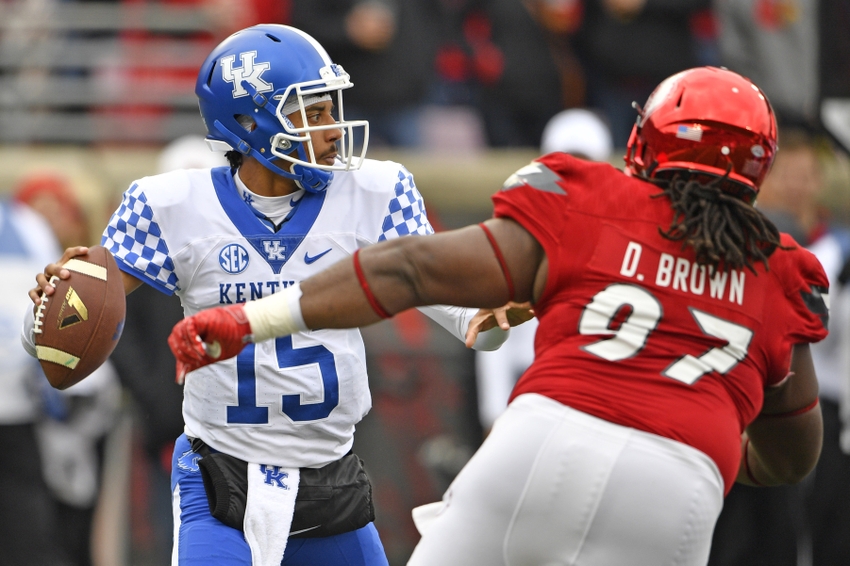 Kentucky Football's Stephen Johnson, a one-time backup, junior college transfer quarterback, leads Cats to upset of rival Louisville
What do you do when you're a running team, and you're taking on one of the statistically best rushing defenses in the country? The same team that has kept you from becoming bowl eligible in two straight seasons; it's your archival, and they've owned the series in recent years. Do you lean on a junior college transfer, backup quarterback who is banged up? If you're Kentucky, that's exactly what you do.
Kentucky quarterback Stephen Johnson threw for 338 yards on 16 of 27, including 3 touchdowns, leading the Wildcats to an upset win over rival Louisville in Papa Johns Cardinal Stadium. The win ends a streak of five consecutive losses against the Cardinals, with Kentucky now leading the all-time series 15-14.
Johnson led the way, rushing for 83 yards on 8 carries, accounting for 421 of Kentucky's whopping 581 yards of total offensive against what was a heralded defense in Louisville. Kentucky also rushed for 229 yards against the Cards, who entered the game ranked sixth in FBS in rushing defense at just 99.2 yards per game.
Johnson was stellar throughout the game, matching the prolific Lamar Jackson blow-for-blow, score-for-score, keeping the Cats close. Then with the game tied at 38, and with Louisville driving deep into Kentucky territory, Jackson coughed up the ball, recovered by Kentucky linebacker Courtney Love on the Wildcats 10-yardline with 1:45 remaining in the game.
On the ensuing possession, with Kentucky driving, after a critical third down conversion, Johnson hit Jeff Badet on a 29-yard pass to get the Cats near midfield. The following play, Johnson kept the ball, running left for 15 yards, pushing into Louisville territory. Three more plays pushed the ball down to the Louisville 29, 18 second to play, and Kentucky kicker Austin MacGinnis trotted out for another chance at a game winner.
Want your voice heard? Join the Wildcat Blue Nation team!
And just like against Mississippi State, MacGinnis was true, this time from 47 yards, giving Kentucky a 41-38 upset win in a thriller for the Governor's Cup.
More from Wildcat Blue Nation
This article originally appeared on