Kentucky Football: Jojo Kemp Emerging As Team Leader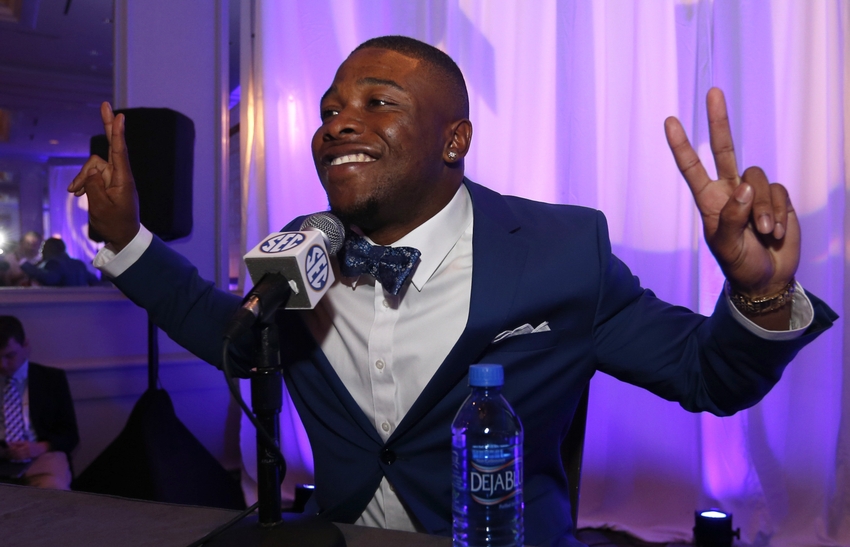 Senior running back Jojo Kemp is becoming a true leader for the Kentucky football program. Offensive coordinator Eddie Gran spoke at length about his emergence.
---
The Kentucky Wildcats are a young and promising team. Mark Stoops' recruits are becoming the heart and soul of the team, which has Kentucky football on an upwards trajectory for the first time in more than five years.
Though the fresh faces are stealing the headlines, it's a senior who's stepping up as the leader on offense.
Jojo Kemp has been one of the most vocal members of the Wildcats during the 2016 scrimmages. He most notably stated that defeating the Florida Gators for the first time since 1986 was a top priority.
Asked if he's seen Kemp emerge as a leader, offensive coordinator Eddie Gran confirmed that he has. Per Jen Smith of Kentucky.com:
"I have. Yeah, absolutely. He's really trying. He probably has been the most consistent back throughout this camp. He's doing everything that we're asking him to do, and he's understanding when to turn it on and turn it off, and that's what I asked him to do and he did it."
Kemp is the senior leader on the offensive side of the ball.
Kemp has been with the Kentucky football program since 2013. He debuted the same year as coach Stoops, which has inevitably created a bond between the two.
Truth be told, everyone who encounters Kemp in Lexington seems to have glowing remarks about him.
On the field, Kemp recorded 555 rushing yards and six touchdowns on 98 carries in 2015. That includes an explosive outing against the Charlotte 49ers during which he ran for 165 yards and three touchdowns on 11 carries.
Coach Gran weighed in on what makes Kemp so special as a runner.
"He's a little deceiving. Sometimes you look at Jojo and it looks like he's a little hurt. It looks like he's an old man. But he does have some burst to him. I like his toughness. I like that he's gonna – if you're an offensive lineman and you gotta guy that's gonna go and he's gonna get those extra yards for you, that's what you're looking for. He's a perfectionist. He really wants to do everything right. So you have a chance. You know you're gonna get everything from him."
That's a major reason why he's a fan favorite.
Kemp has a tremendous combination of strength and speed. He'll grind out plays to gain extra yardage, find openings when none exist, and run through safeties who don't have their weight under them.
Between Kemp and Stanley Boom Williams, the Wildcats should continue to pound the rock with efficiency.
With Kemp as a leader on offense, the Kentucky football program has a genuine opportunity for a rapid turnaround.
More from Wildcat Blue Nation
This article originally appeared on