Kentucky Football Headed to TaxSlayer Bowl, Face Ga Tech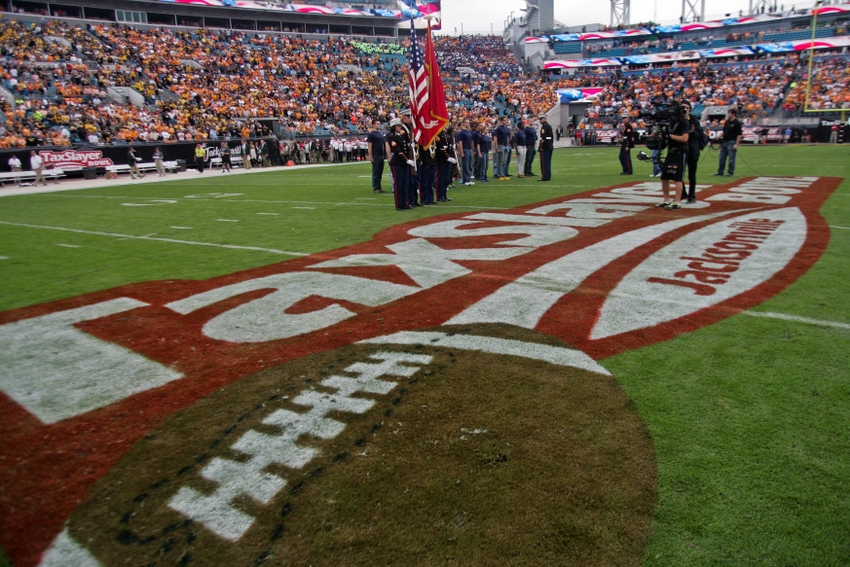 Kentucky Football's Program-Turning Season Continues with the Cats accepting a TaxSlayer Bowl invitation to take on Georgia Tech Jan. 31
Kentucky's Football programs accepted an invitation to play Georgia Tech in the TaxSlayer Bowl in Jacksonville Jan. 31. In a season where so many benchmarks were met, after what was thought to be a disastrous 0-2 start, including an inexplicable meltdown against Southern Miss, the Cats rebounded to finish 7-3 in their last 10, 7-5 overall, to go bowling for the first time since 2010.
Despite being played on Dec. 31, the TaxSlayer Bowl, formerly the Gator Bowl, is traditionally a New Year's Day bowl, significant for the quality of bowl and the teams playing in it. This year's schedule was moved to accommodate NFL games on Sunday, meaning Kentucky has achieved a major accomplishment, not only in becoming bowl eligible, but the quality of the bowl itself.
Georgia Tech enters the game finishing the season 8-4, 4-4 in the ACC, including wins over two UK common opponents. The Yellow Jackets smacked Vandy, 38-7, and won a thriller over Georgia in Athens to close the season, 28-27.
More from Wildcat Blue Nation
The talk going forward will center around Georgia Tech head coach Paul Johnson's vaunted triple-option rushing attack. The offense of yesteryear, which very few teams run nowadays, makes it tough for opposing defenses to prepare. Kentucky head coach Mark Stoops and defensive coordinator DJ Eliot did, however, face the Ramblin' Wreck during their final year at Florida State in the ACC Championship in 2012. The Seminoles won, and Stoops, who was preparing to take over the UK program, credited Elliot with putting in an excellent game plan, according to a report from Herald-Leader's Jennifer Smith.
Each team will receive $2.75 million for appearing in the TaxSlayer Bowl, a top-10 level payout, a huge boost to the UK football program. Kickoff is scheduled for Saturday, Dec. 31, 11 AM, EST, in Jacksonville's EverBank Field; ESPN will broadcast the game.
Tickets are available through the UK Athletics Office.
This article originally appeared on