Kentucky Football First Half Notes Versus Louisville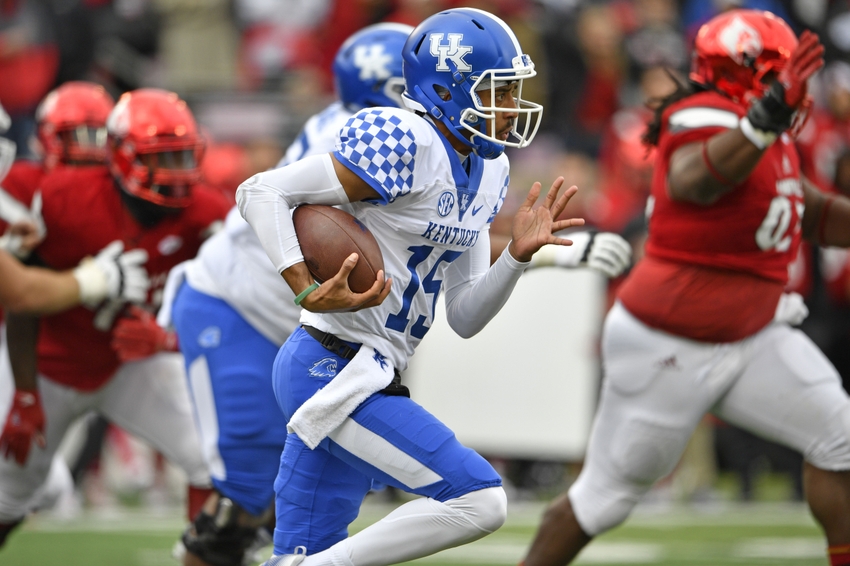 Kentucky Football Fist Half Notes Versus Louisville – QB Stephen Johnson, Timely Defense, Keeping Cats in the Hunt
Kentucky quarterback Stephen Johnson is 5 of 10 for 183 yards and 2 touchdowns, along with 1 interception, to lead the Cats through one half of play against the Cards in Louisville. However, the stats only hint at the story.
Kentucky receivers have a couple of key drops, and the interception went off Kentucky hands, as Johnson has thrown well most of the day. The two strikes to Garrett Johnson were absolutely gorgeous, the longer of the two going for 75 yards.
On the ground, Johnson has been key as well, with 3 carries for 36 yards, providing the dual-threat that has enabled Kentucky to move the chains in key scoring drives. Boom Williams lead the Cats with 7 carries for 50 yards, as Mark Stoops' pledge of going to Boom a lot today is holding true thus far. Benny Snell has just 3 carries for 6 yards on the day.
At this point, it's pretty clear Kentucky believes it has a better chance staying in the gun, the pistol, and opening up the offense behind Johnson. And these set favor Boom's skill set a bit more than Snell, which has lead to the favor for Boom getting more touches.
Want your voice heard? Join the Wildcat Blue Nation team!
And as long as Kentucky keeps hitting the deep ball, that should keep Louisville's defense honest, which means more room for Williams and other Kentucky rushers to run the ball. But as it stands, the most important Cat on the field is Stephen Johnson. If he can keep making good reads and throws, and if the receiver corps will help him out, he might just keep the Cats in the game with a chance to win.
More from Wildcat Blue Nation
This article originally appeared on