Kentucky Football: Eddie Gran Helping Drew Barker Find Consistency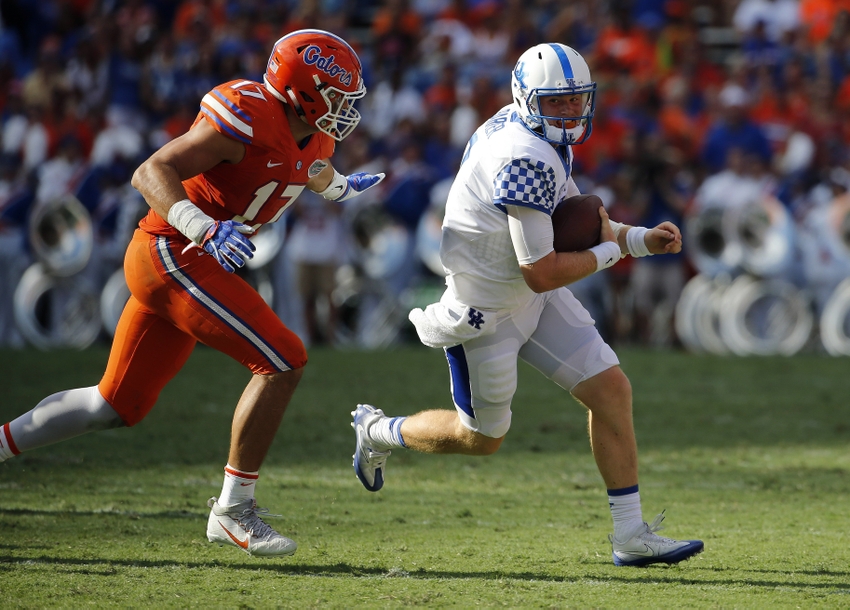 Kentucky football needs sophomore quarterback Drew Barker to right the ship. Offensive coordinator Eddie Gran will do everything he can to help him do so.
---
The Kentucky football program is in dire need of a victory. With an 0-2 record and no signs of improvement, every ounce of faith in Lexington has been stomped on and disregarded.
Arguably the most important factor for the Kentucky Wildcats' pursuit of a turnaround will be the play of sophomore quarterback Drew Barker.
Barker finished the season opener with 323 passing yards and four touchdowns against the Southern Miss Golden Eagles. Since the first half of that 44-35 loss, however, Barker has been a virtual non-factor.
According to Jen Smith of Kentucky.com, offensive coordinator Eddie Gran knows how important it is to help a young quarterback like Barker find his rhythm.
"Consistent is the key to this game. I talked about that, I think, all training camp. We can't be up and down and we got to be able to sustain drives. We gotta be better on third down. That's the bottom line. We've gotta find better throws for him, we got to get open, we got to protect, and again, it goes back to the execution of the offense and me putting him in a better situation."
Kentucky needs Barker to improve.
In the six quarters since Barker's fourth touchdown pass, he's thrown for less than 50 passing yards. He's also thrown four interceptions and no touchdowns.
That includes a dreadful performance against the Florida Gators, during which he was 2-of-10 for 10 passing yards and three interceptions.
During the first half of Kentucky's clash with Southern Miss, Barker did his damage by trusting his receivers. He found playmakers on short routes early and rarely tested the limits of his accuracy.
Gran will need to help Barker do the same against New Mexico State.
This game against the Aggies is certainly winnable, but Barker and the Wildcats need to play a full four quarters.
More from Wildcat Blue Nation
This article originally appeared on