Kentucky Football: Boom Williams Receiving Increased Workload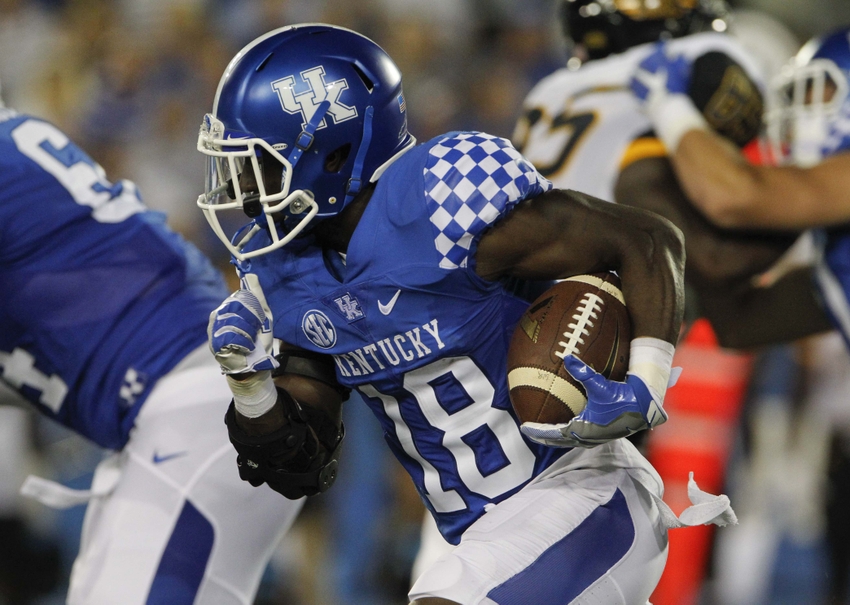 Stanley Boom Williams may be the best offensive player on the Kentucky football team. His workload is finally beginning to reflect it.
---
Over the course of the previous two seasons, Kentucky football realized it could rely upon a healthy Stanley Boom Williams. Unfortunately, remaining healthy has been an issue for Williams since 2015.
With improving durability and stamina, Williams is inching closer to the workhorse workload that he's talented enough to carry.
Williams is one of the most productive running backs in Kentucky history. He set a school record by averaging 7.1 yards per carry in 2015 and is up to 7.9 yards per carry in 2016.
According to Jen Smith of Kentucky.com, head coach Mark Stoops sees improvement in Williams' durability and endurance.
"He has. You can see with his endurance. He didn't wanna come out, he wanted to keep on running, keep running the ball and that's what you wanna see. Yes, I think his capacity's gone up. I think also it's nice to see him face some adversity. He puts the ball on the ground, he's hard on himself. He bounced right back, we took him out a play, and I think we put him right back in."
Stoops went on to say that Williams suffered a minor injury during the game against New Mexico State, but fought through the pain.
The more touches Williams receives, the better the offense will be. He's the most consistent playmaker on the roster as a physically overwhelming force who can turn speed into power without a moment's notice.
The Southern Mississippi Golden Eagles, Florida Gators, and New Mexico State Aggies have all found that out the hard way.
Total Rushing Yards: #SEC
1. Ralph Webb 377
2. Nick Chubb 365
3. R. Williams III 354
4. Stanley Boom Williams 341
5. Damien Harris 327

— SEC Country (@SECcountry) September 19, 2016
Williams ran the ball just 13 times against Southern Miss, but still managed to accumulate 94 rushing yards and 110 total yards from scrimmage. He carried the ball just 12 times against Florida, but picked up 66 yards and had a seven-yard reception.
Against New Mexico State, Williams finally received the workload he deserves.
Williams received 18 carries and picked up 181 yards and a touchdown against New Mexico State. He was nothing short of dominant during a game that Kentucky needed all the offense it could get.
Williams is one of the best running backs in the country.
Kentucky is beginning to give him the touches to honor that status.
More from Wildcat Blue Nation
This article originally appeared on