Kentucky Defense Forces 4 Turnovers in Upset of Louisville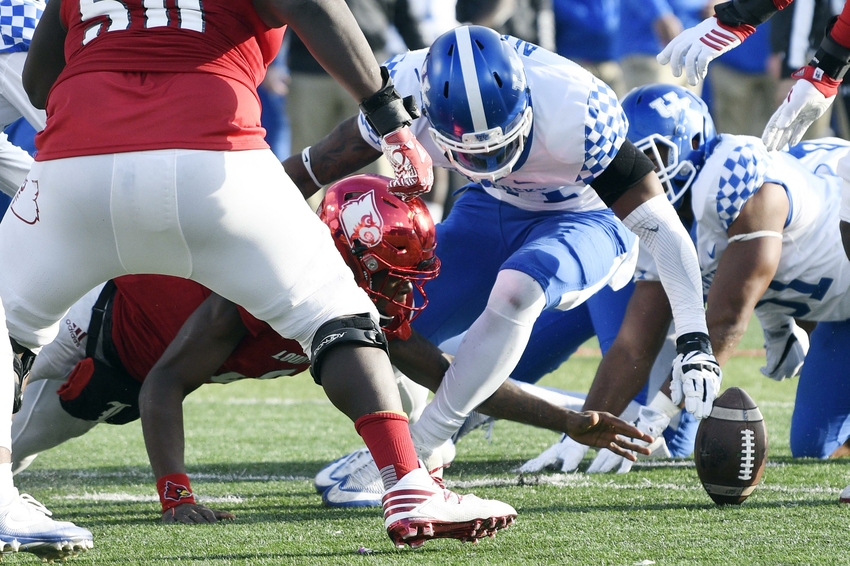 Kentucky Football – Defense Bent, Didn't Break, Forced 4 Turnovers to Help Ignite 41-38 Upset Victory Over Rival No. 11 ranked Louisville
Kentucky's defense bent often today, but in the end, it didn't break, forcing Heisman Trophy candidate Lamar Jackson into 4 turnovers, 3 interceptions and 1 fumble, in a 41-38 upset of 11th ranked Louisville Cardinals in Papa Johns Cardinal Stadium.
Jackson threw for 281 yards and two touchdowns on the day, and was especially lethal running the ball at times. Getting yardages in big bunches, Jackson rushed for 207 yards on 25 carries. He also accounted for four scores, two passing and two rushing.
But Kentucky quarterback Stephen Johnson passed for 338 yards of his own, including three touchdowns, keeping the Cats in the game. And when the Cats needed it most, the defense came up big with timely turnovers.
Sophomore safety Mike Edwards twice intercepted Jackson; once in the third quarter, setting up Dorian Baker's 35-yard touchdown reception, and again on the game's final play, to help ensure the Cats' upset victory. Senior safety Blake McClain also picked off Jackson, a key drive-stopper in the fourth quarter.
But no turnover was bigger than the forced fumble inside two minutes to play, with the Cards driving deep into Kentucky territory for a potential go-ahead score. Carrying up the middle, Jackson coughed up the ball in traffic, and UK linebacker Courtney Love pounced on it, setting up the Cats' final drive.
"It's a big win," linebacker Courtney Love said. "This is the state of Kentucky and it's two teams battling. A nationally ranked opponent and they're our rival, so it was just huge for us to get this win and go into this bowl season with momentum. It changes this program, I think, and I love Kentucky and I love everything about it."
On the ensuing possession, the Cats took over on their 10-yard line and quickly marched the ball down the field behind runs and throws from Johnson. Finally, with only 12 seconds to play, kicker Austin MacGinnis took the field for a 47-yarder, setup by another Kentucky defense forced turnover.
Want your voice heard? Join the Wildcat Blue Nation team!
"As soon as we got the fumble, I was like, I'm going to have to kick it," MacGinnis said. "You gotta put that in your mind. You can't expect them to get a touchdown and not be ready to kick. As soon as we got that fumble, I knew that my team was going to give me a chance."
More from Wildcat Blue Nation
This article originally appeared on