Kansas vs. Rhode Island: Three things to watch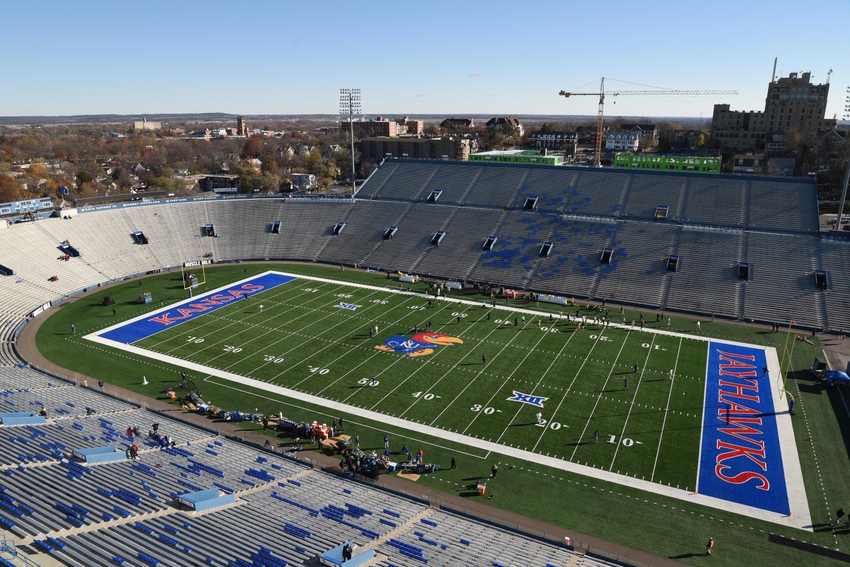 It was a long offseason for Kansas Football after an 0-12 record last season. But Kansas will have a great opportunity to its first win and gain some confidence under head coach David Beaty when it takes on FCS opponent Rhode Island on Sept. 3rd at 6 PM. Here are three things to watch for Saturday night.
Who plays quarterback?
Beaty has made it very clear that the quarterback position, like every other, is open to competition and the best player in practice will start and get most of the snaps. Redshirt junior Montell Cozart and sophomore Ryan Willis are competing for the job and at this point it looks like that will last until game day.
Cozart started three games last season before suffering an injury against Iowa State. Cozart was relatively effective against South Dakota State and Rutgers, with nearly 600 total yards in the two games. His efficiency stats were very good as well, with a QBR of 61 against SDSU and over 70 against Rutgers. However, SDSU is a FCS opponent, while the Rutgers defense ranked 122nd in the country and gave up seven yards per play. Cozart has not shown the ability to make sound decisions and make plays against higher quality competition.
Ryan Willis started last season as the third quarterback, behind Cozart and returning junior Deondre Ford. Injuries forced Willis into action against Iowa State, probably before he was ready to play against Big 12 competition. All things considered, Willis performed admirably and showed leadership, toughness, and arm talent. Willis's shining moment came against Texas Tech, throwing for 330 yards and two touchdowns.
On the downside, Willis finished the year poorly, throwing for six touchdowns and eight interceptions thereafter. He also suffered injuries to both groins, greatly hindering his ability to throw and elude pressure.
However, it seems like a strong possibility that Beaty will play both quarterbacks on Saturday. Whether or not that will extend past the first game remains to be seen, but it seems like there is a decent chance both guys get a chance to win the job on the field.
Ryan Willis on QB battle with Cozart heading into Saturday: "I assume both of us will play, but you've got to prepare for whatever."

— Jesse Newell (@jessenewell) August 30, 2016
How will the offense change with Coach Beaty calling plays?
Under first year coordinator Rob Likens, KU's offense was dreadful last season. They finished 123rd in total offense at only 331.5 yards per game and 124th in yards per play with a measly 4.4. In the most important offensive category — points per game — the Jayhawks ranked 123rd, scoring an anemic 15.3 points per game.
With Beaty now calling plays, what will change? The most visible change for fans will be tempo. KU only ran 75 plays per game last season, which ranked 37th in the country. Beaty will want to aim much higher, probably around 80 per game. That is definitely a reasonable expectation, given that most of the players in the two-deep, especially the quarterbacks, have a year in the system.
Beaty and whomever starts at quarterback will also have new weapons at their disposal, including much-hyped and lightning quick Texas A&M transfer LaQuvionte Gonzalez, who is eligible after sitting out last season due to NCAA transfer rules. Rhode Island's defense will be a great opener for Beaty's new strategy, as they gave up over 400 yards and 29 points per game last season in FCS competition.
Defensive Coordinator Bowen returns seven starters on defense. How will the unit come together in year two?
Year two in Bowen's 4-2-5 defensive scheme should be much better than year one. Seven starters return, including second team All-Big 12 safety Fish Smithson. More importantly, KU returns 83% of its tackling production, 69% of its tackles for loss, 84% of its sack production, and all but one interception from a year ago. Additionally, there is more depth than a year ago, especially in the secondary.
Freshmen Kyle Mayberry and Mike Lee have looked very good in camp and will be solid contributors. Sophomore Tyrone Miller, playing out of position a year ago, will move back to his natural position of free safety. The defensive line returns all but two contributors, and have been replaced by junior college transfers DeeIsaac Davis and Isi Holani.
Depth will be especially key in the Big 12, where seven out of ten teams averaged over 30 points per game, and eight teams averaged 75 or more plays per game. I expect the depth to show out well against a poor Rhode Island offense, who only scored 13 points per game last season, and was held to 10 or fewer points five times.
Bottom Line
As poor as both teams were last season, KU should defeat Rhode Island soundly and probably by at least three touchdowns. Willis or Cozart plus the rest of the revamped offense should shred the undermanned Rhode Island defense, while Bowen's defense should dominate. I predict a final score of 38-13.
More from Through the Phog
This article originally appeared on