Kansas State Bowl Battle: Bring On Another Texas Team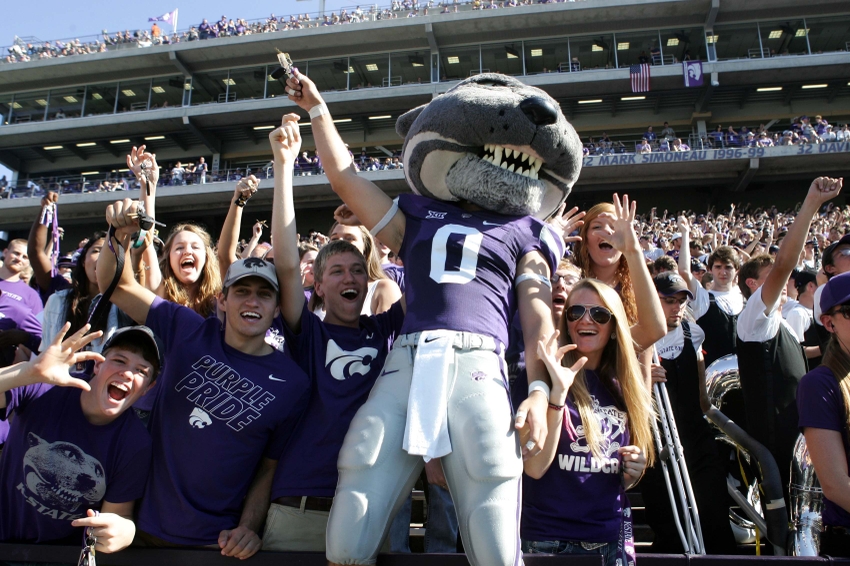 Kansas State has four wins this season over teams from the state of Texas and will now face a fifth team from the Lone Star State.
On Sunday, the Wildcats accepted a bid to play Texas A&M in the AdvoCare V100 Texas Bowl.
The game in Houston is scheduled for December 28, 8 p.m. Central time on ESPN.
The Aggies started the season with 6 straight wins but struggled down the stretch loosing 3 of their last 4 games including setbacks to O'l Miss, Mississippi State and LSU.
The Wildcats defeated Texas Tech, Texas, Baylor and TCU this fall and are riding a 5-1 record over the final half of the 2016 season, including three straight wins to secure its fifth eight-win season since 2010.
K-State Nation is heading to Houston for the first time since 2006
This bowl game, dates back to 2006 when K-State played in the inaugural bowl matchup.
Houston Bound! 🚀😼🏈 #KStateFB pic.twitter.com/BVv17vsYIN

— K-State Football (@KStateFB) December 4, 2016
"Congratulations to Coach Snyder, his staff and our student-athletes for being selected to the AdvoCare V100 Texas Bowl," said President Richard Myers in a media release.
"We are very excited to be headed to Texas and representing the Big 12 Conference. This provides a fitting end to a successful season, and we look forward to our fans continuing a great K-State tradition by turning Houston purple."
K-State heads into bowl season as one of the hottest teams in college football, winning five of its last six games, including the final three. The Wildcats' road to the AdvoCare V100 Texas Bowl began with a tough road loss at No. 8 Stanford and followed with five wins over the next seven games, including Big 12 wins over Texas Tech, Texas and Iowa State. Following a tough fourth-quarter loss to Oklahoma State, K-State won at Baylor for the first time since 2002 and also kept the Governor's Cup trophy in Manhattan for the eighth straight season under Snyder with a 34-19 win over in-state rival Kansas. The Wildcats wrapped up their regular season with a dominating 30-6 victory at TCU.
In addition to a Big 12-leading 29 selections to the Academic All-Big 12 team and the No. 1 football Academic Progress Rate (APR) in the Big 12, excitement in Wildcat football was also evidenced by six sellout crowds at Bill Snyder Family Stadium this season, which ran K-State's consecutive sellout streak to 33 games.
"We are proud of the young men in our program for the way they improved throughout the season and very pleased to represent Kansas State University and the Big 12 Conference in the AdvoCare V100 Texas Bowl," said head coach Bill Snyder. "The Texas Bowl is a first-class bowl organization with a rich history, and we appreciate the entire bowl staff for their efforts and support of our program.
"We have a wonderful fan base, and so many people that save up their nickels and dimes throughout the course of the year, and the only vacation they take is the one after our (regular) season is over. They love to attend bowls and it's why we have such great attendance year in and year out at bowl games. They are fully invested in our program and this means a great deal to them."
K-State's seating allotment for the AdvoCare V100 Texas Bowl includes a total of 10,500 tickets, and after accommodating pre-orders, student tickets and team needs, approximately 6,500 tickets remain for the general public. All fans who placed a pre-order will receive the number of tickets that were requested. The K-State Athletics Ticket Office will work over the next week to assign specific seats based on the athletic department priority points and mail pre-ordered tickets. Detailed information regarding bowl ticket order fulfillment has been emailed to fans who placed a pre-order.
Public tickets for K-State fans who did not place a pre-order are available now at the K-State Online Ticket Office and through the K-State Athletics Ticket Office in Bramlage Coliseum or via phone at 1-800-221-CATS between 3 p.m. and 5 p.m., on Sunday and beginning again at 8:30 a.m., on Monday. Fans are strongly encouraged to order through K-State's official allotment to ensure that all Wildcat fans are seated in the official K-State sections of the stadium. The location for K-State's ticket allotment at the Texas Bowl is among the best of any bowl game with prime sideline seating locations available for $85.
Student tickets, priced at $85, will go on sale at 8:30 a.m., Wednesday to ICAT members, while all remaining students can purchase tickets beginning Thursday at 8:30 a.m.
This article originally appeared on