Kansas Football: KU Ends Losing Streak with 55-6 Blowout of Rhode Island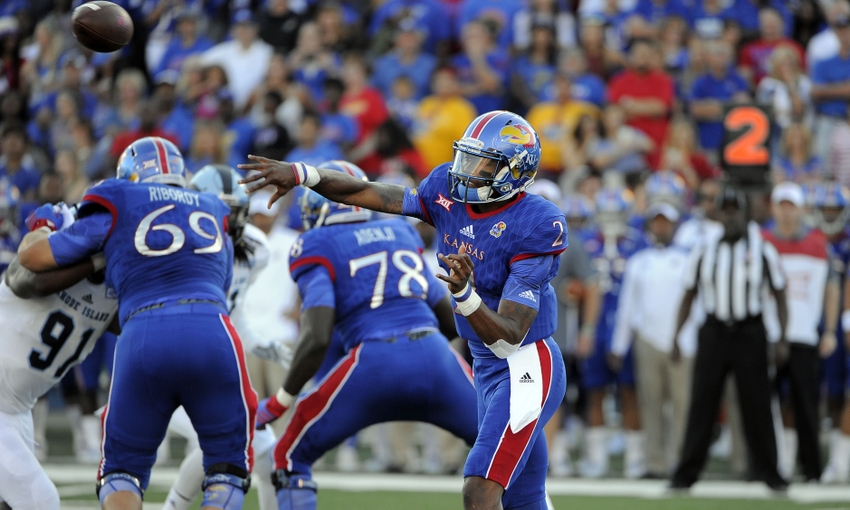 After a 665 day winless drought, KU finally broke through with a win on Saturday night with a 55-6 blowout of Rhode Island. The result was never in doubt, though there are several takeaways for KU fans, including answers to some questions, and some new questions to ponder entering next week.
This win, head coach David Beaty's first at KU, is a huge one for the program. Beaty admitted as much in his postgame press conference as he fought back tears.
"I've never been through what we went through last year," Beaty said in his post game press conference. "Personally it was very difficult. I got emotional with those guys. It's just so hard, so obviously I'm overjoyed for them."
KU fans were overjoyed as well, storming the field to give Jayhawk players and coaches congratulations and well-wishes. Most expected the Jayhawks would win, but it was nice to see them on the right side of a blowout for the first time in awhile.
Offensive takeaways
The running game also had its moments. The most impressive of the four backs who recorded carries were senior Ke'aun Kinner (seven carries for 69 yards and a touchdown) and sophomore Taylor Martin (six carries for 39 yards and a touchdown). Both showed very good burst and some power. Bruiser Denzell Evans saw action as well, recording nine carries for 24 yards. As long as they stay healthy, running back appears to be a position of strength for the Jayhawks this season.
Wide receiver also appears to be a strength for the KU offense. Steven Sims, Jr. was especially impressive, hauling in five receptions for 124 yards and two touchdowns, including a 71-yard run off a bubble screen from Ryan Willis.
LaQuvionte Gonzalez, Chase Harrell, Tyler Patrick, and Ben Johnson also caught touchdown passes. Whoever the quarterback is, he will have a plethora of options to pass to this season. All told, KU racked up 570 yards of total offense, the most in a game since 2011.
Quarterback play
Willis, Montell Cozart and Carter Stanley combined to throw for 399 yards, which is the most passing yards for the Jayhawks since 2009. Cozart earned the start over Willis, although both quarterbacks played.
Cozart had the slightly better game, going 18-for-25 for 199 yards with three touchdowns and one interception. However, Willis had a good day too, going 7-for-9 for 144 yards and two touchdowns. Beaty said post game that he would continue to play both quarterbacks until one gained some separation, so keep your eye out for that in week two.
Defensive takeaways
Defensive coordinator Clint Bowen's defense was disruptive, putting near constant pressure on Rhode Island quarterback Wesley McKoy and forcing three turnovers. The Jayhawk defense also held the Rams to only 219 yards of offense, half of what the defense averaged last season. The Jayhawks did struggle defending the run, giving up 4.3 yards per carry, and 170 rushing yards. The secondary picked up the defensive line, providing great coverage in the back end, limiting Rhode Island quarterback Wes McKoy to only 9-for-23  for a measly 49 yards. The secondary will be a strength for KU this year, while the front seven needs improvement for the Jayhawks to be competitive in the Big 12.
Negatives
There are a couple things the staff will need to address this week. Late in the first half, the Jayhawks had a particularly ugly series. Deep in Rhode Island territory, KU spent two timeouts and received an illegal substitution penalty, before missing a short field goal. In close games during the season, these sequences have to result in points for KU to reach its potential this year. Derrick Neal also had a botched punt return that resulted in a turnover. If special teams, what Beaty has called "the hidden third," is to be a strength for the Jayhawks, plays like Neal's cannot happen. Look for these to be cleaned up with a game of film for study and critique for the staff and players.
Overall takeaway
All told, it was a great night to be a KU football fan, as the 55 points was the most KU has scored since blowing out Nebraska 76-39 in 2007. The six passing touchdowns were more than KU quarterbacks have thrown since Todd Reesing in 2007. There are many things to improve on for the Jayhawks, as Beaty will be the first to admit, but there were some bright spots as well. Most importantly, KU and coach David Beaty are no longer winless.
More from Through the Phog
This article originally appeared on