Kansas City Chiefs looking to trade former Georgia Football star Aaron Murray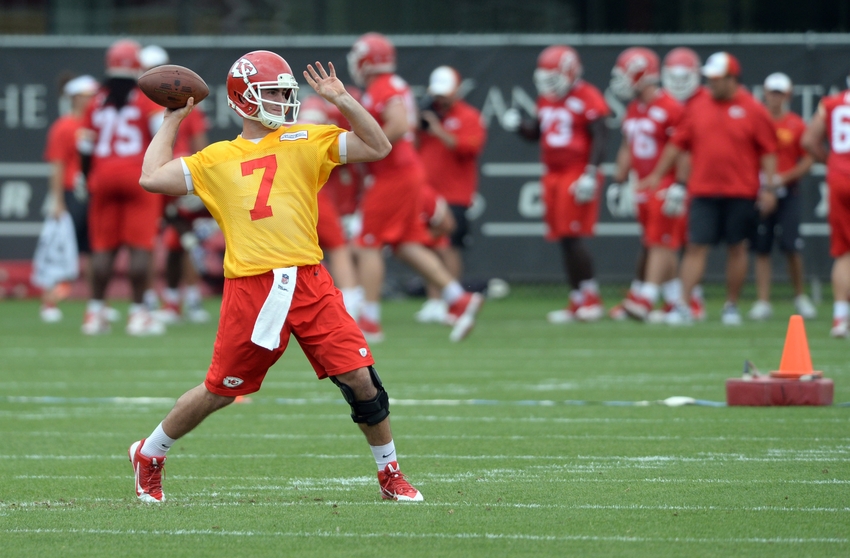 Former Georgia Football star Aaron Murray's time with the Kansas City Chiefs seems to be coming to an end. 
According to the Kansas City Chiefs, the franchise is looking to trade third-year quarterback Aaron Murray. Murray is one of five quarterbacks on the Chiefs roster, and they are trying to make space by trading him. If he does not get traded, he will end up getting cut and placed on the waiver wire.
Murray was a fifth-round pick back in 2014 but had the potential to be selected higher if he did not tear his ACL. Murray has seen playing time during the preseason but has not gotten any experience during a regular-season game.
At the current moment, there are several franchises that are in need of a back-up quarterback, the most recent being the Minnesota Vikings. Starting quarterback Teddy Bridgewater suffered what appeared to be a non-contact left knee injury Tuesday, which may prove to be a disaster for the team. This would be a great place for Murray to shine.
The current offensive coordinator is Norv Turner, who is a 15-year veteran as a coach and offensive coordinator. Turner's offenses have high-volume production and efficiency in the passing game. When Turner coached in San Diego, the Chargers were never below 6.42 yards per attempt and, in fact, ranked No. 1 in the category three times during his tenure (8.39 in 2008, 8.68 in 2009, 8.72 in 2010), according to Vikings.com.
During his time at UGA, Murray put up ridiculous numbers. In the SEC he is 1st in passing completions (921), 1st in passing yards (13,166), 1st in passing touchdowns (121), 2nd in passing attempts (1,478) and 5th in passing yards per attempt (8.9), according to Sports Reference.
For old time's sake, here is a video of Murray's dominance while at Georgia.
More from Dawn of the Dawg
This article originally appeared on