Justin Davis Joins USC's Illustrious 2,000-Yard Club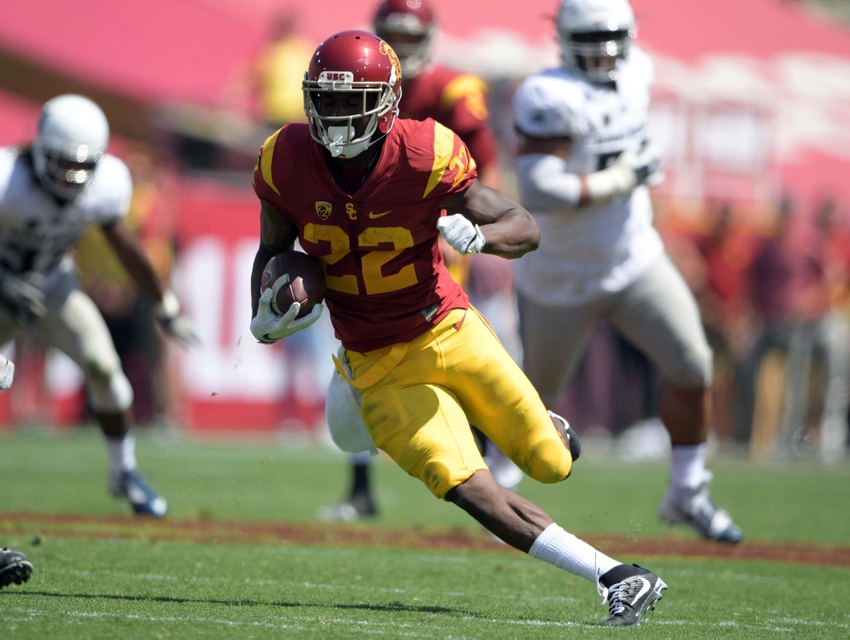 On Friday night against Utah, Justin Davis joined an illustrious list of USC football running backs who have rushed for 2,000 career yards.
In 128 years of competition, 18 Trojan running backs have accumulated more than 2,000 yards during their collegiate careers at USC.
That list includes Heisman Trophy winners Marcus Allen, O.J. Simpson, Mike Garrett, Reggie Bush, and Charles White, who stands alone as USC's career rushing leader with a jaw-dropping 6,517 rushing yards accumulated in 47 games over four seasons in a Trojan uniform.
Also included among the career 2,000-yard Trojan rushers is a collection of All-Americans including Anthony Davis, Ricky Bell, LenDale White, and Jon Arnett.
After a dominating first-half performance against the Utes that included 102 yards and a touchdown on six carries, Justin secured his spot among the greatest running backs in USC history.
Back in 2013, Justin Davis came to USC as a four-star recruit out of Lincoln High School in Stockton, California. Behind his 4.71-second time in the 40-yard dash, Davis was ranked as the 16th best running back and 185th best prospect in the country during that 2013 class.
As a senior for the Lincoln High Trojans in the fall of 2012, Justin led his team in rushing with 1,806 yards and 23 rushing touchdowns on 229 carries, good for an average of 7.89 yards per carry. The Trojans had record of 8-4 on the year, including an undefeated 5-0 mark in San Joaquin League play, and advanced to the 2nd Round of CIF playoffs after posting a 52-7 win over Merced High School in the first round of CIF competition.
As a highly-sought after recruit, Davis held offers from some of the biggest college programs in the country, including Notre Dame, Michigan, Florida State, Oklahoma, Oregon, and UCLA before ultimately deciding to carry on his career as a Trojan by enrolling at USC under then head coach Lane Kiffin.
During his freshman season in Los Angeles, Davis was a member of the Trojan team that saw the loss of its head coach five games in to the year, after Kiffin was fired following demoralizing 62-41 loss on the road at Arizona State.
For Davis the challenges in his first year of college play did not stop there, as the running back wearing No. 22 suffered an ankle injury and underwent a surgery that would ultimately cut his freshman season short after just seven games.
Without a doubt, Justin's most productive game was that Arizona State loss as he proved to be one of the only bright spots in an otherwise forgettable performance by the Trojans. In Tempe, the freshman gained 122 yards and scored three rushing touchdowns on just ten carries. He would go on to finish the year 368 rushing yards and six rushing touchdowns, while gaining invaluable experience and setting himself up for future successes while at USC.
Davis was able to recover and fully rehabilitate from his injury in time for the start of the 2014 season, his second at USC. In his second game back, the Lincoln High product scored his team's only touchdown of the day as the underdog Trojans went on the road and beat the 13th-ranked Stanford Cardinal, securing first-year Head Coach Steve Sarkisian's first Pac-12 conference victory while at USC.
As a sophomore, Davis went on to score three more rushing touchdowns, in victories over Oregon State, California, and Notre Dame, while also adding receiving touchdowns in the win against the Beavers and against UCLA.
During that second year of collegiate play, Davis accumulated 595 rushing yards and totaled six touchdowns, as the Trojans went on to beat rival Notre Dame and secure the program's first victory in the Holiday Bowl with a thrilling 45-42 victory over the Nebraska Cornhuskers in San Diego.
Optimism was high for Davis and the Trojans entering the 2015 season with the Trojans enjoying a preseason ranking as high as No. 8 in the country.
---

Having trouble? Listen on Soundcloud, iTunes, Google Play or Stitcher.
---
Although the team experienced some drama off the field after an incident at a preseason per rally, the Trojans started off the year 2-0 with wins at home against Arkansas State and Idaho.
Unfortunately some of the same hardships that USC faced during Davis' freshman season at USC in 2013 repeated themselves in 2015. After an underwhelming 3-2 start to the season, second year coach Steve Sarkisian was fired as the result of off the field issues and illness.
Under newly appointed interim head coach Clay Helton, USC was able to rebound with three straight conference wins over Utah, California, Colorado, and did win back the Victory Bell after a dominating win 40-21 against cross-town rival UCLA at the Coliseum.
Davis' team was the first at USC to make an appearance in the Pac-12 Conference title game against Stanford, and would later return to San Diego to face off against Wisconsin in the Holiday Bowl.
On two separate occasions the junior Davis eclipsed the 100-yard mark, gaining 141 yards on 16 carries at Oregon and 130 yards on 25 carries in the rivalry win against the Bruins. On the year, Davis recorded 902 rushing yards, 7 rushing touchdowns and caught 18 passes for 189 yards as USC posted an 8-6 record in 2015.
Enduring the cold on a rainy night in Salt Lake City, Davis rushed for more than 100 yards in the first half alone against a Utah defense that hadn't allowed a similar performance over a full game in two seasons. Davis' career-high 50 yard run and subsequent touchdown late in the first half helped give USC a lead heading into the half, as the Trojans looked to secure their first conference win of 2016.
By overcoming obstacles and carrying himself with class on and off the field, he has proven himself to be a great Trojan. With seven rushing yards tonight, Justin Davis can further cement his USC legacy and join an exclusive, illustrious club of career 2,000-yard Trojan rushers.
This article originally appeared on