JuJu Smith-Schuster Teases Return For Senior Season At USC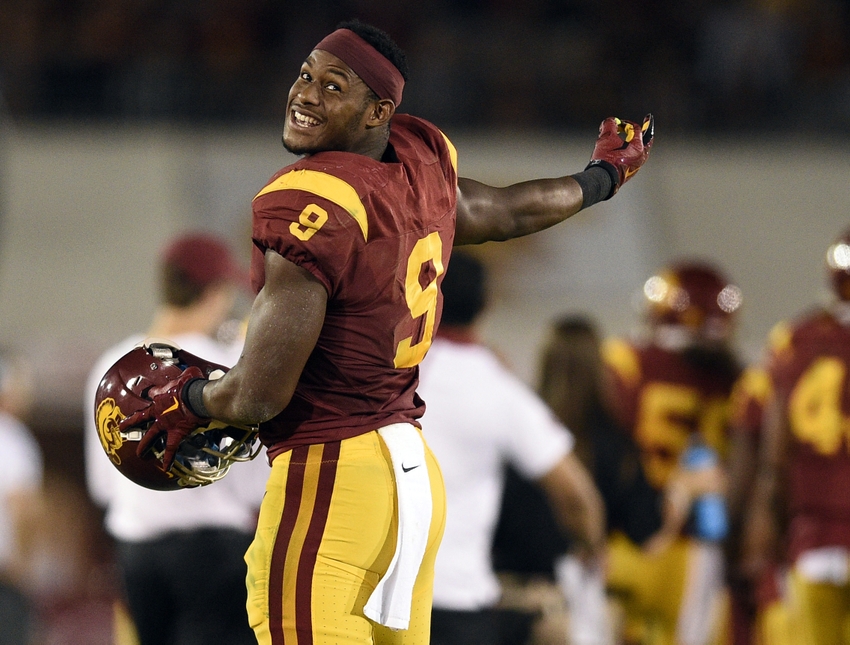 JuJu Smith-Schuster posted a snapchat video Sunday night, claiming he has made the decison to return for his senior season at USC, but skepticism is heavy.
JuJu Smith-Schuster will be leaving USC at some point. The question now is just whether or not his departure will come this year or next.
It was widely assumed that Smith-Schuster would declare as an early entrant for the NFL draft after this season, but the junior is keeping Trojan fans on the edge of their seats with his latest hints.
On Sunday night, he posted a video Snapchat saying that he intended to stay.
The video, shot from a car as Smith-Schuster and teammates were riding home from the annual band banquet included the receiver yelling, "I'm coming back," along with the text, "1 more year!!! I'm staying…natty here we come!!!'
Of course, it also included a crying-with-laughter emojii, so take that for what it's worth.
Grain of salt, but JuJu said he was coming back on Snapchat last night. pic.twitter.com/mF04gq2y0n

— Chris Yoshonis (@seegeewhy) December 5, 2016
@ReignofTroy did you see this on Juju's snapchat story? pic.twitter.com/cPd4PB0xRC

— kenneth 🔰 (@KennethMartin7) December 5, 2016
Right now, skepticism should be high when it comes to Smith-Schuster's social media hints.
After USC beat Notre Dame, he joked with reporters that he would come back if Adoree' Jackson was coming back too.
It's more than likely Smith-Schuster is joking now as well.
Earlier in the day on Sunday, he asked Jackson the timetable for his decision on Twitter.
.@AdoreeKnows When you making our decision fam? Mom is asking 😅

— Juju Smith Schuster (@TEAM_JUJU9) December 4, 2016
"When you making our decision fam? Mom is asking," Smith-Schuster asked the cornerback.
If nothing else, Smith-Schuster is ramping up the drama when it comes to his NFL decision announcement, one which felt locked in before the start of the season. Before playing the Irish for what could have been his last game in the Coliseum, Smith-Schuster said he was 50-50 on whether to leave or stay.
Sometime after the Snapchat video last night, Smith-Schuster offered fans another cryptic message on Twitter — a simple Fight On emoji.
✌🏾️

— Juju Smith Schuster (@TEAM_JUJU9) December 5, 2016

Decode that how you will.
This article originally appeared on