Josh Dobbs finds Jauan Jennings for go-ahead touchdown vs. Florida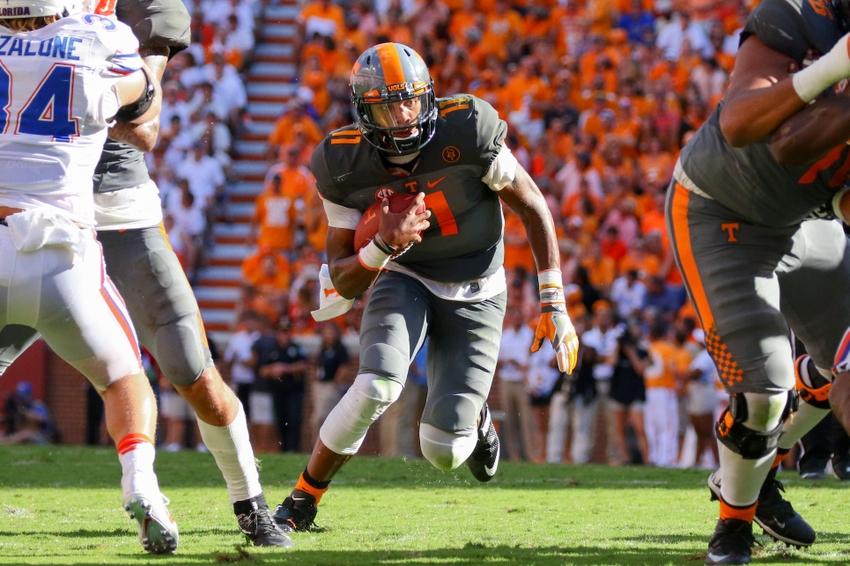 The Tennessee Volunteers were able to take the lead for the first time on Saturday thanks to a bomb from Josh Dobbs to Jauan Jennings in the fourth quarter.
It has been 11 years since the Tennessee Volunteers last took down the Florida Gators in this heated SEC rivalry. However, the Volunteers gave their fans hope with a huge play in the fourth quarter.
The Volunteers were getting pushed around the entire first half, going down 21-3 heading into the locker room at halftime. However, the Volunteers came back with somer serious energy in the second half, scoring three straight touchdowns to take a 24-21 lead in the fourth quarter.
That third touchdown came on a great play from Tennessee quarterback Josh Dobbs. The Volunteers QB found his receiver Jauan Jennings wide open down the field and fired a perfect pass to him. Although Jennings bobbled the catch, he still held on and stayed in bounds before darting down the sideline for the go-ahead score. You can watch the play in the Twitter video below.
It has been so long since the Volunteers won this rivalry game that fans assumed the game was out of hand when they booed the team into the locker room to end the half. That must have lit a fire under the players, because they came out and looked like a completely different team.
Shortly after the go-ahead score, Dobbs found Josh Malone for yet another touchdown to help the Volunteers start piling it on and go up 31-21.
Although it was far from over, the Volunteers finally felt like they had a chance to take the Gators down.
This article originally appeared on