Josh Adams Will Lead Notre Dame rushing attack in 2017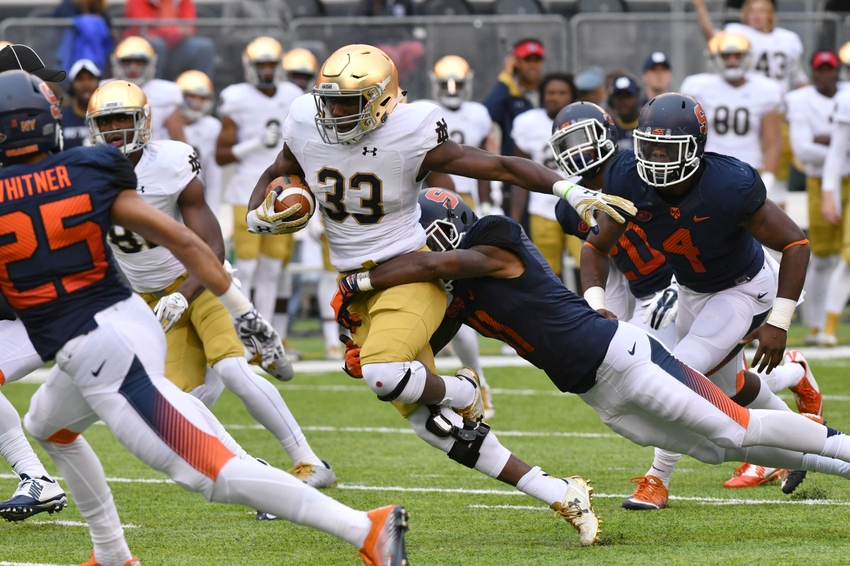 With Notre Dame's difficult 2016 season behind them, it's time to look forward to the 2017 team and one of their top players, Josh Adams.
Adams was the leading rusher for the Fighting Irish in 2016 and looks to continue that in 2017.
Adams will be a junior in 2017. The 6'1", 220 lbs. back from Central Bucks South High School in Warrington, Pennsylvania was a four-star recruit and all-state running back as a high school senior.
In his first two seasons with the Fighting Irish, he has shown that he came as advertised. He is a superb running back.
During his freshman season, Adams set a school record for most rushing yards by a freshman running back. He gained 835 yards which broke the record set by Darious Walker in 2004 (786 yards). He also set the single-game rushing yards by a Notre Dame freshman with 168 yards against Stanford which Notre Dame lost on a last second field goal. The final totals for his freshman season were 117 running attempts for 835 yards for 7.1 yard per rush and six touchdowns.
This past season, Adams was Notre Dame's leading rusher. He ran the ball 158 times for 933 yards for a 5.9 yard per rush average. He also ran for five touchdowns and averaged 77 yards per game.
Adams combines great speed along with a power running game. He has run the ball just as well between the tackles as he has in running to the perimeter. Numerous times over the past two seasons, Adams broke tackles and gained many yards after the first hit.
Josh's totals over his two years are 24 games played with 12 starts. He has run the ball 275 times for 1,768 yards for an astounding 6.4 yards per rush. And, he has eleven touchdowns.
One of the greatest gifts of Josh Adams is that during his 275 running attempts, he has only fumbled the ball three times. Another factor that shows Adams value is that this past season he caught 21 passes for 193 yards and one touchdown for a 9.2 average per catch.
The Fighting Irish will have a powerful rushing attack next season. They will rely on Josh Adams for rushing yards. Also, getting time will be Dexter Williams, who this past season ran 39 times for 212 yards and three touchdowns.
Taren Folston, who ran 77 times for 356 yards and two touchdowns has one year of eligibility remaining. It is unclear whether he'll return to Notre Dame or transfer to another university to play his final season.
Justin Brent who started as a wide receiver but was moved to running back did not play this past season, and it is hard to see him getting much playing time. Freshman Tony Jones, Jr., a four-star running back from Florida was red-shirted this season, but looks to find time next season and will complete Notre Dame's rushing attack which hopefully will help lead the Fighting Irish to a great season.
With a backfield this talented, who do you think will lead Notre Dame's backfield next season?
This article originally appeared on