Joe Mixon Is the Key to an Oklahoma Win at West Virginia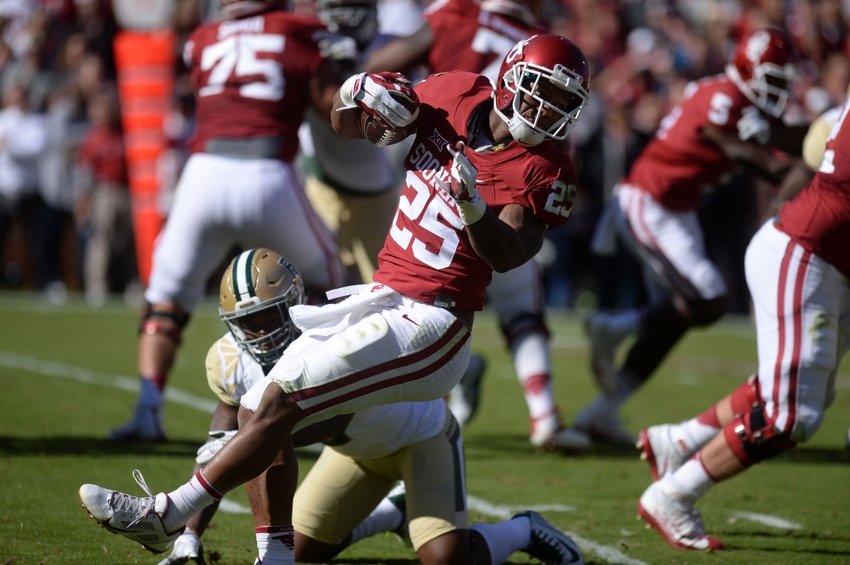 Oklahoma and West Virginia go at one another Saturday night in perhaps the biggest game in the Big 12 thus far this season. If there is one key to a potential conference-clinching victory for the Sooners in this one, it's not Baker Mayfield or sensation wide-out Dede Westbrook, but rather Mr. Do Everything, Joe Mixon.
The forecast of cold and wet weather in Morgantown, W.Va., will change the style of play for both teams and take away or at least dilute certain advantages that either team might have otherwise.
Cold and wet weather usually favors the team that can run the ball the best. That's where a multi-purpose player with the speed and skills of Mixon can carve up a defense.
The 6-foot, 1-inch, 226-pound running back from the San Francisco Bay area has the size and speed to beat you with his feet and is the perfect complete to the bruising, run-over-you style of Samaje Perine in the Sooner running game. If you concentrate on Mixon just as a running threat, though, he will beat you with sure hands and great speed catching passes out of the backfield or spread out wide or as a slot receiver.
Mixon also is an accomplished performer returning kicks. He averages 25.9 yards per return this season, second best in the Big 12, and his 193.9 all-purpose yards per game leads the nation.
The talented redshirt junior has accounted for 11 touchdowns this season, and he has done so in four different ways: He has six rushing touchdowns, four receiving, a 9–yard kickoff return for a score and even threw a 26-yard TD pass to Dede Westbrook in the Sooners' win over Kansas State.
Mixon is just 63 yards shy of reaching 1,000 rushing yards for the season and is one of only six players in OU history to record 1,000 yards on the ground and 500 receiving yards in a career. His 6.87 yards per carry on the ground in 2016 is the most in Bob Stoops' 18 seasons at Oklahoma.
In the wild-scoring affair at Texas Tech this season, Mixon had a 263-yard game rushing, added another 114 through the air and was credited with five touchdowns.
Look for the Sooners to take full advantage of Mixon's multiple talents and get him the ball as much as they can against West Virginia. On the other hand, if the Mountaineers give to much attention to where Mixon is on the field when the Sooners are on offense, it opens up opportunities for Baker Mayfield to beat you by going to Oklahoma's other explosive weapons. Can you say T-D  De-de?
Watch for Joe Mixon to have a big game and help secure what would be a giant win for the Sooners on Saturday night in the West Virginia mountain country.
More from Stormin in Norman
This article originally appeared on