Jim Chaney lacks the killer instincts of great offensive play callers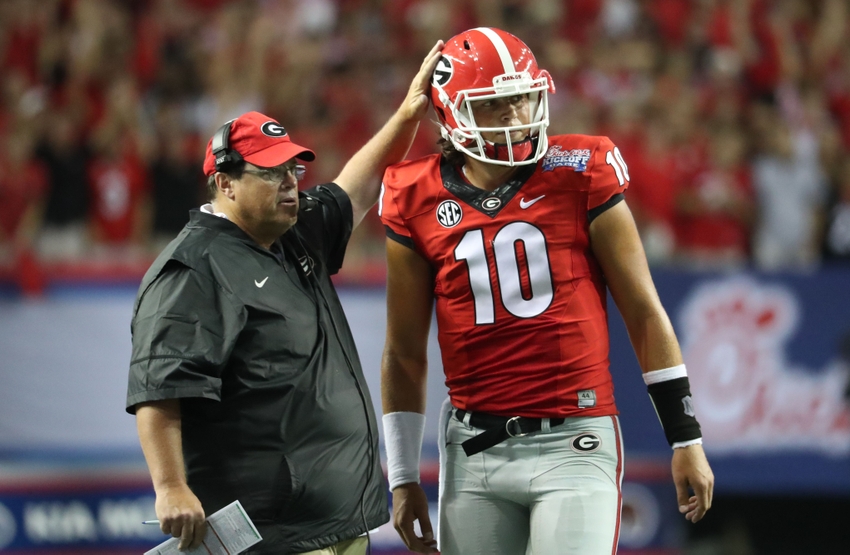 Georgia's offense led by Jim Chaney failed to score a touchdown in the fourth quarter against Georgia Tech. The Yellow Jackets scored 14 unanswered to beat the Bulldogs 28-27.
Passive, timid, conservative. These are words that describe the play calling of Georgia offensive coordinator Jim Chaney. And while there is nothing wrong with that for the early moments in ball games, there comes a time when you need to be aggressive.
That's something Chaney does not realize. And that is what costed Georgia the game against Georgia Tech.
Georgia led 27-14 going into the fourth quarter. Georgia Tech lined up to go for a fourth down conversion and freshman defensive lineman made the stop three yards behind the line of scrimmage. That gave Georgia the ball at midfield.
Instead of going for the knockout shot, Chaney went the safe route. Instead of a play-action pass deep to Riley Ridley, Javon Wims or Terry Godwin, Jacob Eason handed the ball to Sony Michel who only gained three yards.
A deep shot could have given Georgia a 34-14 lead. At the very least it would have made Tech's defense respect the pass more, making second down much easier for Michel. But instead Michel and the offensive line dealt with a defense that was selling out to stop the run.
With all the momentum, great field position and a chance to put Georgia Tech away, Chaney coached not to lose, and allowed the Jackets to stay in the game. Where Jim Chaney and the Georgia offense squandered opportunity, Georgia Tech took advantage. They scored 14-unanswered and won the game.
But this isn't new for Jim Chaney. He made the same mistake against Auburn, however it did not cost Georgia anything that night. After another great stop on defense and a good punt return by Isaiah McKenzie, the opportunity to throw the knock out shot presented itself.
More from Dawn of the Dawg
These were the only games this year where Georgia was in a position to put their opponent down for the count. In both, Chaney went passive. Fortunately the Bulldogs beat Auburn, but they were not so fortunate against Georgia Tech. If this is the kind of play calling Georgia fans are to expect in fourth quarters, we might as well part ways with Jim Chaney now.
He's a good game planner and he is a good quarterbacks coach, so he's worth keeping for that. But when game time comes, Jim Chaney has to be ready to change the plan when needed to. He can't be satisfied with leading ball games, he needs to develop an aggressive streak. If not, Georgia will keep letting teams hang around, steal the momentum and steal victories.
This article originally appeared on