Jim Chaney has been all hype and no production so far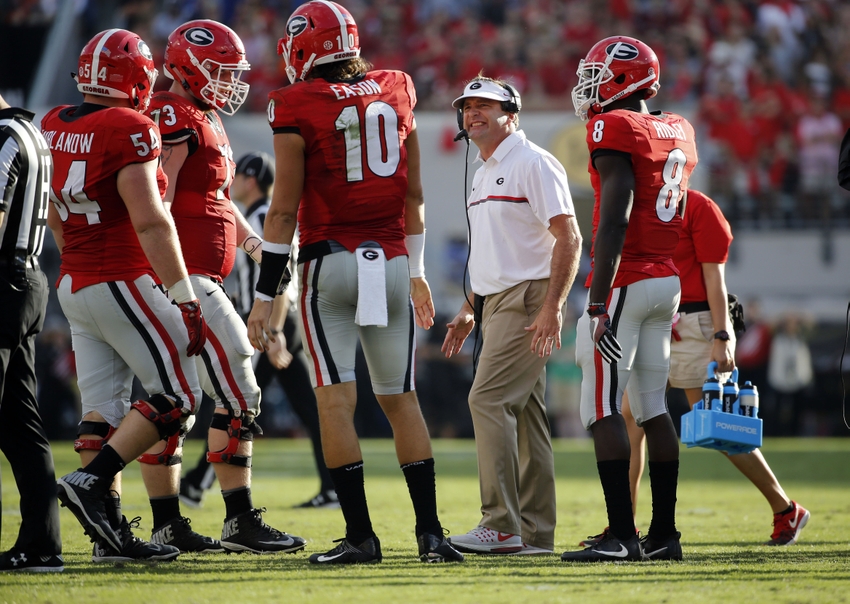 In the 24-10 loss to Florida on Saturday, the Jim Chaney led Georgia offense only had 164 yards of offense.
In August I wrote a story about how Jim Chaney would be much better than Schottenheimer and bring in a 180 degree turnaround on offense. After a disappointing performance from the offense against Nicholls State I gave him the benefit of the doubt.
Since then I've defended him, he is after all the pioneer of the spread, the man who developed Drew Brees and Kyle Orton. But after Saturday I cannot defend him. More so than our youth, more so than our offensive line, more so than drop passes, Jim Chaney is our weakest link.
In September you can blame shortcomings on a lack of talent or production from players. But eight games into the year, your problems are deeper than the 11 players you have on the field.
Saturday I saw a struggling offensive line unable to get a push for their running backs or set up a pocket for their quarterback. But what I did not see were play calls that took pressure off of the offensive line. There were no quick passes, no quick hand-offs from the shotgun or pistol, nothing that got the ball out of the backfield in a hurry.
But there were plenty of deep hand-offs, complex routes, and other slow developing plays. Chaney called plays right into Florida's strength and our weakness. We don't have the offensive line to try to over power and push other front sevens around, so why are we calling plays like we do?
I wish I had an answer.
The fast Sony Michel can't run a sweep out of the shotgun without getting caught by a defensive lineman who runs through a gap left by a pulling center or guard. The powerful Nick Chubb can't get his momentum going before someone comes around the edge to get him from behind. And Jacob Eason can't set his feet in the pocket for more than a second before a defender forces him to scramble.
This has been going on for nine weeks and the offensive line and their coach Sam Pittman deserve blame for not developing quick enough. But as a play caller you have to recognize this and change your scheme.
All Chaney is doing is lowering the confidence of his offensive line, which is an injustice to everyone else on the team. Our two biggest offensive plays came from Eason improvising on broken plays. The defense played fantastic considering Florida's average starting field position was their own 40-yard line.
What are Georgia fans supposed to do? Wait for the offensive line to get better before the offense can start producing? What happens when we have a down year on the offensive line? Does our offense revert back to what it is now?
More from Dawn of the Dawg
The fans, alumni, donors and Kirby Smart should all demand more. We just fired a head coach because he wasn't winning championships. We are not a patient bunch right now. It would be one thing if we were looking at 9-3 or 8-4 season and looked better as the year went on. But Georgia might go from 10-3 in 2015 to 5-7 in 2016. The offense hasn't gotten any better, if anything it's gotten worse.
Georgia has every right to be impatient with Jim Chaney after the loss to Florida. He needs to know that winning is more important than his vision of what the offense is supposed to be.
This article originally appeared on