Jeremy Johnson looks the part as Auburn hits the practice field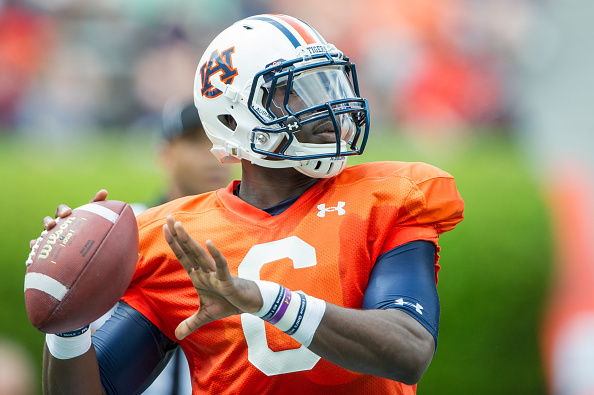 The hype surrounding Jeremy Johnson began Aug. 30, 2014, when the then-sophomore quarterback threw for 243 yards and two touchdowns before taking his place back on the bench and riding out last season.
Now that the job belongs solely to Johnson, the offseason hype has reached epic proportions as a quarterback with one SEC start to his name is listed as the league's best odds at winning a Heisman Trophy heading into the season.
So the question is, can his team rely on Johnson to when the games really count?
"I've always really believed in Jeremy and felt good about him, but he's even raised his level," offensive coordinator Rhett Lashlee said to AL.com. "He's been different. You can tell there's a different sense of urgency, a different level of focus, and it's been great. He's very confident."
Production won't be enough either, as the junior signal caller will be looked upon to lead an offense with less than a handful of returning starters. His head coach chimed in to expound on the leadership qualities Johnson will need to display this season.
"Not just a leader on offense," Gus Malzahn said, "but really a team leader, where the whole team can respect him. If you've got a quarterback like that where the whole team respects him you've got a chance."
One unique edge Johnson will have this season? This will be his third season in Malzahn's offense. Remarkably, no college quarterback has been coached by Malzahn for three consecutive seasons, as Auburn's coach has held five jobs in the past 10 seasons.
"I think he's got a very good grasp of the offense," Malzahn said.
Maybe the best ever for a college quarterback?
As far as the hype, well at least one of his receivers is willing to believe every word of it.
"Yeah, he definitely is (as good as the hype)," receiver Ricardo Louis said. "I've seen him make some throws that I've never seen any quarterback make, right on the money every time. He's consistent; that's what makes him better than most of the quarterbacks I've seen."
(h/t AL.com)