CFB AM: Website keeping track of time since Winston's last mistake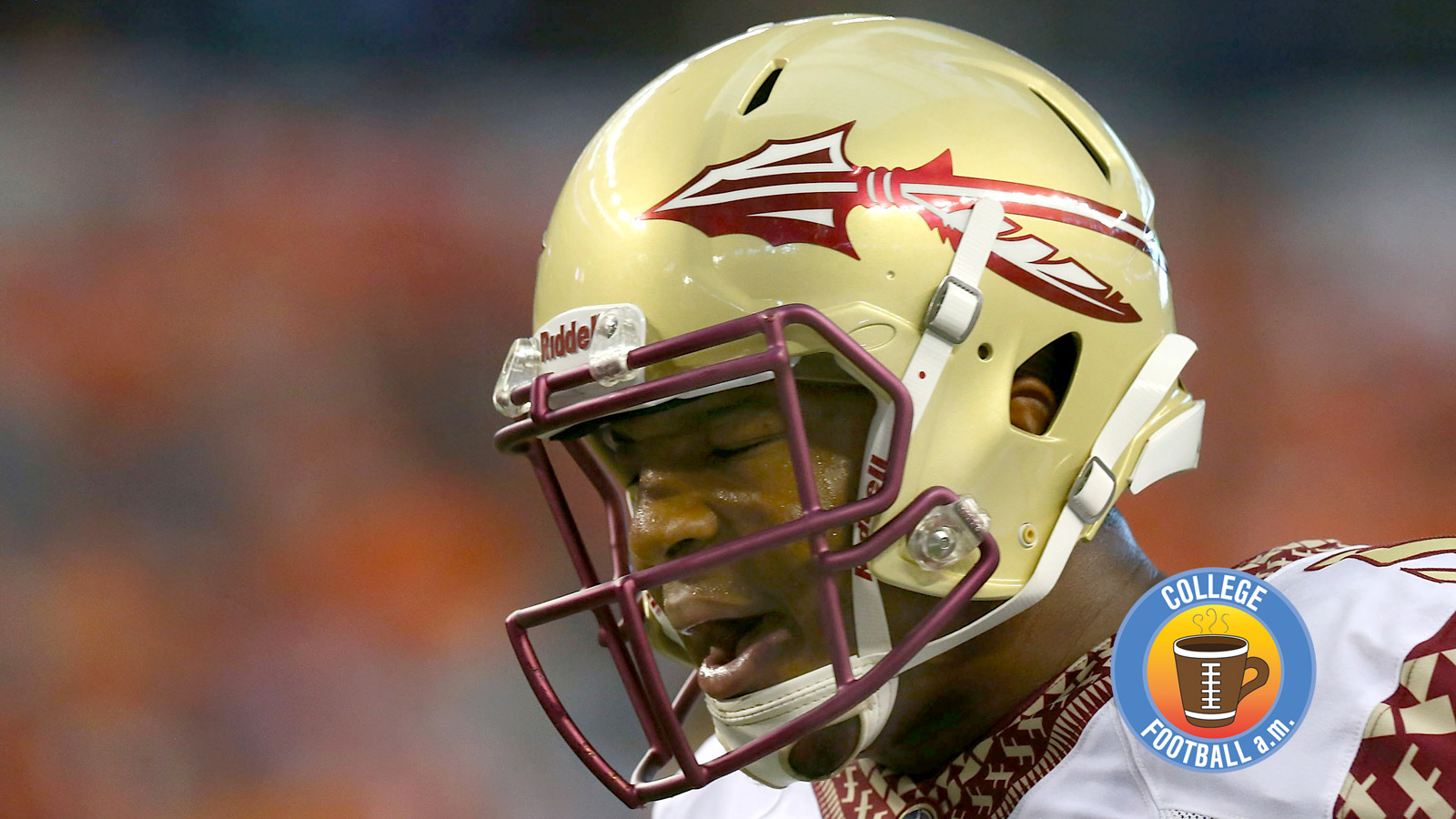 This is sad.
It's also a clear indicator of how awry things have gone with Jameis Winston.
In the wake of Florida State suspending its QB for the first half of this week's Clemson game, a website has popped up that has a running timer since Winston's latest mistake (unofficial time, that is).
Here's how the page reads:
It has been:
[Insert current running time] …
… since Jameis Winston has done something stupid.
I'm not sure whether to laugh or cry. Both?
THREE THINGS YOU NEED TO KNOW
1. We had a fun football game Thursday night that could have been a fantastic football game if No. 20 Kansas State didn't maim itself against No. 5 Auburn. K-State committed three turnovers and missed three field goals on its way to a 20-14 loss. This Tweet sums up how K-State coach Bill Snyder felt about the game:
When asked if Auburn won the game or K-State lost it, Bill Snyder says "The latter."

— Kellis Robinett (@KellisRobinett) September 19, 2014
Per Kellis Robinett's piece, the general feeling out of the Wildcats' locker room is that they should have won the game. In an odd way, this game kind of gave me more confidence in Kansas State going forward, for two reasons: First, the K-State defense was mostly superb against an incredibly explosive offense, holding Auburn to 2.8 yards per rush, and played well enough to win. If it plays like that going forward, K-State will contend for the Big 12 title. Second, it would be shocking if K-State's offensive execution is this shoddy again this season. Kicker Jack Cantele missed three FGs after missing only two all of last season. He won't have another night like he did on Thursday. While turnovers do happen, I bet we won't see another ball go right through Tyler Lockett's hands, deflect off his shoulder and be picked off in the end zone.
It was a bitter night for the Wildcats not because they were dominated or completely exposed by an elite team. It was a bitter night because Kansas State pretty clearly showed it's capable of beating a team like Auburn if it simply plays a clean game. That should be the positive takeaway for the Wildcats coming out of Thursday. If nothing else, at least these "Roll Snyd" shirts are cool:
With a Crimson Tide fan who told me he came to K-State just to root against Auburn @Jake_Trotter @davidubben pic.twitter.com/qN5dwHAyjZ

— Dr. Reo Symes (@WZTSTC) September 18, 2014
Stewart Mandel was in Manhattan, Kansas, for us and came away impressed with Nick Marshall's improvement as a passer.
2. Texas Tech defensive coordinator Matt Wallerstedt resigned on Thursday "because I want the best for the Red Raider program, and this will allow them to go in a different direction on defense," he said in a statement. It appears to be much more than that, though, as Wallerstedt was reportedly sent home from the team facility on Monday for being under the influence of an undisclosed substance. Any potential personal issue is more important than Wallerstedt's performance as DC, but the Red Raiders have been consistently awful on defense, a problem that predates Kliff Kingsbury and his staff. Tech has had six DCs in the last six seasons.
3. Four Cincinnati players, including starting running back Hosey Williams, found themselves in trouble with the police after an incident at an off-campus party. Police responded to a report of gunshots. Three of the players, including Williams, received citations while freshman cornerback Alex Thomas was arrested on obstruction charges for running from the police after they ordered him to stop.
THREE THINGS YOU SHOULD KNOW
1. Love this from SB Nation: Boston College coach Steve Addazio spent one day recording some Vines and pumped out seven great ones. For whatever reason, he hasn't recorded a Vine since last summer.
2. Most of the talk surrounding Florida State-Clemson this weekend will be about Jameis Winston, but perhaps it's the first time this year we see the Seminoles totally click and play like the most talented group in the country can. Coy Wire believes FSU's D can not only be better than last year's version but be the best defense of the last five years.
3. Oklahoma is going to wear some new alternate uniforms for the first time at West Virginia this weekend. Here's more on the Sooners' various uniforms, and here's what this week's version will look like:
Saturday. pic.twitter.com/qBBewinfm9

— Oklahoma Football (@OU_Football) September 17, 2014
For me, Oklahoma is one of the traditional programs with a classic, timeless look. The all-white road uniforms with the classic red helmet is a clean and sweet look. This alternate uniform looks like Rutgers could wear it. I understand why teams do this – branding and recruiting – but there are a few programs whose original uniform shouldn't be messed with. I'd put Oklahoma in that group (along with Alabama, USC, Texas and some others).
THREE THINGS YOU MAY WANT TO KNOW
1. Texas A&M had some significant problems with its turf last weekend, so the Aggies are spending $300,000 to bring in a new grass field from North Carolina. Here's one example of how bad parts of the field got:
Turf conditions at Kyle Field pic.twitter.com/1uCB8GCN1b

— Joseph Duarte (@Chronicle_Owls) September 14, 2014
In other Texas A&M news, the Aggies' new Yell Leader is a 34-year-old Iraq vet.
2. Cool story about former Michigan players Martavious Odoms, Vincent Smith and Denard Robinson creating a Kickstarter project to plant community gardens. The first one is thriving in Smith's hometown of Pahokee, Florida, and there are plans to plant them in Ann Arbor, Michigan, and elsewhere. "It's a small community where we didn't really have much," Smith said of growing up in Pahokee. "No Wal-Marts or McDonald's, nothing healthy where we can go somewhere and have a bite to eat." Well done, fellas.
3. It's "Beat Florida" week at Alabama, so naturally the dining halls on campus are serving Gator bread.
You know it's #BeatFlorida week when they have edible gators at the dining hall 🍴 pic.twitter.com/FnjaAZBAKr

— Daniela Lendl (@crash0624) September 18, 2014
LASTLY
* A Tennessee dad was arrested after making his 15-year-old son play a drinking game during the Vols game last week. The kid was unresponsive and had no pulse when authorities arrived and had to be airlifted to a hospital (he's OK now). The world is insane.
* FSU backup QB Sean Maguire will start against Clemson given Winston's suspension, making it the first start of his college career. His parents must be thrilled, right? They are, but they won't be at the game. They never thought Sean had a chance of playing, so they sold their tickets to the game before the Winston news broke.
* Duke is using an old Tecmo Bowl-style scoreboard for its throwback game on Saturday.
* Enjoyed this piece from Chantel Jennings on Mike Leach and how he identifies with the way of life in Pullman, Washington.
* Speaking of Washington State, here's a neat video of a drone flying over Martin Stadium:
Have a great weekend, everyone. Enjoy Week 4.
Teddy Mitrosilis is an editor and writer for FOXSports.com. Follow him on Twitter @TMitrosilis and email him at tmitrosilis@gmail.com.