J.T. Barrett Will Break the Big Ten Career Touchdown Record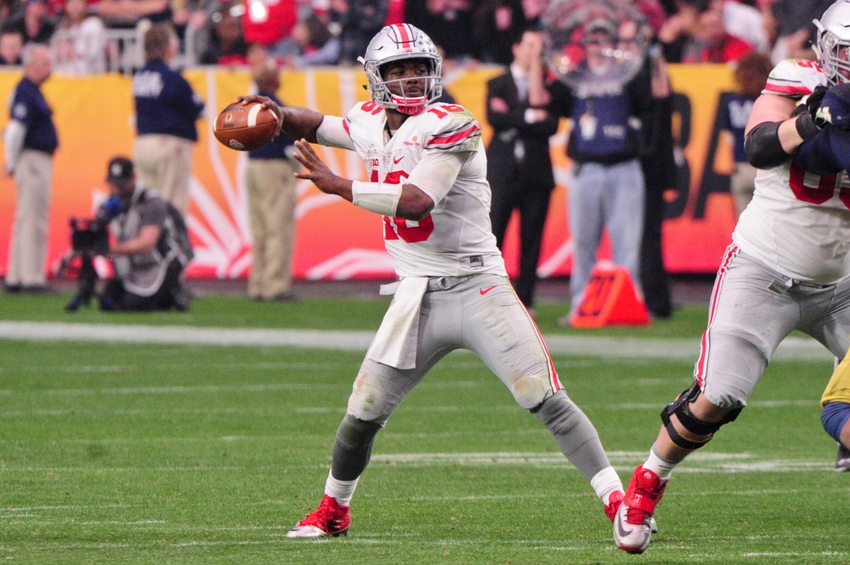 J.T. Barrett should break the Big Ten career touchdown record if he stays healthy.
While only starting in 19 career games thus far in his career,  J.T. Barrett has 74 total touchdowns to his credit. That's 3.89 total touchdowns per game.
At this rate, the Wichita Falls, Texas native will have roughly 43 total touchdowns this season. Drew Brees is the Big Ten's all-time leader in total touchdowns in a career with 104. Barrett will break Brees' record by season's end.
At this current rate J.T. will end up with 117 touchdowns just through Ohio State's twelve-game regular season. Of course this may not be the case and potential injuries would certainly factor in to the whole equation – knock on wood.
But the thought that Barrett, a guy that completed just 31% of his passes and threw three interceptions against a Virginia Tech team that finished 6-6, could set the Big Ten record for career touchdowns by the end of his junior season is unbelievable.
More from Scarlet and Game
Part of this can be credited to the spread system he's put in under Urban Meyer. Let's face it, being the centerpiece of an offense that's designed to get the ball in his hands on every single play (run or pass), a dual-threat quarterback of Barrett's caliber in bound to have success. There's no surprise that he was a preseason candidate for all of the major national awards and honors, and his seven-touchdown game versus Bowling Green certainly didn't hurt his chances of being in the discussion for such things
Now a two-time team captain, this true leader is 16-2 as a starter and his spectacular record includes an 11-1 record as a freshman in 2014 when he was named the Big Ten Conference quarterback of the year and he set 19 school and Big Ten Conference records. Academically Barrett is a senior who is majoring in communications. This is evident on the football field, as he seems to communicate with his teammates and receivers with absolutely no problem whatsoever.
When it's all said and done, Barrett will break the Big Ten record for total touchdowns in a career.
This article originally appeared on