Is Tyler Davis Penn State's MVP?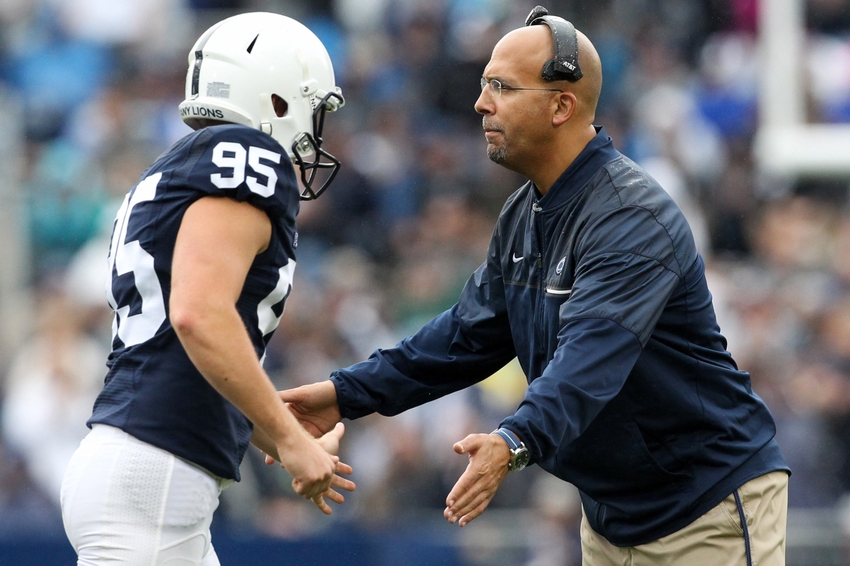 Many players are responsible for the success of the Penn State Nittany Lions in 2016, but the MVP just might be kicker Tyler Davis.
The Penn State Nittany Lions have been one of the biggest surprises in college football in 2016. Many people predicted this team to be, at best, an 8-4 team. However, with one regular season game remaining the Nittany Lions are 9-2.
Additionally, Penn State is a win over Michigan State and an Ohio State win over Michigan away from going to the Big Ten Championship. Even the College Football Playoff remains a strong and real possibility for the Nittany Lions. All of this success is due to multiple Nittany Lion players.
Saquon Barkley and Trace McSorley have led an offense that has turned into one of the most potent ones in the entire Big Ten. Brandon Bell, Garrett Sickels, Marcus Allen, and John Reid have anchored a top-25 defense.
However, according to James Franklin, the team MVP has been kicker Tyler Davis.
More from Victory Bell Rings
"That guy is unbelievable. He's got a real maturity for a guy his age, handles things really well. We changed the holder situation, a lot of times that can mess up the kicker, and he's been great," James Franklin told reporters about Davis after Saturday night's victory.
Franklin added, "That guy's a warrior. If you had to maybe name an MVP right now, it would probably be him." "I'm really proud of that guy." So, Davis has his coach's vote for team MVP.
To be honest, Coach Franklin might be correct. This season Tyler Davis is 20/22 in field goal attempts and 44/45 on extra point attempts. He actually has not technically missed a kick this season, or in his career.  I
In 2015 Davis was 8/8 on field goals and 11/11 on extra points. This season he has had two field goals blocked and an extra point failed on a botched snap.
Davis has also come up big when the team has needed him to this season.
He hit a career-long tying 42-yard field goal at the buzzer against Minnesota to put the game in overtime. Penn State would then win in overtime. Against Rutgers he was 3/3 on first-half field goal attempts when the offense was sputtering.  The team led 9-0 at halftime before pulling away in the second half. He also drilled clutch field goals that were key in victories over Ohio State and Indiana.
Simply put, Tyler Davis has been money for Penn State. And, I believe, a strong argument can be made that he has indeed been Penn State's MVP in 2016.
Having a kicker who is automatic is a great luxury to have. Penn State has that in Tyler Davis. And that is a big reason why this team is 9-2.
This article originally appeared on