Is Oregon Football Looking To Hire Brian Kelly?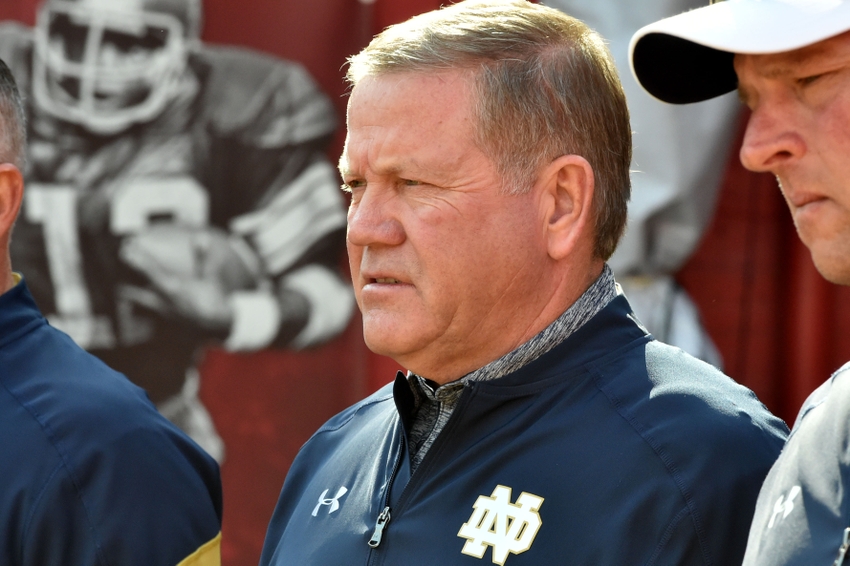 The Oregon Ducks may already have a bead on who will replace Mark Helfrich as Head Coach
In life, timing is everything. In the world of Social Media sometimes it is just an odd coincidence, but on Wednesday morning Brian Kelly saw some traction in the Twitterverse concerning a booked flight for late in the day.
John P Hayes, a Producer for Paul Feinbaum of ESPN posted a tweet showing a flight scheduled for November 30th from South Bend, Indiana landing in Eugene Oregon in the evening.
A private jet is scheduled for takeoff in South Bend, IN.

Destination? Eugene, OR. pic.twitter.com/RWPnWxrnqm

— John Hayes (@johnP_hayes) November 30, 2016
What does this mean? Is it Brian Kelly looking to set up shop at Oregon? Could it be a Textile Industry Magnate looking for a new factory location? or will Lou Holtz be named the next coach for the Oregon Ducks?
Again, timing. The latest on Kelly is he has permission from Notre Dame to start looking. It is also being reported he had an afternoon meeting with the Fighting Irish Athletic Director, just before the flight takes off.
Brian Kelly has been at Notre Dame since December of 2009 and is an Offensive minded coach. He is known for the Spread Offense and could fit right in with the Oregon Ducks. Chip Kelly re-invented the Spread in Eugene and was very successful until everyone else caught up or caught on.
Kelly, if he comes to Oregon will have to reinvent a similar wheel to what Kelly started and what Helfrich attempted to drive until the gas ran out of the car.
Brian Kelly would be an interesting move for Rob Mullens and the Oregon Ducks. His time in South Bend has seen him get to a National Championship but 2016 took a similar path as Helfrich to complete mediocrity.
This article originally appeared on