Is Lincoln Riley a Strong Consideration for Houston Job?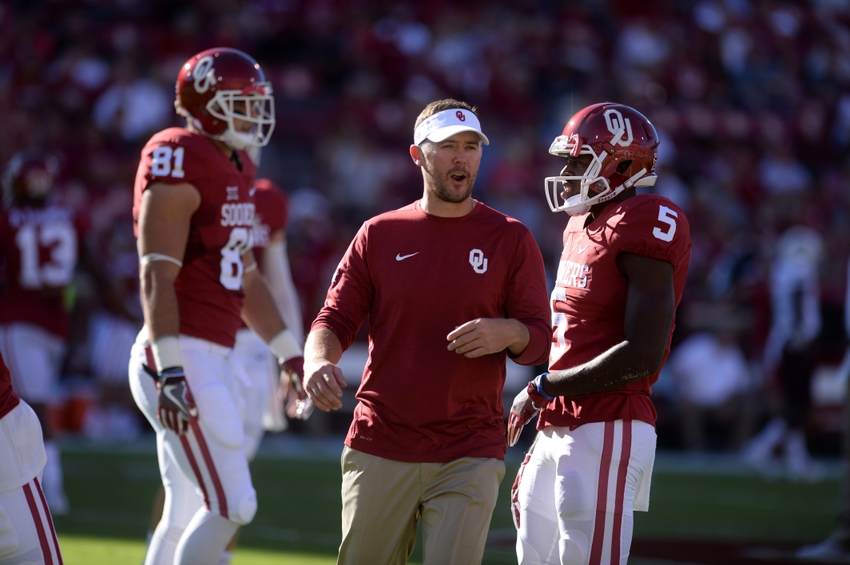 When Lincoln Riley was hired as the offensive coordinator at Oklahoma a couple of years ago, it was done so with the full knowledge that it was only a matter of time before the young offensive maestro would be tapped for a head-coaching job.
The annual game of musical chairs in the college coaching ranks kicked off last weekend with LSU removing "active" from Ed Orgeron's job title and making him the permanent head coach, and Texas hiring former Houston head coach Tom Herman to replace Charlie Strong.
That leaves the Houston job vacant. Over the past decade or so, Houston has given several high-profile college coaches their start as a college head coach Herman was preceded in the job by Kevin Sumlin (now at Texas A&M) and Art Briles (most recently the head coach at Baylor).
With Herman's hiring at Texas, the rumor mill has fired up, spinning out probable candidates to fill the Houston job, or if not Houston perhaps the one at Baylor or one of the multiple other openings that always come about around this time every year.
A handful of familiar names surfaced immediately after all the speculation commenced that had Herman on the coaching short list for the job at LSU as well as at Texas. Among the first names to come up was that of Oklahoma offensive coordinator Lincoln Riley, one of the brightest, young offensive minds in the game today and someone who is almost a lock to land a head coaching job in the very near future.
To be fair, Riley's isn't the only name to come up in the debate about likely candidates. The list of potential candidates includes several current head coaches, including Mike Leach, currently at Washington State, West Virginia head coach Dana Holgorsen, Mississippi State's Dan Mullen, Phillip Montgomery at Tulsa and Cal's Sonny Dykes.
In Riley's two seasons directing the Oklahoma offense, the Sooners were seventh in the nation in total offense a year ago (530.2 yards per game) and are ranked third in the country this season (550.8). Before coming to Oklahoma, Riley served as offensive coordinator at East Carolina. His final year there, in 2014, ECU finished third in the country in total offense. So the 33-year-old offensive mastermind clearly is doing something right and knows how to develop talent – a big reason why his opportunity to become a head coach is surely coming.
Riley would be a good fit for the Houston job. He has ties in Texas, which would help him greatly in recruiting in the state. He is a Texas Tech alum and former player and was an assistant for four seasons under Leach.
Herman's salary at Houston was reportedly in the $3 million range.
It will be interesting to see who ultimately gets interviewed for the Houston job. There has even been some talk among Cougar fans and boosters about bringing back Art Briles. I believe the chances of that are nil to none, but it makes for an interesting discussion.
I'm also having a difficult time understanding why a coach at a current Power Five school would be willing to take a step back in what would be a downward move to a school in the so-called Group of Five (the layer immediately under the Power Five conferences).
All of which leads me to conclude that Riley may be a much stronger candidate for the job than it might first appear.
The risk of hiring the best people for the job, especially as an assistant coach, is that they might not be long in that position. In the case of Lincoln Riley, should he accept an offer to come to Houston – or anywhere, for that matter – from Oklahoma's perspective, it has all been well worth it.
More from Stormin in Norman
This article originally appeared on