Irish in the NFL: Kyle Rudolph explodes for Vikings, Manti Te'o goes down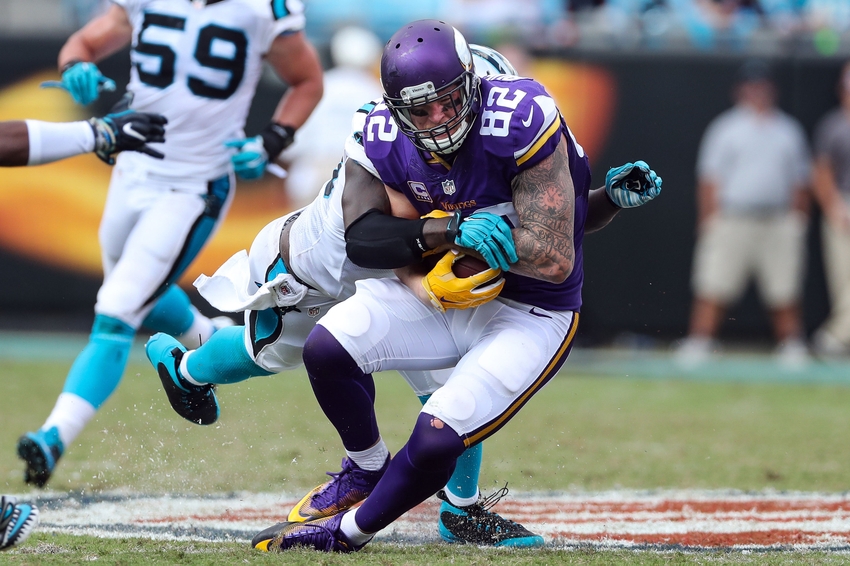 As Week 4 of the NFL season draws near, take time to check in with the Notre Dame football alums in the pro ranks and see who's rising and falling.
It was a particularly eventful Week 3 for former Irish players in the National Football League, as 20 ND veterans saw action, with several making a big impact on both sides of the ball.
Most impressive among them was former Irish tight end Kyle Rudolph, who enjoyed his best game of the season with the Minnesota Vikings, catching seven passes for 70 yards and a touchdown from backup QB Sam Bradford.
Rudolph was absolutely pivotal to the Vikings' 22-10 win, especially with star quarterback Teddy Bridgewater sidelined by injury. Thus far this year, the tight end has been all but essential to Minnesota's offense.
On the opposite side of the ball, another former ND player came up big for the Vikings. Safety Harrison Smith recorded seven tackles and a sack against the Panthers, as the Vikes made things difficult for Cam Newton.
Elsewhere in the league, an Irish legend was dealt a tough blow in Week 3, as San Diego Chargers linebacker Manti Te'o suffered a torn Achilles in his team's 26-22 loss to the Indianapolis Colts. He will miss the remainder of the season.
Two old Irish receiving greats, Michael Floyd and Golden Tate, had strong games for their ballclubs, the Arizona Cardinals and Detroit Lions, respectively. Floyd racked up 65 yards on four receptions, while Tate had 40 yards on the same amount of catches.
Meanwhile, Irish star and current Texans rookie Will Fuller came back down to earth in the third week of the season after starting off his career with back-to-back 100-yard games, a first for any Houston first-year. Facing New England, Fuller had just three catches for 31 yards.
Meanwhile a name more recent Notre Dame fans might not recognize continued a torrid start to his season, as Washington Redskin David Bruton recorded nine tackles in his team's first win of the year against the New York Giants.
Bruton, a nine-year pro, has started three games at safety for the Skins this year after spending most of his career on special teams for the Broncos.
This article originally appeared on