Iowa Football: We Have 60 More Minutes of Desmond King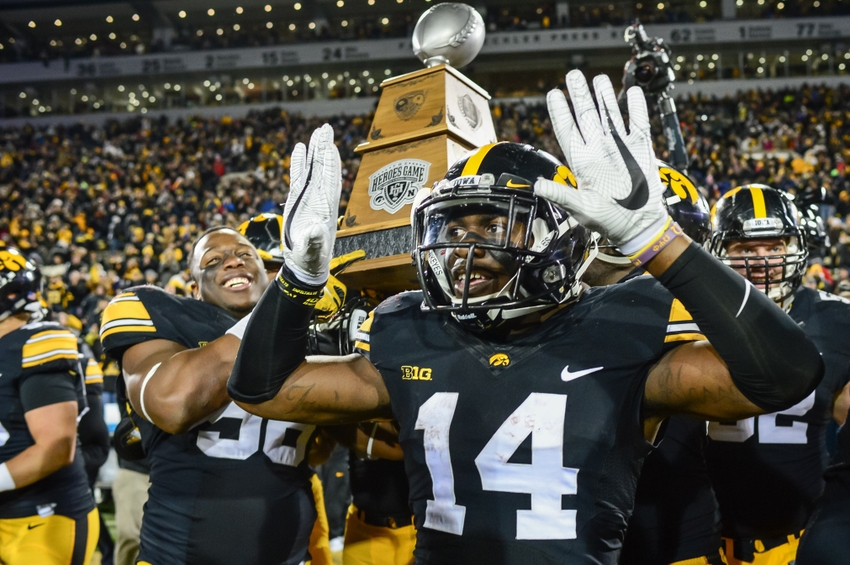 One last game with Desmond King. Let's enjoy it.
Iowa football defeated the Nebraska Cornhuskers 40-10 yesterday on senior day. C.J. Beathard, Jaleel Johnson and LeShun Daniels Jr were just a few seniors honored by the Hawkeyes. Although, none more noteworthy than potential first round pick Desmond King.
Every senior has given Iowa at least one memory, and many played a significant role in Iowa's perfect 12-0 regular season and Rose Bowl last year. However, King is a different animal, and he'll be remembered longer than anyone else in his class of 2013.
The former three-star recruit out of Detroit, Michigan has made a lasting impression on the University of Iowa. King has come a long way from being one of 15 three-star recruits in Iowa's class of 2013. Not to mention King only garnering a 73 rating from ESPN, which ranked him as the 14th best recruit in Iowa's class and only the 148th best athlete in his entire class.
King leaves as the 2015 Jim Thorpe Award Winner, tied as Iowa's all-time leader for interceptions in a single season (8) and tied for fifth in interceptions in his career (13). He still has one game left to possibly catapult him to third all-time in school history in interceptions if he picks off two passes, but it's not like King's legacy needs any more help.
After playing in all 13 games as a freshman, King took on a bigger role as a sophomore. He intercepted three passes after failing to intercept any in his first season with Iowa.
Then, as a junior, Desmond King broke out onto the national stage. He recorded five interceptions through the first five games and eight interceptions through Iowa's first nine games. King ended the season with eight and no interceptions in the final five games, but he made his mark, nonetheless.
The probable top-10 pick decided to do what no other Jim Thorpe winner has ever done — stay in school for his senior season. He wanted to help Iowa win the Big Ten, but most importantly, be the first person in his family to earn a college degree.
With Iowa owning one of the best defenses in the nation in 2015, all eyes were on King heading into the 2016 season. Heisman talk started and many publications named him the Big Ten's Preseason Defensive Player of the Year. The 2015 All-American was also named a Preseason All-American and many thought he could repeat as the Jim Thorpe Award Winner.
King only intercepted two passes in the regular season this season, though. He continued his tight coverage, however missed opportunities and teams not testing him led to a decrease in numbers. Quarterbacks simply stayed away from King's side of the field, and it showed by six fewer interceptions through 12 games.
Still, King had a good senior season and might still be a first round selection. Although, no matter who selects King, the Detroit, Michigan product has cemented himself as arguably the best defensive back in Iowa football history.
For a program that has been around for 118 years and has sent multiple players to the NFL, it's a high honor to even be considered one of the greatest at his position.
It's not crazy, however. King has dazzled Kinnick Stadium for four years, accounting for 13 interceptions, two touchdowns, three forced fumbles and a fumble recovery. Not to mention countless near return touchdowns and big plays.
All of that came to an end on Friday. King played his final game and snap as an Iowa Hawkeye at Kinnick Stadium.
In nine years, King might be back as Iowa celebrates its 10-year Rose Bowl anniversary. King might even be back sooner as an honorary guest to recognize his legacy. Maybe Iowa will retire his #14 next to other Iowa legends.
Also, if College Gameday ever comes to Iowa City, Desmond King would be a great guest picker.
All of that is in the future, though. Right now, a lot of us will never see Desmond King play in person again, or at least not as a Hawkeye, and that reality might not have sunk in yet.
The days of seeing #14 shutting down an opposing team's top option, or his little air jump shot that he does after a big play are about to come to an end. One last game of screaming, "Des! Go Des! Go!" on punt returns, or being amazed by his ball skills in coverage with Iowa.
Iowa still has one last game. We don't know when, where or against who, but we do know it will be the last 60 minutes of Desmond King's storied career with the Iowa Hawkeyes.
Let's enjoy it, because who knows when we'll see another defensive back like Desmond King in Iowa City.
This article originally appeared on