Iowa Football vs Purdue: Unit Grades for Iowa Hawkeyes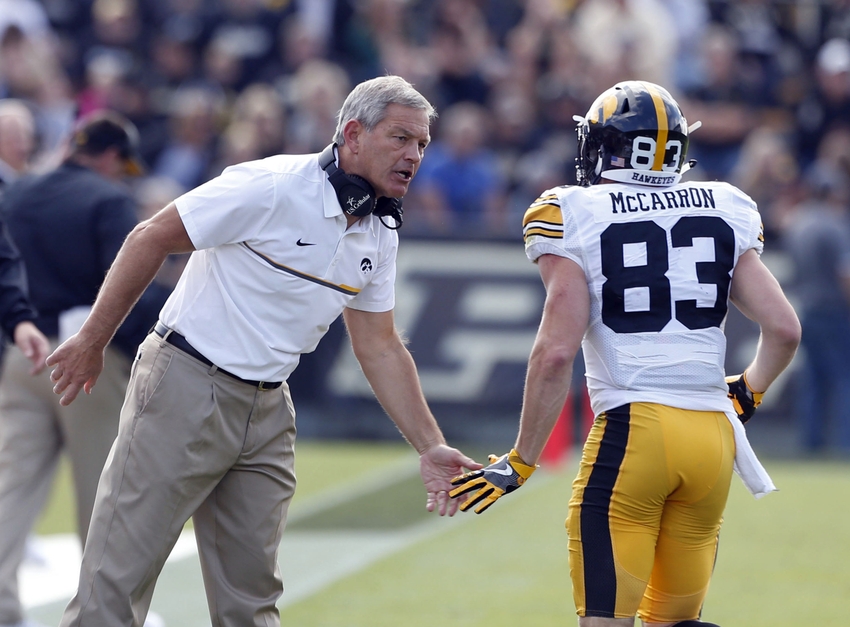 Grading each unit on the Hawkeyes for their performance against Purdue
Iowa football improved to 5-2 on the season with a win over Purdue on Saturday. After the Iowa Hawkeyes jumped out to a 21-0 lead in the first quarter, there was little doubt that the Hawkeyes wouldn't walk away with a win. Purdue played better as they game went on, although a three touchdown deficit proved to be too much in the end.
Iowa finished the game with their highest scoring performance of 2016. They did give up more than 30 points for just the second time this season, but a lot of positives came out of this game, nonetheless.
It was an odd game for Iowa, though. After seemingly having the game in the bag, Purdue didn't quit and forced the Hawkeyes to make a tough decision and put their starters back in late in the fourth quarter. No significant injuries happened for Iowa, although they're fortunate C.J. Beathard or another vital player didn't suffer a significant injury after coming back in the game.
Either way, Iowa escaped with their fifth win of the season and kept their Big Ten West hopes alive. They'll have to play even better next week to take down the Wisconsin Badgers, however here's a look at how each unit on the Hawkeyes performed at Purdue.
Offense: A
Kirk Ferentz and his coaching staff have waited for the offense to explode and dominate a game over the past couple of weeks. It finally happened against Purdue this week. Ignoring the fact that Iowa scored a season-high 49 points, which included six offensive touchdowns, it's simply the best the offense has looked since the first two weeks of the season.
Sure, the offense went stagnant with Nathan Stanley under center, however the starters dominated the game for three quarters, and that's important. In fact, the Hawkeyes scored a touchdown on five of six drives in the first half, and their one punt came off a drive that lasted 5:26.
Plus, out of the four times a C.J. Beathard led drive resulted in a punt, the Hawkeyes held the ball for at least 3:30. A week after winning the time of possession battle at Minnesota, the Hawkeyes built off of it and held the ball more than 12 minutes longer than Purdue.
A big reason Iowa controlled the tempo of the game came from stellar offensive line play. Beathard did get sacked three times on the afternoon, although he didn't take big hit after big hit all game. The offensive line gave him time to throw in the pocket. In fact, a couple of times a sack resulted in Beathard holding the ball too long and not scrambling or throwing it away.
Along with great pass protection, the offensive line created holes for LeShun Daniels Jr and Akrum Wadley. Even though Purdue's defensive line came in without their top run stopper, the Hawkeyes' offensive line looked impressive by consistently giving Daniels and Wadley room to work.
It led to them combining for 326 rushing yards and three touchdowns on 38 carries, averaging an insane 8.6 yards per carry. Also, both backs broke a run of at least 65 yards. This was the first time since week two against Iowa State that Iowa relied on their run game and pounded the ball. It became evident early that Iowa would have their way on the ground.
The offense could have come out firing in the second half and put up even more points. Still, 42 points coming from the offense is impressive, especially without one of their top receivers in George Kittle.
Riley McCarron once again led the team with four receptions, 74 yards and a touchdown, as well as not dropping any passes. Freshman tight end Noah Fant also scored on a touchdown throw from C.J. Beathard in the third quarter. Even without Kittle for most of the game, Beathard averaged an astounding 8.2 yards per pass attempt and Iowa's offense didn't lose a beat.
The offense didn't play terrible against Minnesota, but they couldn't find the end zone. This week they built off of a solid performance by finding ways to score points. Sure, it was against Purdue, but 8.6 yards per carry and 8.2 yards per pass attempt are stellar numbers against anyone. Not to mention also converting on 7-of-8 third downs in the first half and 9-of-16 overall.
C.J. Beathard overthrew a wide open Jerminic Smith on a deep ball in the first half, and three sacks is still not good, but there are a lot of positives coming off a 49-point performance that Iowa can build on.
Defense: C
A late fourth quarter pick-six by Desmond King to seal the game adds a little positive spin to the Hawkeyes otherwise underwhelming defensive performance. Purdue managed to score five touchdowns, all coming through the air, and hang 35 points on Iowa. The only team to allow more points to Purdue this season is Eastern Kentucky in week one.
In the first half, Iowa's secondary and pressure on the quarterback didn't look terrible. They held David Blough to 133 passing yards and a touchdown on 11-of-23 passing. They also stopped Markell Jones, as he only managed to gain 17 yards on six carries. Even though Iowa held Purdue out of the end zone for most of the first half, they were a couple of good throws on deep balls away from being in a real pickle.
In the second half, Purdue finally connected on big plays. Even though their workhorse back Markell Jones returned from an injury, Darrell Hazell opted towards trying to hit a home run with deep throws down field. Blough showed his inaccuracy in the first half by missing multiple open receivers that could have at least put Purdue near field-goal range.
Although in the second half, Purdue's receivers started to get behind the secondary and score. Blough completed 19-of-37 passes for 225 yards and four touchdowns in the second half. Not to mention three touchdowns coming in the fourth quarter to keep Purdue in striking distance if Iowa turned the ball over or if they recovered an onside kick.
The Hawkeyes, who usually defend the big play well, allowed four touchdowns of 25 yards or more and two that came from more than 50 yards out. In the grand scheme of things, Purdue never had a real shot of catching Iowa. Sure, they came within 14 points in the fourth quarter and nearly got the ball back with 4:30 remaining, but the Hawkeyes lead seemed safe, nonetheless.
However, the pressure on the quarterback stopped in the second half and the secondary looked like a different team, even before the backups came in. Their big lead resulted in the defense just going through the motions in the second half, forcing the starters to come back in the game. Plus, Purdue scored on four of six drives in the second half.
David Blough might not be a terrible quarterback, but the Hawkeyes made him look like an All-American by allowing him to throw for a career-high five touchdowns.
Also, four Purdue receivers recorded at least 50 yards and six receivers had at least three receptions. It's evident that the secondary as a whole struggled, not just one or two players.
Even though Iowa sacked Blough twice and held Purdue to 2.1 yards per carry, there aren't a lot of positives from allowing the 82nd ranked scoring offense in the nation to hang 35 points.
The Hawkeyes can build off another solid performance against the run, as they take on Corey Clement in a week. Although, there has to be some type of wake up call for the defense after their sub-par performance in the second half. Pick-six or not, the secondary struggled and let too many receivers get behind them all game, even if it didn't show on the stat sheet in the first half.
The second-stringers didn't play well, but the starters were a couple of big plays away from keeping Purdue in the game in the first half. Either way, Iowa won and held the Boilermakers to 14 points through three quarters.
Special Teams/Coaching: B+
Once again, no field goal attempts for the Hawkeyes. The good news is that Keith Duncan continues to be automatic on extra points, making all seven this week.
Ron Coluzzi punted six times this week for Iowa. He averaged 34 yards per punt and Iowa downed three inside the 20, with two rolling into the end zone for touchbacks. It was one of Coluzzi's shakier performances, though.
He usually does a better job of keeping the ball out of the end zone, and he also had a poor 27 yard punt that Iowa downed on Purdue's 29 yard line. A big return didn't happen and field position wasn't a huge problem for Iowa today, although he was shaky, nonetheless.
Purdue mostly tried to keep the ball away from Desmond King or force a fair catch. That being said, on an odd onside kick attempt, the Boilermakers booted it to King who returned it 28 yards and was a couple of broken tackles away from bringing it back to the house. King found the end zone on defense, but his playmaking ability in the return game has teams taking notice and has become an advantage for Iowa.
Kirk Ferentz had a very good game plan coming into the game. With Purdue owning a banged up defensive line, Ferentz pounded the ball. LeShun Daniels Jr and Akrum Wadley combined to run 38 times compared to 17 passes from C.J. Beathard. It helped open up the pass game, which resulted in a couple of shots downfield and gave the offense their mojo back.
Along with a solid game plan, Ferentz didn't risk injuries in the fourth quarter. It was a smart move to take out the starters in the fourth quarter. He also waited as long as he could to put them back in the game. It would have been ideal for them not to have played in the fourth quarter, but Ferentz realized he couldn't let this game get even more out of hand and intelligently put his senior quarterback in.
Ferentz knows his team well and played to their strengths against Purdue. In a game Iowa should have blown Purdue out in, Iowa jumped off to a big lead early and let Ferentz rest his starters. Plus, he kept his team focused on this week instead of falling into a trap game with Wisconsin next week.
It's easy to say in a win, but Iowa was well-coached once again.
This article originally appeared on