Iowa Football vs Penn State: Unit Grades for Hawkeyes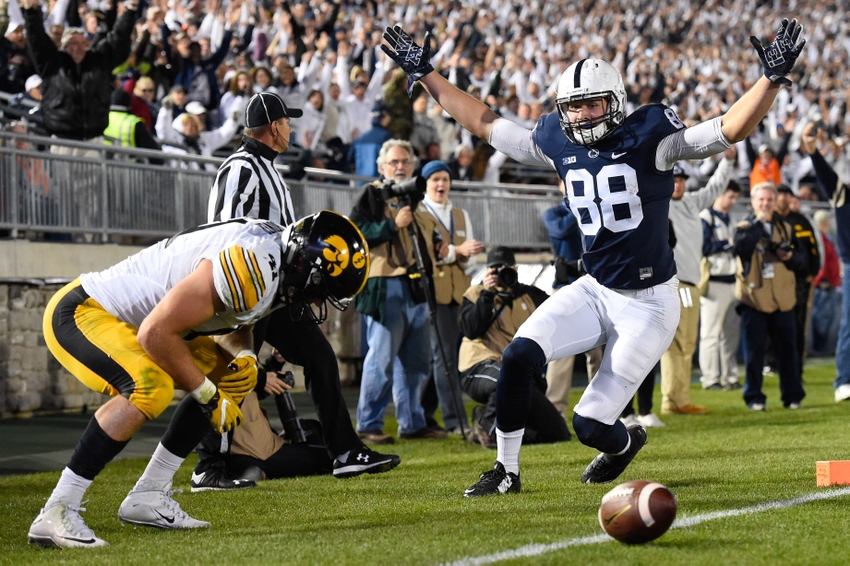 Unit grades for the Iowa Hawkeyes from their loss to Penn State
Usually there is a bright spot on some side of the ball for the Iowa Hawkeyes. Although, in a 41-14 loss to Penn State, Iowa football played poorly the whole game. The Nittany Lions out-played and out-coached the Hawkeyes from the start, and it showed by their 24-7 lead at halftime.
There are few bright spots, if any, from the worst loss Iowa has suffered this season. Iowa has had tough losses this year, and have had games they should have won slip away, but this is the first time in 2016 that they've been embarrassed and looked disinterested in the second half. For a team still fighting to become bowl eligible, it's not how they should play even in a blowout.
Iowa might not be a great, or even good, football team this year, but they're definitely better than what they showed against Penn State. At the same time, it's not a huge surprise that Happy Valley got to them and Iowa never managed to gain momentum.
Here's a look at how each unit on the Iowa Hawkeyes performed against Penn State on Saturday during their 41-14 blowout loss.
Offense: D-
The offense could have earned an F, but a lot of the blame lands on the coaching staff for their poor play-calling. That being said, the offense didn't execute and it showed right away.
Iowa only scored on two possessions and didn't capitalize on Penn State's mistakes. The Nittany Lions committed nine penalties, costing them 86 yards. A roughing the passer penalty led to an Akrum Wadley screen pass touchdown, but other than that Iowa's offensive drives never amounted to anything more than a punt until the end.
It's concerning that Iowa could never even get into field goal range despite Penn State committing 15-yard penalties on what seemed like every drive. Penn State's defense deserves credit for holding Iowa to 2-of-10 on third down and 14 points, but Iowa looked lost on offense, too.
The offensive line protected C.J. Beathard in the first half, but allowed four sacks in the second half. Plus, their run blocking was non-existent for most of the game. The Hawkeyes only gained 30 rushing yards, with Akrum Wadley and LeShun Daniels Jr combing to rush for 46 yards on 19 carries. To make matters worse, their longest run on the night was six yards.
Also, Iowa's poor receiver play continued. Beathard did complete 18-of-26 passes for 204 yards and a touchdown, but most of his completions came on short throws or screens. Running back screens worked well for Iowa, but they never fully committed to them.
To put in perspective the amount of short throws Beathard attempted, he only averaged 7.8 yards per pass attempt compared to Trace McSorley averaging 13.3 yards per attempt.
Even with poor offensive line play, the Hawkeyes should have taken more shots downfield to give them a fighting chance in the game. Sure, Riley McCarron, Jerminic Smith and LeShun Daniels Jr all had a reception of 20-plus yards, but those were the only big gains of the night.
In fact, Smith's 36-yard touchdown late in the fourth quarter might not have happened if Penn State's safety didn't slip on the play. He was the last line of defense and Smith walked in as a result. A crucial mistake by Penn State's second string defense helped pad Iowa's stats and make their loss look a lot better than it actually was.
Plus, Beathard had a terrible interception at the start of the fourth quarter. Iowa's chances of mounting a comeback in the fourth quarter down 27-7 was bleak, but a Troy Apke interception ruined any chances of one.. Beathard didn't expect Apke to break over and double-team his target, and it resulted in Beathard throwing it right to him.
Iowa needed to start fast on offense and answer Penn State's opening drive touchdown. Not only did they not, but they didn't score until down 21-0 and failed to gain any momentum or capitalize on Penn State's internal mistakes. Iowa has had a lot of bad offensive games this year, but this one takes the cake.
Defense: F
Saquon Barkley isn't a hidden secret that Iowa didn't know about before the game. The Big Ten named him their Offensive Player of the Week last week, and he could receive that honor again after his performance against Iowa. Arguably the best running back in the nation rushed for 167 yards and a touchdown on 20 carries and hauled in a 44-yard touchdown reception, as well.
Although, Barkley's dominating performance is only the beginning of what turned into a slaughter of Iowa's defense. Penn State managed to gain 599 total yards, losing a yard on the last play of the game to bring it down from 600, and averaged 6.9 yards per carry and 21.8 yards per reception.
Penn State Football: Keys to the Game vs Iowa
After Iowa held Penn State to seven points in the first quarter, it seemed like they would continue their bend but don't break defense and give Iowa a chance. The opposite happened as Iowa's defense had poor tackling, took bad angles and looked slow all game. Receivers got behind the defense and found holes in the zone with ease, with Iowa looking like the bye week hurt them more than helped.
Chris Godwin and Mike Gesicki accounted for eight receptions, 152 yards and one touchdown of Trace McSorley's 11-of-18 passing for 240 yards and two touchdowns on the night. McSorley is slowly coming into his own, and it showed by his solid passing. Although, his play as a runner was most impressive.
McSorley rushed for 40 yards and a touchdown on 14 carries, as he showed great speed, agility and mobility by keeping plays alive in the pocket. Although, backup quarterback Tommy Stevens outdid McSorley on the ground. Iowa kept their starters in late in the game when Penn State put in their second string offense, but the Hawkeyes still had no answer.
The Hawkeyes knew Penn State wanted to run the clock out with their backups, but Stevens still gained 70 yards on five carries, and Penn State's offense continued to roll in the fourth quarter. It made a brutal loss into an embarrassing one, especially when Desmond King's rough night got worse when Stevens broke his ankles on an impressive run down the sideline.
King's rough night started on the opening drive. He bit on a pump fake and left Saeed Blacknall wide open in the end zone for a touchdown. That was far from the only head scratching play Iowa's defense made, but it shows how they never seemed focused all game.
When it comes down to it, everyone knew Penn State had one of the most explosive offenses in the Big Ten. They want to use Barkley to set up deep passing plays, and it worked against Iowa. Penn State toyed with the Hawkeyes all game, and it ended with Iowa giving up 40-plus points for the first time since the 2015 Rose Bowl.
Special Teams/Coaching: D-
The only reason this unit doesn't get an F is because Josey Jewell blocked a Penn State field goal in the first quarter to keep it 7-0. At the time, it seemed like a play that could have given Iowa momentum and control of the game before it got out of hand. Although, outside of Jewell's blocked kick, special teams didn't do anything spectacular.
Desmond King only averaged 19.5 yards per return on four kick returns. Penn State had great coverage and King rarely made it to the 25-yard line. An area where Iowa is usually strong in has struggled during their past two games.
Want your voice heard? Join the Dear Old Gold team!
Like in most losses, the coaching takes a lot of the heat, and rightfully so this time. The offensive play-calling was questionable at best. An already predictable offense coming into the game turned into a complete disaster with obvious run plays on third downs and continuing to play at a slow tempo with no shots down the field, despite being down by multiple scores.
Defensively, it became uncertain to how much Iowa actually prepared for Penn State. As previously mentioned, everything that Penn State did on offense looked like a shock to Iowa. They had no answer to stopping Barkley or Penn State's passing game.
Barkley is a great player, therefore it wasn't expected that Iowa would shut him down. Although, considering their recent success against the run and a bye week to rest and prepare for him, 211 total yards from him came as a shock.
Iowa got out-coached and out-played from the get-go. They didn't look prepared, and that became evident quickly by their slow start and inability to answer Penn State's big plays.
This article originally appeared on