Iowa Football vs Penn State: Four Players to Watch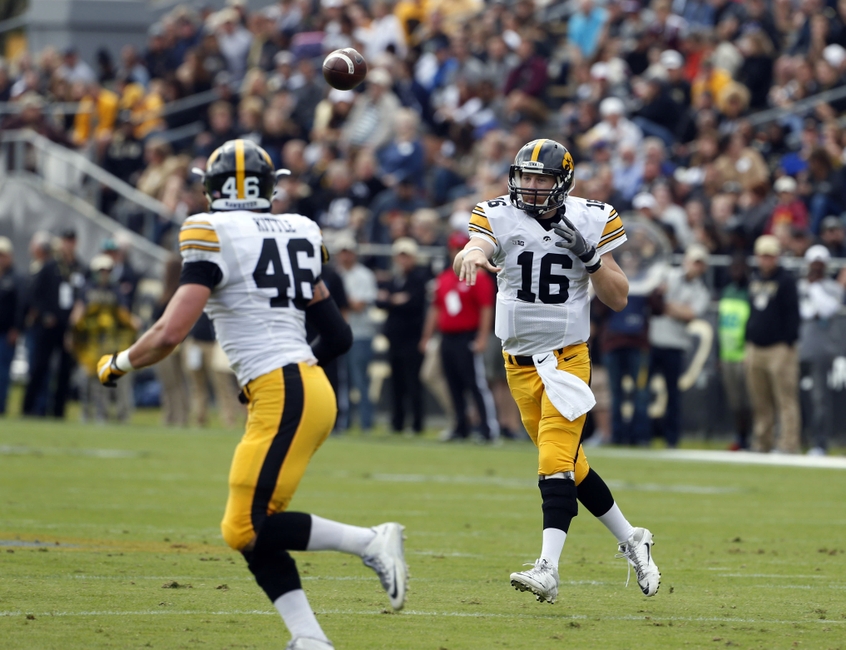 A look at who to watch when the Iowa Hawkeyes play Penn State
After a week off, Iowa football is back in action on Saturday against the 12th ranked Penn State Nittany Lions. After upsetting Ohio State a couple of weeks ago, Penn State has continuously shot up the rankings, culminating in a surprisingly high spot on the initial College Football Playoff Ranking.
There will be no shortage of star players on the field this Saturday. Despite the Iowa Hawkeyes pedestrian 5-3 record, they have a team that has a chance to stick with Penn State and possibly pull the upset.
Although, just like against any ranked team, stopping their stars has to be the focal point. Sure, Penn State doesn't own the best defense in the nation, but they have an explosive offense that can torch the Hawkeyes' defense for big gains. Iowa should be well-rested after a couple of weeks of practice, but they've been susceptible to giving up big plays.
Here's a look at four players who will have the biggest impact on the outcome of the game on Saturday.
RB, Saquon Barkley
2016 Stats: 147 Carries, 888 Rushing Yards, 10 Touchdowns
In 2015, Saquon Barkley cemented himself as one of the best running backs in the Big Ten as a freshman. In 2016, with 35 fewer carries, Barkley already has three more rushing touchdowns and is less than 200 rushing yards away from eclipsing his freshman mark.
Big Ten West Power Ranking: Wisconsin Gets Season-Defining Win
Barkley is the focal point of Penn State's offense, and his numbers are staggering. He leads the conference in rushing yards, touchdowns and yards per carry for running backs with 100-plus carries. Plus, Barkley has put up these stellar numbers with just the fifth most carries in the conference — 41 fewer than Big Ten leader Justin Jackson.
Iowa will have even more of a handful, though, because Barkley is on one of the best three game stretches of his young career. He's rushed for at least 200 yards in two of the past three games, and 99 yards against Ohio State in the third game. Also, he averaged 6.5 yards per carry against Maryland, 8.3 against Ohio State and an unbelievable 11.5 yards per rush against Purdue a week ago, leading to him being named the Big Ten Offensive Player of the Week.
Iowa has fared better against the run in recent weeks, and are now only giving up 3.9 yards per carry. It's a positive sign that besides one big run, the Hawkeyes didn't have any major problems stopping Corey Clement and also had a week off to rest their legs.
Although, the way Dare Ogunbowale tore through Iowa's defense as a receiver out of the backfield is a concern. Barkley is one of five players on Penn State with double-digit receptions on the year. Last week, Barkley caught three passes for 70 yards against Purdue, although, Barkley only caught one pass for -3 yards in the prior four weeks.
With the receivers Penn State has on the outside, they don't need to rely on Barkley as a receiver. That being said, it's evident that they're not afraid to use him as a dump-off option or heavily involve him if the defense doesn't pay attention to him.
Saquon Barkley is arguably the best running back in the Big Ten, therefore Iowa can't come into the game sluggish. He can hurt teams in a lot of ways, and Penn State will use him early to try to set up the pass.
WR, Chris Godwin
2016 Stats: 30 Catches, 422 Receiving Yards, 5 Touchdowns
With the many good receivers Penn State has, Chris Godwin might not line up across Desmond King the whole game. Still, King will likely defend him a lot because Godwin is Penn State's playmaker in the passing game.
The junior wide receiver leads the Nittany Lions in all three major receiving categories, and ranks in the top-10 in the Big Ten in all three categories, as well. Despite Godwin's solid numbers in 2016, he hasn't been great in big games.
Against Michigan and Ohio State, he only combined to record three receptions for 47 yards and two touchdowns. Penn State obviously hoped for more from their leading receiver, but his two touchdowns is telling of the playmaker he is. Even when Michigan shut out Godwin the rest of the game, he still managed to help his team with a big touchdown reception.
Godwin has been able to torch every other defense Penn State has faced. He hasn't caught fewer than four passes in any single game and only recorded fewer than 50 receiving yards once. The Nittany Lions need that type of production from him in an expected close game with Iowa.
For an Iowa secondary that has given up big plays this year, especially against Wisconsin in their last game, they need to keep Godwin in front of them and not let him form a connection with Trace McSorley early. For as many solid contributors Penn State has, they also a lot of big play ability, and Chris Godwin is their top receiver in that sense.
CB, Greg Mabin
2016 Stats: 33 Tackles, 1 Forced Fumble
Greg Mabin receives a lot of scrutiny for his play every week. With Desmond King on the other side of the field, Mabin becomes the obvious target for opposing teams to pick on. Mabin has struggled this year, but the Hawkeyes need him to step up this week as Penn State doesn't have just one great receiver, rather a group of receivers who can burn Iowa.
Chris Godwin leads Penn State in all three major receiving categories, although the Nittany Lions have five players with at least 14 receptions and three with at least 20. DeAndre Thompkins, who has 18 receptions on the season, might not play for Penn State, but the Nittany Lions would still have three receivers with 20-plus receptions.
The thing about quarterback Trace McSorley is that he doesn't hone in on only one guy every game. Sure, a different receiver steps up every week, which is why their reception distribution is so spread out, but McSorley's willingness to spread the ball around creates less turnovers. He only has three interceptions on the year, a year after throwing none in six games on 40 pass attempts. Teams can't put their best defensive back on Godwin and stop Penn State's offense, which is what makes them so dangerous through the air.
That means even if King shuts down Godwin, McSorley won't be in unchartered waters without his top receiver. Mabin will need to step up and can't be beat like in past weeks because McSorley and his second and third options can still burn the Hawkeyes.
The Hawkeyes faced a similarly deep receiving core in week one against Miami (OH). While Rokeem Williams led the team in yards, James Gardner still had a field day against Mabin, recording six catches for 95 yards and two touchdowns.
With the dominance Iowa's run defense has displayed as of late, the secondary needs to follow in their footsteps and not give up as many big plays. Like most quarterbacks, Trace McSorley will try to avoid Desmond King, which puts even more pressure on Greg Mabin and the safeties to contain Penn State's receivers and help Iowa get off the field on third downs.
TE, George Kittle
2016 Stats: 17 Catches, 280 Receiving Yards, 2 Touchdowns
George Kittle should be 100 percent, or a lot closer at least, this week against Penn State. He hasn't recorded a reception since the first quarter against Purdue, and the Hawkeyes will need his receiving ability and blocking this week.
Other than the fact that everyone finally gets to see how healthy George Kittle is, he's a very important part to Iowa's success. Kittle isn't the same deadly red zone target that he was a year ago, though. He ranks a measly third in receiving yards and fourth in receptions on Iowa, including Akrum Wadley having one more catch on the year.
Iowa did try to get him more involved against Purdue early before he got hurt, and they'll need to do the same this week. Riley McCarron continues to get better every week, but Iowa needs more than just him in the passing game. Plus, Penn State's defense is underwhelming compared to their offense, therefore it might become a shootout.
In that case, Penn State is allowing opposing teams to complete 63.3 percent of passes and average 4.5 yards per carry. Kittle can help open shots downfield with his short gains, as well as breaking a long gain himself. Even though his numbers this year have been a little disappointing, teams have to focus on stopping him, and that leaves more one-on-one matchups on the outside.
Although, his play as a blocker in the run game is largely overlooked. Iowa's bread and butter is still running the ball, and they should be able to establish a ground game against Penn State, especially with Kittle as a blocker. For as good of a receiver as freshman tight end Noah Fant is, George Kittle's blocking sets him apart from most tight ends in the nation.
When it comes down to it, the Hawkeyes need to figure out ways to get him more involved in the passing game. However, making sure he stays healthy the rest of the season is a must for Iowa to find success.
This article originally appeared on