Iowa Football vs Michigan Wolverines: Four Players to Watch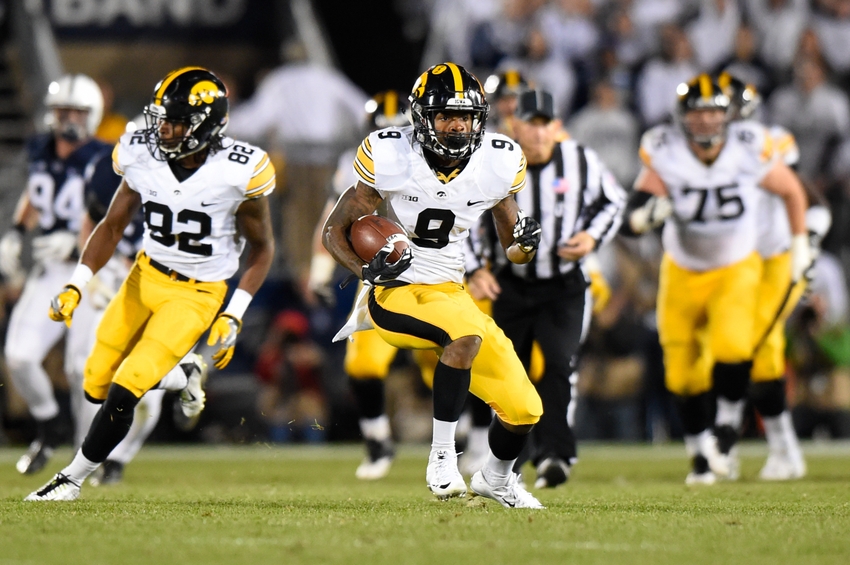 A look at who to watch when Iowa and Michigan take the field on Saturday
Iowa football will have their hands full against the Michigan Wolverines on Saturday night. Michigan owns one of the most talented rosters in the nation and have a lot of players who can make big plays.
While Jabrill Peppers gets a lot of the media attention, and rightfully so, the Wolverines are more than a one-man show. They have a lot of impact players on both sides of the ball that can make life very difficult for the Hawkeyes.
That being said, Iowa needs their stars to step up under the lights in order to pull off the upset. Just because Iowa is 5-4, and a huge 22-point underdog, doesn't mean they don't have impact players, as well. Both teams have great players on each side of the ball, but it's a matter of executing and not giving up a big play.
After an embarrassing loss to Penn State, it's obvious that Iowa needs their stars to play much better in big games. The Hawkeyes will be back home, which might help. Therefore, here are four players to watch when Iowa and Michigan take the field.
WR, Amara Darboh
 2016 Stats: 42 Receptions, 741 Yards, 6 TDs
Amara Darboh has been a nightmare for opposing defenses all season. In the Big Ten, he currently ranks second in receiving yards, fourth in receiving touchdowns and sixth in receptions, and leads Michigan in all three categories.
Darboh will get the privilege of lining up against Desmond King on Saturday, although that still might not be enough. His production has not slowed down against currently ranked teams. In fact, Darboh cemented his importance to the offense by coming up with big plays in each game.
Here's a look at how he's fared against currently ranked teams this season:
Colorado: 2 Receptions, 51 Yards, 1 Touchdown
Penn State: 7 Receptions, 44 Yards
Wisconsin: 6 Receptions, 87 Yards, 1 Touchdown
Darboh's ability to impact the game in short passing situations and make big plays could cause trouble for an Iowa defense prone to giving up the big play. In fact, against Penn State a week ago, all five receivers averaged at least 15 yards per reception.
Iowa has been prone to overcommitment to the run and has been hindered by poor secondary play all season. With the way Michigan runs the ball, it could leave a lot of one-on-one matchups for Darboh, and those are situations he tears defenses apart.
On the bright side, Michigan doesn't have a super deep receiving core, therefore King will likely be able to stay on Darboh all game. It helps, but Iowa's safeties need to play their best game of the season.
TE/FB, Khalid Hill
2016 Stats: 33 Touches, 127 Yards, 10 TDs
Khalid Hill is probably the most used full back in the nation. It's fitting considering the crazy plays and formations Jim Harbaugh has come up with this year.
Outside of the red zone, Hill is rarely used other than as a blocker. On Michigan, he only ranks sixth in carries, ninth in rushing yards, fourth in receptions and fifth in receiving yards. However, since Michigan uses a running back committee, Hill's 6-2, 263 pound frame becomes very useful in short yardage situations and near the goal-line.
In fact, Hill leads the team with 10 total touchdowns, including nine on the ground, which is one more than starting running back De'Veon Smith. Hill's size and strength paired with Michigan's offensive line makes for an easy touchdown for the Wolverines most of the time when inside the five.
Hill has also taken on a bigger role as a receiver this season. He has a reception in all but one game this season and has proven to be successful in picking up the first down in short yardage situations.
When it comes down to it, Khalid Hill will block on 90 percent of the plays he's in, and unless there's horrific tackling, he won't break a 40-yard touchdown run. Both Smith and Ty Isaac pose bigger threats than a full back who has a mere 34 rushing yards and a season-high of seven touches against Central Florida.
Although, if Iowa wins, it will because they get off the field on third and short, and stopping Hill is how you do that.
LB, Josey Jewell
2016 Stats: 87 Tackles, 4 Tackles for Loss
Josey Jewell is the heart and soul of Iowa's defense this year. Against the third ranked scoring offense in the nation, Iowa will need to slow Michigan down to have a chance, and that starts with Jewell.
The Wolverines want to run the ball often, and Jewell is one of the best linebackers in the nation against the run. He leads the team with 87 tackles, almost 20 more than anyone else, and is always all over the field. That will be important against a team who throws a lot of different looks at Iowa with a different running back on almost every play.
Michigan is averaging 5.5 yards per carry on 45.6 carries per game. Plus, five players have at least 50 carries for 400 yards. Right now, the Wolverines have turned a running back committee into one of the deadliest run games in the nation.
Even though stopping Michigan's run game is important, Jewell's main job will be to contain tight end Jake Butt. Arguably the best tight end in the nation, Butt ranks second on the team in receptions, receiving yards and touchdowns. He's a huge target in the red zone but Michigan isn't afraid to go to him anywhere on the field.
Jewell might not line up against him every play, but it would be odd not to have their best linebacker try to take away one of Michigan's top offensive weapons. Of course it doesn't all rely on Jewell, Iowa's whole defense will have to step up to stop Butt and Darboh in the passing game.
In the end, Josey Jewell is a star. He's always one of the best players on the field, and that won't change on Saturday night. The Hawkeyes defense needs to play their best game of the season, and that starts with stopping the run and containing Jake Butt in the red zone. Jewell is one of the better linebackers in the nation, and now he has a national stage to prove it.
WR, Jerminic Smith
2016 Stats: 19 Receptions, 271 Yards, 2 TDs
One of the few positives that came out of Iowa's loss to Penn State is the relevance of Jerminic Smith in the offense. Smith didn't have a role outside of a deep threat early in the season, and has been unable to break that role after Matt VandeBerg was lost for the season.
Riley McCarron stepped up as Iowa's main slot receiver and C.J. Beathard's new favorite target. Smith and Jay Scheel, on the other hand, maintained their roles as deep threats. However, with Iowa's poor offensive line, standing in the pocket to deliver a 50-50 ball downfield isn't always a viable option.
The lack of throws in Smith's direction this season could also be due to Beathard's lack of trust in Smith, but Smith also didn't get great separation from defenders. It's been a consistent problem for Iowa's receivers this season and has a chance to haunt them against Michigan. That being said, Smith is coming off his best game of the season.
Against Penn State a week ago, Smith hauled in a season-high five receptions for 85 yards and a touchdown. Following a bye week, Smith's role in the offense completely changed. Beathard looked for him more down field and it resulted in him recording one more reception than McCarron.
Beathard won't get a ton of time to throw in the pocket against Michigan, but Iowa will need big plays to pull the upset. McCarron has had fewer drops, and screens to him have become Iowa's favorite passing play.
That being said, they need to take shots down field and have a vertical passing game, as well. Jerminic Smith has had that role all season, and Beathard's newly found trust in him could help spark the offense.
This article originally appeared on