Iowa Football vs Illinois: Keys to the Game for Hawkeyes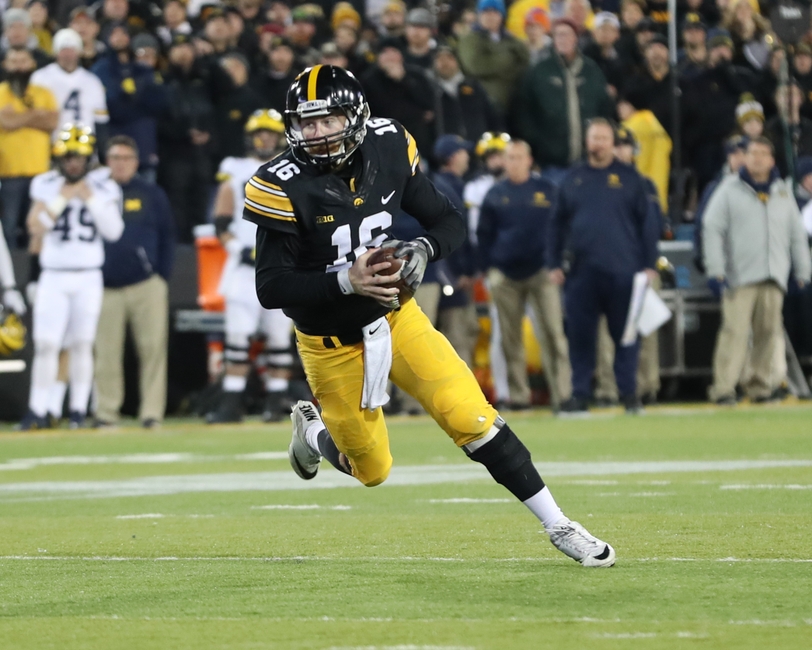 A look at how the Iowa Hawkeyes can beat Illinois on Saturday
Iowa football became bowl eligible last week with their upset win over the Michigan Wolverines. It puts a lot less pressure on Iowa this weekend against the Illinois Fighting Illini, which could help them.
Illinois is 3-7 on the year but has dealt with numerous injuries in 2016. Still, they beat Michigan State a couple of weeks ago, which shows they're capable of winning if teams overlook them. A week following a major upset can be a let-down for some teams, especially for an Iowa team who has not consistently played well this year.
That being said, the Hawkeyes should enter the game with a lot of confidence and belief that they can get their seventh win of the season.
Plus, Champaign, Illinois won't be as hostile as usual with most students home for Thanksgiving break. It could play in Iowa's favor or work against them if they're not as focused as they should be. The Hawkeyes are a 10-point favorite, though.
Here's a look at how Iowa can escape Champaign, Illinois with their second straight win and their seventh win of the season.
Get the Passing Game Going
Outside of screens and dump-off passes to Akrum Wadley, the Hawkeyes had relatively no passing game a week ago. C.J. Beathard completed just 8-of-19 passes for 66 yards, a touchdown and interception, and 52 of his passing yards went to Wadley.
After topping 160 passing yards in each of Iowa's first five games, last week marked the fourth time in the past five games that Iowa has failed to throw for at least 160 yards. Not to mention it being the first time in 2016 that Beathard threw for fewer than 100 yards and completed less than 50 percent of his passes.
That being said, Iowa did take a couple of shots down field, and Beathard almost hit a wide open Jerminic Smith late in the fourth quarter for what would have been a go-ahead touchdown. It's great to see aggressive play-calling from Iowa, but the Hawkeyes need to convert it into big plays.
Illinois allows teams to complete 63.5 percent of passes against them and 203 passing yards per game. Plus, they only have four interceptions this season and have allowed at least 175 passing yards in seven games this season.
That leaves a big chance for Beathard and the receiving core to have a bounce back week, especially since Wadley will be Illinois' main focus. Lovie Smith already made Wadley a point of emphasis this week, which could lead to more opportunities on the outside for the Hawkeyes.
Iowa wants to run the ball, but their offense is most effective when they speed up the tempo and force the ball down field. The Hawkeyes have a chance to top 15 points for the first time in three weeks if they complement their ground game with a reliable pass attack.
Stop the Run
Illinois will likely pass more with Wes Lunt back under center this week. While Lunt won't run the same option offense that Chayce Crouch does, Illinois still wants to pound the ball with their running back committee and not pass unless they're down early. In fact, the Illini have attempted more runs than passes in all but three games this season.
Kendrick Foster, Reggie Corbin and Ke'Shawn Vaughn all have 60 carries for at least 300 yards and five yards per carry this season. Each running back has at least two games this season with double-digit carries. That being said, Foster has gotten the bulk of the carries the past two weeks and is Illinois' first option when all three are healthy.
Foster enters the game with 671 rushing yards, seven touchdowns and 6.2 yards per carry. He found holes against a stout Wisconsin defense a week ago and rushed for 75 yards on 15 carries. Illinois needs him to have a big game if their offense is going to generate enough points for a win.
Iowa is coming off their best performance of the season, though. A week ago, they held Michigan to 2.8 yards per carry and 98 rushing yards. The Hawkeyes shut down De'Veon Smith by holding him to 28 yards on 12 carries and making him a non-factor all game. Not to mention stopping him in his end zone for a safety.
Jaleel Johnson played arguably the best game of his career last week. He recorded a team-high nine tackles, two tackles for loss and one sack. The Big Ten named him the conference's Defensive Player of the Week, and Iowa needs that type of performance from him again this week.
Illinois owns just the 112th scoring offense, but they are 3-3, which includes a three-point loss to Purdue, and average 29.5 points per game, eight points more than their season average, when they rush for more than 100 yards.
They do have a more reliable passing game this week, but it's evident that they find the most success on the ground. Iowa has held three of their past five opponents to fewer than 105 rushing yards, and the Hawkeyes will shut down the Illini's offense if they continue that trend this week.
Get Ahead Early
Five of Illinois' seven losses have come by 20-plus points, and six have come by at least 15 points. The Illini have gotten themselves in a hole early in a lot of games this year and have been unable to recover. Illinois has only scored first in three games but has led at halftime in two of their three wins.
It's evident that forcing Illinois to throw and abandon their game plan early puts them in a big hole. That being said, Iowa has had a hard time getting off to fast starts this season. They have failed to hold a lead in the first quarter in four of their past five games, and have trailed after the first quarter in three of four losses this season — tied 0-0 against Wisconsin.
That has to change this week, though. Iowa is coming off a game in which they came back down 10-0 to Michigan, but the Hawkeyes can't play down to their level of competition.
It showed against Rutgers and Minnesota this year what happens when they get off to slow starts against teams they should easily beat. Both Rutgers and Minnesota gained confidence and kept the game close until the end, with Iowa winning both games 14-7.
The Hawkeyes have the offense to make big plays in the first quarter to jump out to an early lead. That became evident by their 21-point outburst against Purdue earlier this season. Not to mention Illinois only owns the 90th ranked scoring defense in the nation.
Outside of an occasional three and seven point comeback, Illinois doesn't respond well to being down. The last thing Iowa wants to do is give Illinois hope that they can win this game. Iowa is the better team, and they need to show that right away.
This article originally appeared on