Iowa Football: Three Takeaways From Loss to Penn State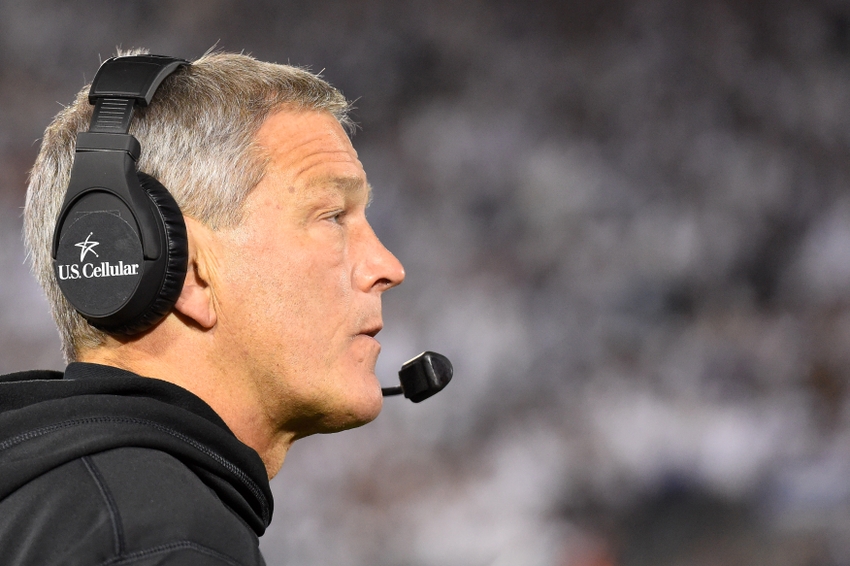 Three takeaways from Iowa's loss to Penn State on Saturday
It didn't show, but Iowa football had an extra week to prepare for Penn State. Despite the extra time, Penn State quickly put the Iowa Hawkeyes in a big hole. Penn State jumped out to a 21-0 lead in the first half, and Iowa looked disinterested the rest of the way.
There weren't a lot of pretty things on Iowa's side of the ball, but it does give us a better idea of who Iowa is. It's been evident that Iowa is a mere shell of what they were in 2016, although now questions surface about whether Iowa is even good.
Despite the numerous times Matt Millen called Iowa a good football team and that Penn State's 41-14 win will look good to the committee, the Hawkeyes have not proven that they're anything more than mediocre this year.
Penn State exploited Iowa's biggest weaknesses, and Iowa showed their true colors. Sitting at 5-4, there is a real chance that Iowa might not be bowl eligible this year, especially with Illinois as their only reasonably winnable game left on the schedule.
Focusing on this week's loss, though, here are three takeaways from the Hawkeyes worst loss of the season up to this point.
The Offense Doesn't Make Adjustments
Teams make adjustments when things aren't working, but Iowa refuses to shy away from their game plan even a little. Kirk Ferentz and Greg Davis not changing how the offense plays mid-game has gone hand-in-hand with the Iowa's offensive struggles this year. The struggles continued against Penn State, and Iowa refused to do anything about it.
Iowa only managed 234 total yards and 30 rushing yards, their lowest amount on the ground since rushing for 23 yards against Michigan State in 2013. Yet Iowa continued to pound the ball up the middle all game with LeShun Daniels Jr and Akrum Wadley, who averaged a mere 2.4 yards per carry.
Plus, on third and short, Iowa stuck to their predictable run plays. They tried a couple of jet sweeps to Wadley or handed it off to Daniels for a run up the heart of Penn State's defense. Despite Penn State giving up 4.5 yards per carry entering the game, they knew what to expect in short yardage situations from Iowa and executed.
Penn State Football: Keys to the Game vs Iowa
In fact, there were points in the game when Penn State could call out where Iowa was going to run on third down. It resulted in Iowa only converting 2-of-10 first downs.
As a result of their obvious play-calling, Iowa never tried to catch Penn State off guard with a shot down field. However, the couple of times C.J. Beathard did throw downfield, Iowa had their biggest plays of the game, including a 36-yard touchdown reception by Jerminic Smith.
It's understandable that Beathard can't sit in the pocket every play because he'll get sacked too often with Iowa's offensive line, but that doesn't mean Iowa should completely abandon that part of the game, especially not when down by 20-plus points. Iowa never entered attack mode to try to keep the game close, rather hoped that the defense would stop Penn State's explosive offense so Iowa would only need to score 14 points to win.
The one positive adjustment that Iowa did make came in the third quarter when they switched to a no huddle offense. It didn't last long, as they reverted back to their oddly slow tempo at the end of the quarter, but Iowa had a couple of short gains that resulted in a couple of first downs when they sped up the tempo.
When it comes down to it, Iowa looks like they scripted every play they'll run before the game and refuse to waver from it. Making adjustments to try to find a defense's weakness is inevitable, yet Greg Davis and Kirk Ferentz continue to stick to a game plan which scored them 14 points and never gained any momentum in 60 minutes of action.
Penn State's defense stepped up, but Iowa's offense also became very predictable right away.
Iowa Lacks Leaders on Both Sides
"Iowa lacks leaders" is an odd statement when considering the upperclassmen they have on the team. C.J. Beathard is a senior, as well as playing quarterback which is historically the leader on most football teams, Desmond King is a senior, as well as being one of the top defensive backs in the nation, and Iowa has plenty of other junior and senior starters, as well.
Despite the immense leadership they should have, Lisa Byington reported in the second half that there was no sign of an emotional or vocal leader on the sideline. As crazy at Lisa Byington's report sounded, it became evidently true as the game went on.
It somewhat explains why Iowa looked disinterested and simply just went through the motions in the second half. Iowa looked like they gave up after a slow start, and that's something you never want to see on even a winless team, let alone a team fighting to become bowl eligible.
It's not to say that Iowa would have upset Penn State if someone on the sideline stepped up as a leader, but they likely wouldn't have lost by 27 in embarrassing fashion.
A team with emotional leaders on both sides of the ball don't finish games like Iowa did. If someone can't step up on the sideline to try to keep Iowa focused all game during a night game, which was labeled as Big Ten Network's Game of the Day, then it's hard to imagine any sort of leader surfacing the rest of the year.
It makes the lack of an obvious leader on a team that has many players who experienced a 12-0 regular season in 2015 is more concerning than anything going forward.
Iowa got embarrassed in primetime on Big Ten Network, and the same will happen next week on ABC at home against Michigan if Iowa doesn't re-focus quickly. The Hawkeyes' vocal leader shouldn't be Kirk Ferentz, who is one of the quieter coaches in the nation.
Iowa's slump at the start of the season has turned into their true identity, and the lack of an emotional leader could explain why. The Hawkeyes still have three games left, and possibly a bowl game, but they'll finish the season on a five game losing streak if someone doesn't hold everyone accountable and keeps them focused all game.
Jabrill Peppers, This is Your Heisman Moment
It's simple, if Iowa plays like they did against Penn State next week, they'll lose by more than 50 points to Michigan next week. There was very little hope that Iowa could even stay competitive against Michigan before their blowout loss to Penn State, but now a blowout loss to Michigan is almost certainly in their future.
It's no secret how good Michigan is and how well prepared Jim Harbaugh has them every week. After watching an Iowa team that rolled over and seemingly quit in the second half against Penn State, it doesn't instill confidence with the third ranked team in the nation coming to Iowa City next Saturday.
Want your voice heard? Join the Dear Old Gold team!
Harbaugh will have his team ready to play and knows how to exploit team's weaknesses. Considering the massive holes Iowa showed they have this season against Penn State, Michigan has to be licking their lips and thinking they're in store for another blowout win with massive numbers.
One player in particular that Iowa will have to figure out is Jabrill Peppers. He plays basically every position outside of the offensive and defensive line and is a strong Heisman Trophy candidate. Every Heisman candidate has a signature game, and that could be this upcoming week for Peppers.
After watching Iowa have no answer for Saquon Barkley or Penn State's average defense, it's hard to imagine that any game plan they throw at Peppers will work. Iowa basically looked like they didn't game plan for Barkley, despite having an extra week, and now will have to stop arguably the best and most versatile player in the country as Harbaugh shifts him around the field on every play.
Everyone had their doubts about next week's game against Michigan, but the doubts grew a lot bigger following a loss to Penn State. Michigan beat Penn State by 39 earlier in the season and Iowa lost to Penn State by 17 on Saturday, which can only mean a 56 point loss is very possible.
This article originally appeared on