Iowa Football: Three Reasons the Hawkeyes Will Upset Wisconsin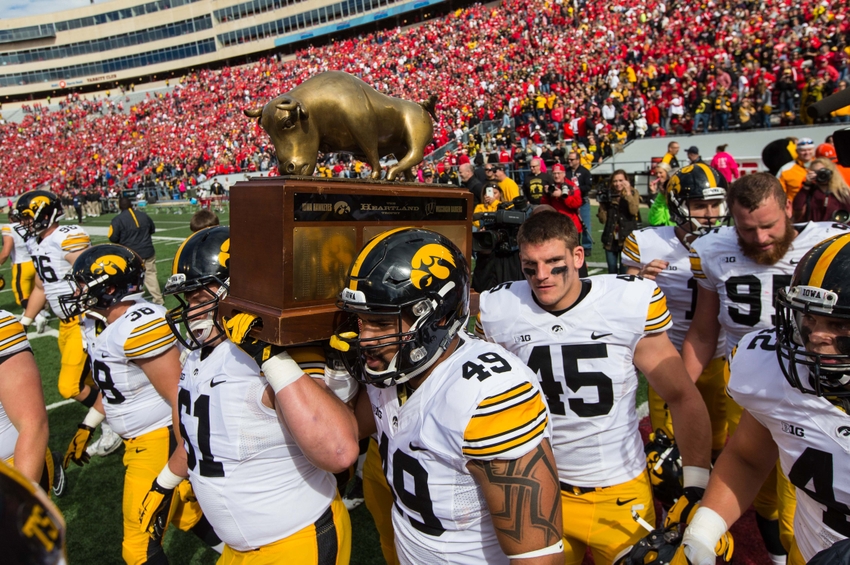 A look at why the Iowa Hawkeyes will upset the Wisconsin Badgers
The Heartland Trophy is on the line this Saturday when Iowa football hosts the Wisconsin Badgers. A year after Iowa beat Wisconsin at Camp Randall 10-6, the now tenth ranked Badgers will look to keep their Big Ten West dreams alive in Iowa City against the Hawkeyes.
Considering the brutal schedule Wisconsin has endured this season, and the struggles Iowa has had in 2016, it makes sense why the Badgers are four-point favorites on the road. That being said, neither team can afford a loss if they want to win the division. The Hawkeyes might not be favorites heading into the game, but no one should count them out.
The Hawkeyes have already won each of their first two trophy games this season — at home against Iowa State and at Minnesota. Sure, neither are top-25 teams, let alone top-10, but Iowa has stepped up and looked impressive in both wins. There is something about rivalries and trophy games that bring the best out of both teams involved.
Iowa and Wisconsin are long-time rivals, and it doesn't take a trophy to spice things up between them. It might not be a popular choice, but here's why the Hawkeyes will upset the Wisconsin Badgers on Saturday.
Wisconsin Struggles to Score
Wisconsin is coming off their most impressive offensive showing. After being held to seven points against Michigan, Wisconsin came off their bye week and scored 23 points, 16 in the first half, against Ohio State. The Buckeyes have one of the best defenses in the nation, and the Badgers torched it in the first half, although there is still reason to doubt Wisconsin's offense this week.
The first half of last week marked just the fifth half of 2016 that Wisconsin scored more than 15 points. They moved the ball better than they had all season but eventually returned to their mediocre offense in the second half, in which they only scored seven points and looked lost in overtime.
Big Ten West Power Ranking: Hawkeyes Prove A Lot in Win
In fact, the Badgers only gained eight first downs in the second half and overtime compared to 14 in the first half. Granted they were playing against one of the better defenses in the nation, but they still didn't play well on offense the whole game and that's a concern when taking on good teams.
Freshman quarterback Alex Hornibrook finished with 214 passing yards, a touchdown, interception and completing 16-of-28 passes. Although a late third quarter interception that led to a go-ahead touchdown for Ohio State had people remembering why the Badgers couldn't beat Michigan. Hornibrook reverted back to his turnover-prone self at the worst time.
There is no doubt that the Badgers offense looked better against Ohio State than against Michigan, every statistic proves that. However, it's a little premature to think Wisconsin's offense is fixed after one week and is a lock to score even 20 points against Iowa. This is still the offense that gained just eight first downs and turned the ball over three times against Michigan.
Iowa's defense has had its problems this year, but they're coming off their two best performances against the run and that's how Wisconsin finds most of their success on offense — 61 percent of Wisconsin's plays are runs and 46.4 percent of their yards come on the ground.
If Iowa controls the run and puts the pressure on Hornibrook to make plays, it's not a guarantee he'll come through for the Badgers. Wisconsin established a ground game against both Michigan State and Ohio State, yet the one time they failed to reach double-digit points, Hornibrook failed to make plays when Michigan shut down Corey Clement. Instead, he threw three interceptions and Wisconsin gained 159 total yards.
Despite coming off a loss, Wisconsin's offense will come in with confidence, but so will Iowa's defense. The Hawkeyes will need to score more than 10 points this year, but Wisconsin still doesn't own an explosive offense. Wisconsin's defense can match anyone's, however 25.5 points per game (86th in the nation) is very underwhelming and can be exploited.
Iowa's Offense is Playing Better
Wisconsin's defense has continued to be doubted every week but keep proving everyone wrong. They held Michigan State to just six points, an explosive Michigan offense to 14 points and kept J.T. Barrett and Ohio State in check for a half, holding them to six points in the first half. The Badgers are expected to crush Iowa's weak offensive line and stop their offense, but it won't be that easy.
It will take more than just the momentum Iowa brings into the game to break this Wisconsin defense. The Badgers rank ninth in the nation in points allowed per game (15.2), are giving up just 3.4 yards per carry and are allowing opposing teams to only complete 57.2 percent of passes. Simply put, there's no easy way to score on Wisconsin.
That being said, Iowa is coming off their most impressive offensive outing. Sure, it came against Purdue, but averaging 6.9 yards per carry, completing 60 percent of passes and scoring six offensive touchdowns is good production against anyone.
The Hawkeyes finally broke through and exploded on offense, gaining confidence, an identity and proving that they can find the end zone. Prior to their win over Purdue, the Hawkeyes only scored 14 points against Rutgers and Minnesota. It's evident that finding ways to score wasn't easy, which makes their outburst on offense important, even if it came against one of the bottom-dwellers of the Big Ten.
Besides, Iowa enters the game with a lot more confidence than if they only scored 14 points against Purdue. Having Boone Myers, Cole Croston and George Kittle healthy will be vital to their offense continuing to play at a high level, though.
Iowa has dealt with an injured and struggling offensive line all season, yet have continued to find ways to win. Wisconsin might be their toughest test up to this point, but Iowa won't be in unchartered waters with a banged up offensive line.
Wisconsin is coming off a game in which they allowed 4.1 yards per carry, and LeShun Daniels Jr and Akrum Wadley each had their best game of the season a week ago. It's not to say they will combine for over 300 rushing yards again, however fatigue could be starting to become a problem for Wisconsin's defense.
Sure, they had a bye week before playing Ohio State, but the Badgers are still coming off an overtime loss and have faced four top-10 teams in their first six games. It takes a toll on teams.
With Iowa cruising to an 14-point win over Purdue, the Hawkeyes might have the advantage in the fourth quarter if Wisconsin starts to feel a little fatigued by Iowa constantly pounding the ball. Plus, Wisconsin has battled numerous injuries on the defensive side this year.
When it comes down to it, Iowa shouldn't need to score 30-plus points to win. Don't get me wrong, scoring on Wisconsin isn't easy, but it can be done. The offense might also be a little banged up, but the Hawkeyes haven't moved the ball this well since the first couple weeks of the season, making this the right time to play Wisconsin.
Home Field Advantage
Iowa is a mediocre 2-2 at home this year with two consecutive losses. Still, after two straight road games, Iowa should be thrilled to be back in front of their home crowd instead of battling the crowd noise at Camp Randall.
Plus, top-10 teams are more likely to be upset on the road. Out of the 13 losses teams ranked in the AP Poll top-10 have suffered this season, 10 have come on the road. Plus, the three teams that lost at home while being ranked in the top-10 all lost to ranked teams. Granted there are still a handful of undefeated teams, but it does show that home field advantage does exist in close games.
The pressure on the ranked team goes up the longer an underdog sticks around, and the crowd noise could rattle younger players. Even though Wisconsin has a lot of veterans on their team, they do have a freshman quarterback and an offensive line mostly made of underclassmen.
Besides, all the pressure is on Wisconsin from a national standpoint, as well. Even though Iowa still has a chance to win the Big Ten West, the Badgers are expected to blowout Iowa and still have an outside chance of making the College Football Playoff if they run the table, putting even more pressure on every game.
Therefore Iowa can go out playing more freely and less tense than if the season relied on this game.
In a way, this is probably how Wisconsin felt last week considering they entered the game as a double-digit underdog. It allowed them to take more chances and play less tense. Teams might not consciously think about it, although underdogs tend to take more chances when trying to pull of an upset rather than trying to stave off one.
Also, against ranked teams at home, Kirk Ferentz is 11-13 while coaching at Iowa. To be fair, three of those loses came during his first season when Iowa finished 1-10. Either way, he protects Kinnick Stadium well and has a decent track record against top teams at home.
Kirk Ferentz takes on a team with unusual experience, though, considering Wisconsin has already faced three top-10 teams on the road or neutral site. Even though Wisconsin is as battle-tested as anyone team in the nation, there is always a different feel playing away from home.
Quarterback Alex Hornibrook's completion percentage is 15.4 percent lower on the road. Also, Corey Clement is averaging 2.9 fewer yards per carry on the road in 2016. The Hawkeyes will need to take advantage of their struggles on the road to pull off the upset. That being said, head coach Paul Chryst is an impressive 5-1 on the road during his two seasons at Wisconsin.
Kinnick Stadium will be as loud as ever, despite it being an 11 a.m. kickoff. It's the first ranked opponent to visit Iowa City since Wisconsin in 2014 and Iowa will try to avoid their first three home game losing streak since 2012.
It won't be easy, but Iowa has a much better chance at home than traveling on the road, and the crowd noise will work in their favor.
This article originally appeared on