Iowa Football: Three Bold Predictions Against Rutgers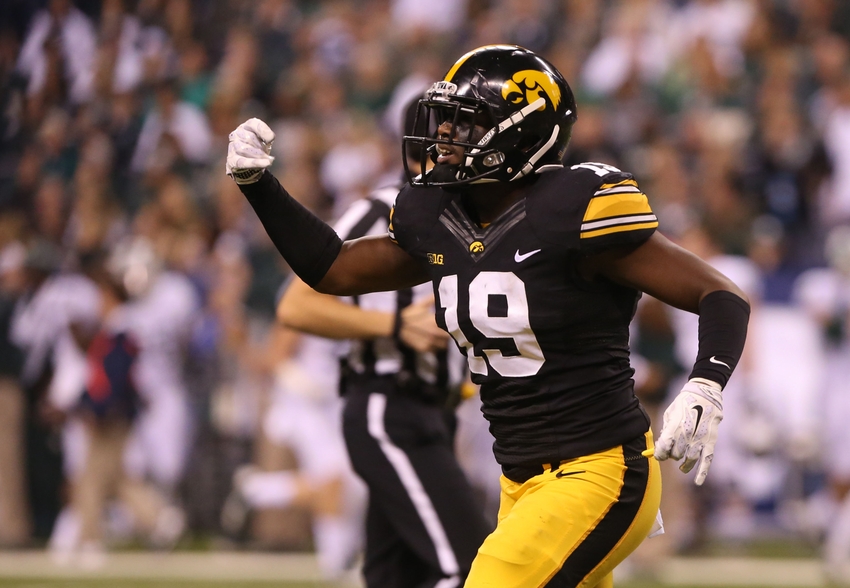 Three bold predictions for when the Hawkeyes take the field against Rutgers
Unless your bold predictions last week were that the Iowa Hawkeyes would have one of their worst offensive showings in years, you were most likely wrong. Coming off a disappointing loss, Iowa will have plenty of motivation against Rutgers, though.
With the perceived notion that the Hawkeyes should run away with this game, many people are expecting them to fix a lot of their big mistakes from a week ago. Plus, the Hawkeyes could be in store for a lot of big plays on offense. The Scarlet Knights have given up eight touchdowns of 30-plus yards this season, including a couple off special teams.
Iowa's main goal this week is to get their season back on track, though. A win would instill a lot of confidence in them, especially since they still have a lot to play for in 2016. In a game where they're heavy favorites, the Hawkeyes need to capitalize on what should be an easy win and show the nation that last week was a fluke.
That being said, here are three bold predictions for the Hawkeyes when they meet with Rutgers this Saturday.
LeShun Daniels Jr and Akrum Wadley Each Top 100 Yards on the Ground
North Dakota State made stopping the Hawkeyes dominating run game their main goal a week ago, and they succeeded. They held LeShun Daniels Jr and Akrum Wadley to a measly 49 yards on 18 carries, 2.7 yards per carry. To put in perspective Daniels' and Wadley's struggles, each rushed for at least 49 yards in each of the first two games, yet couldn't combine to top 50 yards against the Bison.
It's no secret that the offensive line needs to be better and that Iowa shouldn't have kept trying to run up the gut of the Bison's defense. Although, most people are expecting the offensive line to be better against Rutgers, and a bigger role for Akrum Wadley will add speed and explosiveness to the backfield.
It might have been due to Wadley getting banged up in practice, but four carries is an extremely small work load for a running back who averaged 8.1 yards per carry through the first two weeks. As a result, Iowa saw what happens when they don't establish a run game. Therefore I expect Kirk Ferentz to turn to his dynamic duo early in the game.
Wadley and Daniels each saw 10-to-15 carries a game in the first two weeks, and getting back to that ratio will be important. Iowa has Daniels listed as the starter, however they're both at their best when they complement each other. Wadley's speed helps open up lanes up the middle for Daniels, and vice-versa.
It's evident that teams have found more success through the air against Rutgers, rather than testing a solid run defense that's only given up 4.3 yards per carry. That being said, the Scarlet Knights are coming off a game in which they allowed New Mexico to average 5.2 yards per rush. Besides, they haven't faced running backs at the caliber of Daniels and Wadley in 2016.
Nothing went right for the Hawkeyes on the ground a week ago. Ferentz knows establishing themselves on the ground will open up a lot of chances for this offense.
Wadley should be 100 percent this week and Daniels will have plenty of motivation following one of the worst performances of his career. In a homecoming game for Akrum Wadley, Ferentz will look to go back to his roots and pound the ball early and often for the first time this season.
Defense Intercepts 3 Passes
A lot of hype surrounded the Iowa Hawkeyes' defense coming into the 2016 season. A big reason was because Desmond King decided to return for his senior season after an eight interception season as a junior.
Through the first three games, King has failed to record an interception. In fact, despite the mediocre quarterback play the Hawkeyes have faced so far, they've only intercepted two passes in 2016. Iowa has done most of their work on the ground, forcing four fumbles and recovering three in the early season.
They now face a quarterback who hasn't been turnover prone this season, although was last year. Chris Laviano has completed just 51.7 percent of his passes, yet has thrown four touchdowns and only two interceptions. He did throw a pick in the season opener against Washington when he owned an atrocious quarterback rating of 17.7, though.
Still, he's shown decent improvement from last season when he threw 12 interceptions. In 2015, Laviano never had a three interception game, although he did have four multi-interception games. He also threw nine picks during Big Ten play.
Despite Laviano never throwing more than two interceptions in a game, and the Hawkeyes inability to force turnovers in 2016, there is reason to believe that this is the week Iowa flips the switch and turns back into their stifling defense from a year ago. It takes teams a couple of weeks to get back into midseason form, and this is around the week the Hawkeyes started to force more turnovers in 2015.
They forced three turnovers against North Texas in week four last year and four against Wisconsin in week five. If this defense can put the same kind of pressure on the quarterback and have their secondary step up, the same type of results are possible for them this week.
Not to mention their linebacker core is one of the best in the Big Ten. Josey Jewell, Ben Niemann, whose dad is Rutgers' defensive coordinator, and Bo Bower all recorded 11 tackles last week. The Hawkeyes have plenty of fire power all over on defense, and not playing against a playmaker like Easton Stick will be a relief. Stick completed 57.8 percent of his passes, and Iowa will do everything they can to make sure that doesn't happen again this week.
Three interceptions is a lot, however the Hawkeyes defense will take chances and Laviano had plenty of turnover problems a season ago.
Hawkeyes Win by 30+ Points
The start of this game will be very important and telling of how the rest of the game will go. The Hawkeyes have not lost in the regular season since 2014. Their loss in the Big Ten Championship Game in 2015 was heart-breaking, and the Hawkeyes didn't show-up against Stanford in the Rose Bowl. Therefore, there's a worry of how the Hawkeyes will play following a tough loss.
While Rutgers is not Stanford, losing to the Scarlet Knights would seemingly end any hope of making a New Year's Six Bowl and really push the confidence level to a new low for this group. The Hawkeyes have made it perfectly clear that they don't want to discuss the North Dakota State game anymore, and would rather focus on Rutgers.
That being said, they know what the media has said about their performance, and they know that they can't afford another bad loss. Therefore, the start of this game could go one of two ways.
Iowa could come out firing and prove that the loss didn't faze them, or they could come into the game flat and out of sync. Iowa never got into sync against the Bison and looked unfocused at the start. They paid for it in the long run, but I don't think the same thing again.
Even though the College Football Playoff is likely out of their reach, the Big Ten West is still up grabs. In a game in which the Hawkeyes aren't just trying to prove something to the nation, but also themselves, I'm expecting them to have one of their most well-played games in the C.J. Beathard era.
The Scarlet Knights' defense has been atrocious against the pass, allowing opponents to complete 55.1 percent of passes. With Beathard's accuracy and football IQ, a big game from him could be in store. In turn, that would open up the ground game even more for one of the best running back duos in the Big Ten.
Defensively, Iowa will put even more focus on stopping the run than before. While watching King Frazier average 6.2 yards per carry against Iowa a week ago, Robert Martin might be in for a rough outing. He's facing a hungry defense looking to stop the run. If Iowa holds Martin in check, Rutgers won't move the ball very often.
The Hawkeyes still rank 21st in points allowed per game (15.7), and have yet to allow 25 points in a game. This should be an old-school Iowa football game where they run the ball down their opponent's throat and become a brick wall on defense.
Despite last week, Kirk Ferentz is very good at getting his team ready to play. In a week where everyone will be watching to see how Iowa responds to a loss, I think they'll come out and show everyone why they were ranked #13 before losing.
This article originally appeared on