Iowa Football: Realistic Over/Unders Against Michigan Wolverines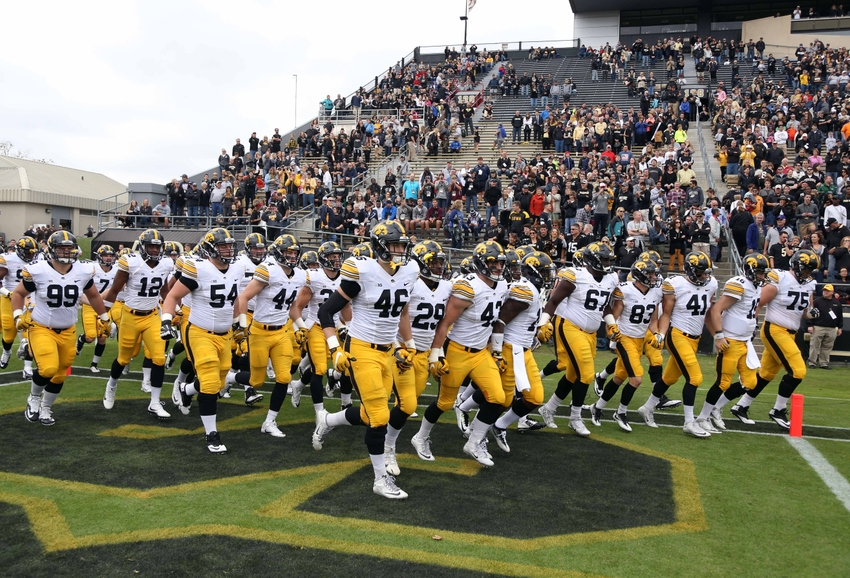 Realistic Over/Unders for when the Iowa Hawkeyes and Michigan Wolverines take the field
After a disastrous loss by Iowa football to Penn State last week, the Michigan Wolverines open as a 22-point favorite over the Iowa Hawkeyes. Considering how poorly Iowa has played this season, and how unbeatable Michigan has looked, 22 points seems low.
There probably isn't anyone who thinks Iowa will upset Michigan this week, and very few think Iowa will even be able to cover the spread. With Michigan's stifling defense and explosive offense, it does leave the door open for an early blowout with the way Iowa's offense has been unable to find the end zone this season.
There is a lot more to this game, though. Besides the fact that Iowa doesn't want to be embarrassed on national TV and have this be a signature win for Michigan that gets talked about the rest of the season, some of Iowa's better players, such as Desmond King and Josey Jewell, have a chance to stand out against a team full of future NFL players.
That being said, here are some over/unders for the game this weekend, and a realistic spread for the game.
O/U: 29.5 Rushing Yards
Iowa is coming off a game in which they rushed for a mere 30 yards — their lowest amount since 2013. However, teams have held Iowa to under 50 rushing yards twice this year and under 100 yards four times, including two straight games. To make matters worse, the Hawkeyes have averaged fewer than two yards per carry in all four games they failed to gain 100 yards on the ground.
The Hawkeyes still average 4.3 yards per carry, however it's because they beat up on bad run defenses. In the five games they've rushed for at least 175 yards, Iowa has only failed to average five yards per carry once. It shows how much Iowa's run game struggles against even average run defenses.
This week, Iowa takes on arguably the best run defense in the country. Michigan is only allowing 3.1 yards per carry and have held all but two opponents to under 100 rushing yards. The good news for Iowa is that even Rutgers, who lost 78-0 to Michigan, gained 36 rushing yards against the Wolverines.
Want your voice heard? Join the Dear Old Gold team!
LeShun Daniels Jr and Akrum Wadley should be able to combine for at least 30 rushing yards, but with sacks counting as rushing yards in college football, the Hawkeyes might have an even worse night on the ground.
Michigan has 30 sacks on the year (3.3 sacks per game) and seven players have at least three, which means C.J. Beathard could be on the ground a lot. Iowa's offensive line is slowly getting healthy, but they have still struggled mightily this year, especially against consistent pass rushes.
Penn State sacked Beathard four times, and the pressure only got worse as the game went on when Iowa started to pass more because of the score.
It's hard to imagine Iowa being any worse on the ground than last week, even with Michigan owning the best run defense in the nation. Even though Iowa will have to pass basically all game, it only takes one big run by Daniels or Wadley to safely secure the over.
Besides, if Rutgers can do it, so can Iowa.
Pick: Over 29.5 Rushing Yards
O/U: 4.5 Michigan Sacks
Iowa has not kept C.J. Beathard upright in many games this season. Penn State sacked Beathard four times a week ago, although Northwestern still owns the season-high against the Hawkeyes with six — Ifeadi Odenigbo recorded four sacks for Northwestern.
Despite not having a player rank in the top-10 in sacks in the Big Ten, as a team, Michigan owns the eighth most sacks in the nation with 30. In fact, not having one dominating pass rusher that teams circle every week has been the key to Michigan's success, especially with the massive amounts of safety and corner blitzes they send.
It has led to eight players owning multiple sacks and seven owning at least three in 2016. It's telling of how difficult it is to block everyone when everyone on the defense is capable of getting to the quarterback. Plus, it shows how deep their defense is. They don't have a problem rotating players in and out to keep them fresh.
That's a problem for Iowa, who has been a victim of fatigue this year. The Hawkeyes' offensive line hasn't been healthy all year with Cole Croston and Boone Myers missing time. Myers is back, although Croston is not expected to play against Michigan.
Simply put, Iowa's offensive line is still in shambles and will have a very hard time blocking Michigan a week after getting demolished by Penn State. Plus, as the game goes on, Iowa will lean on their passing game more, which only gives Michigan more opportunities to rack up sacks.
Beathard has not been great at getting rid of the ball when under pressure, and that will cost the Hawkeyes on Saturday. Plus, Michigan's secondary is one of the best in the nation.
Considering the problems Iowa's receivers have had creating separation this year, Michigan's defensive line could have a field day if Beathard doesn't scramble or throw the ball away.
Pick: Over 4.5 Michigan Sacks
O/U: 8.5 Positions Jabrill Peppers Plays
If you have not seen Jabrill Peppers play yet, you're in for a treat. His athleticism is not an exaggeration. He plays up to nine positions a game and is a legitimate threat to score a touchdown on offense, defense and special teams.
Jim Harbaugh wants his best player to touch the ball as often as possible and be on the field almost every snap, and so far it has worked. Peppers is in the Heisman race with a legitimate shot at knocking off Lamar Jackson after his historic start to the season.
Peppers stats haven't been incredible like Jackson's this season, however his versatility and pure talent as a football player is unmatched by anyone in football right now. Defensively, he's recorded 49 tackles, 11 tackles for loss and three sacks. On offense, he has 17 carries for 150 yards and three touchdowns, and two receptions for three yards. To top it off, he also has a punt return touchdown.
Despite all of that, Peppers is still looking for his Heisman moment. Under the lights at Kinnick Stadium on national TV is definitely the place Peppers could put an exclamation mark on his season.
As far as how many positions he will play, more than eight seems crazy. Although, it's become common every week. Here's a look at the positions he will likely lineup as:
Wildcat Quarterback
Running Back
Wide Receiver
Punt Returner
Kick Returner
Linebacker
Safety
Corner Back
Nickelback
He might not play all nine, but I wouldn't count it out, either.
Pick: Over 8.5 Positions Jabrill Peppers Plays
O/U: 3.5 Iowa Total Points
It's a risky proposition because a kick return touchdown to start the game by Desmond King would give the over the win. Plus, one lapse of judgement by the Michigan defense could set Iowa up for an easy touchdown. That being said, Iowa has not scored a ton of points this season, even against bad defenses.
Only scoring nine points against Wisconsin is somewhat understandable. However, only managing 14 points against Rutgers, Minnesota and Penn State doesn't instill confidence that they will be able to score at all against Michigan. Rutgers owns the 116th ranked scoring defense and the Hawkeyes struggled offensively all game, and now they take on the statistically best defense in the nation.
Iowa Basketball: Get to Know Kennesaw State Owls
In 2016, Michigan is giving up a mere 3.1 yards per carry and allowing teams to only complete 44.1 percent of passes against them. They also own the best scoring defense in the nation, allowing a measly 10.7 points per game.
Three teams have been held to three points or less  by Michigan– Hawaii, Rutgers and Maryland — and two more only scored one touchdown — Wisconsin and Illinois. Colorado and Michigan State are the only teams to top 20 points this season against the Wolverines. Frankly, a missed field goal by Iowa will keep them in the under, which is what happened to Maryland.
Somehow Iowa still owns the 76th ranked scoring offense in the nation, which is a respectable ranking for how poorly they have played. Although, the Hawkeyes have done nothing with good field position this season and have looked bad in all facets of the offense the past two weeks.
Maybe Michigan puts in their second stringers late in the game and Jerminic Smith scores another long touchdown. Or maybe Wilton Speight throws an uncharacteristic pick-six. Either way, Iowa couldn't move the ball and score against Penn State, therefore there's no reason to believe the Hawkeyes will figure it out against Michigan.
The Hawkeyes always have one respectable drive where they find a way to score. Although, assuming it doesn't end with a touchdown, it's hard to imagine Iowa marching down the field twice against this defense.
Pick: Under 3.5 Iowa Total Points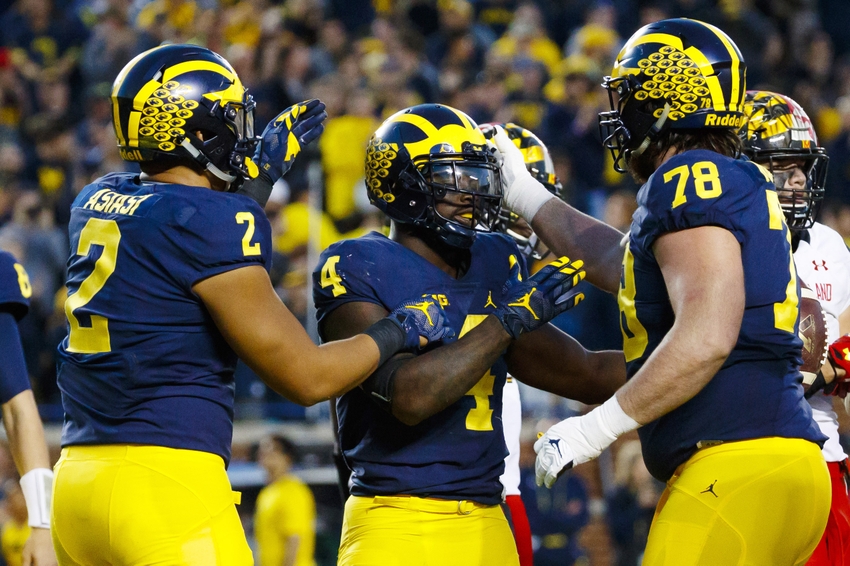 Game Line: – 34.5 Michigan Wolverines
Michigan usually lets up in the second half if they're up big. They play more conservative on offense and they bring in their backups in the fourth quarter. Still, the Wolverines are averaging 37.3 points per game more than their opponents this season. Not to mention winning by 35-plus points five times and beating Illinois by 33 points.
In hindsight, Michigan's most impressive win is a 49-10 blowout over Penn State. The Nittany Lions are ranked 10th in the latest College Football Playoff Ranking, yet they had no answer for Michigan's offense or defense. Michigan shut down Saquon Barkley, and Michigan's offense did whatever they wanted.
Sure, Penn State was a different team in week four, but it shows how bad Michigan makes teams look. Besides, even if Penn State has gotten significantly better over the course of the year, the Hawkeyes are still not as good as that Penn State team was.
At the same time, Illinois only lost by 33 points and Central Florida only lost by 37. It's not a slam dunk, like a lot of people assume, that Iowa will lose by a laughable margin, but let's remember that Iowa is coming off a 27 point loss to Penn State. Plus, their second touchdown occurred against backups when the safety slipped.
Not to mention following losses this season, Iowa has scored 14 points every time. If the trend continues, Michigan would need 48 points, which is what they average.
Iowa isn't playing with a lot of confidence and Michigan has all the confidence in the world while being as focused as any team in the nation. That's a recipe for disaster, even at home. This game could get ugly, but Iowa's defense should keep it somewhat close in the first half in front of the home crowd.
I'll say Michigan covers the spread. There is no stopping Michigan all game, and they explode once they get going.
Pick: -34.5 Michigan Wolverines
This article originally appeared on