Iowa Football: Keys to Beating Nebraska Cornhuskers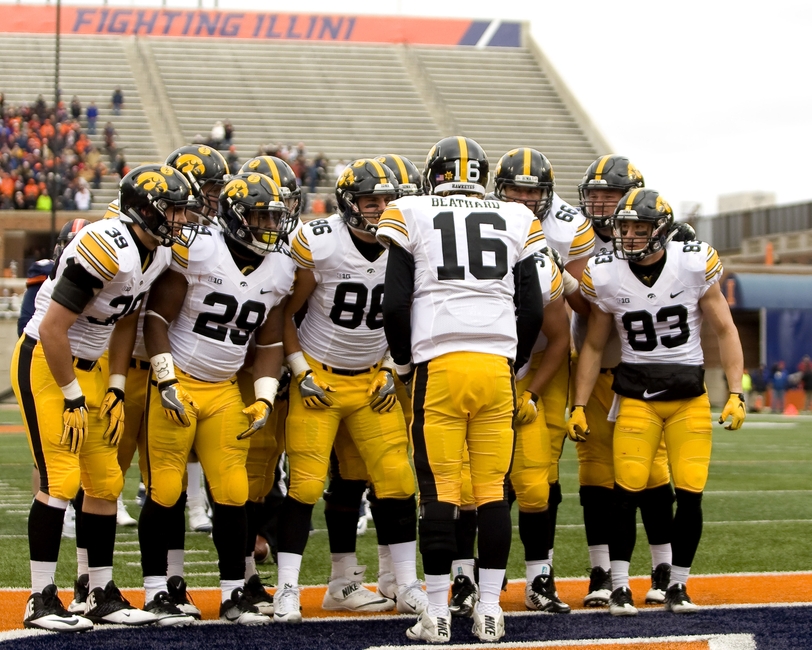 A look at how Iowa can beat the Nebraska Cornhuskers on Friday
The day after Thanksgiving is Iowa football's senior day, and the Hawkeyes last regular season game of 2016. The Nebraska Cornhuskers travel to Iowa City to try to win their 10th game of the season, while Iowa goes for their eighth win.
Despite Iowa failing to meet the big expectations set for them this year, they do have a chance to be co-Big Ten West champions. If Iowa wins and Minnesota upsets Wisconsin, then Minnesota, Wisconsin, Iowa and Nebraska will all tie at the top of the division.
Although, Iowa would still not make the Big Ten Championship game, Wisconsin would. Nonetheless, it would still be somewhat humorous after the disappointment many people connect with the 2016 season.
Even with a potential four-way tie looming, neither Iowa nor Nebraska will be thinking about that. Iowa's goal is to win their eighth game of the season to try to get into a better bowl game, and Nebraska still has a chance to win the Big Ten West outright.
That being said, there is plenty to play for on Friday. Due to the lack of games on Friday, most eyes will be on Iowa's matchup with Nebraska.
Here's a look at how the Hawkeyes can win their eighth game of the season and upset Nebraska to end the senior's regular season careers with a bang.
Use Senior Days for Fast Start
There will be a lot of emotions at the start of the game for the Hawkeyes. Key players like Desmond King, C.J. Beathard and Jaleel Johnson, among others, will be honored before the game with their family. There is still a football game that needs to be played after, though.
Iowa Football: Are the Hawkeyes to Blame For Losing Recruits?
Iowa has not gotten off to many fast starts this season. They haven't held a lead in any of their past four games and have only had a first quarter lead in three of 11 games this season. In fact, the Hawkeyes haven't even scored in the first quarter since putting up 21 points against Purdue.
Instead of getting caught up in the emotions and starting the game off trying to be too fancy and not executing, Iowa needs to harness their emotions and use it to their advantage. This is obviously a one-time thing, and there's no way to prepare for it, so it's hard to know how Iowa will start the game after their seniors are honored.
Although it will be important for Iowa to use it to their advantage, as Nebraska has trailed after the first quarter in both of their losses this season, and in three of their past four games. With Tommy Armstrong Jr starting for Nebraska, and a Big Ten West championship on the line, the Cornhuskers should also come into the game with a lot of energy.
Therefore, Iowa can't afford to get down early. Outside of their win over Michigan, Iowa has not fared well when trailing after the first quarter. They need to find a way to get Nebraska's high-powered offense out of sync early, along with getting momentum on offense.
Even with two very different sets of emotions on Friday, it will be telling early of how the game will likely go by how well each team handles their emotions and energy. If Iowa plays within themselves and smart, they'll jump out to an early lead and have a home crowd to carry them the rest of the way.
Stop the Run
Even with Tommy Armstrong Jr under center for the Cornhuskers, they still want to run the ball. Terrell Newby has 825 rushing yards and seven touchdowns on 4.8 yards per carry this year. Nebraska's offense runs through him, not to mention Armstrong being a great runner, as well.
This season, Armstrong ranks second on the team in rushing yards (499) and leads the team in rushing touchdowns with eight. It's a huge part of his game, therefore, even with a hamstring injury, Iowa needs to prepare for Armstrong's scrambling ability. If he's playing, he's healthy enough to scramble and elude defenders.
This season, Armstrong has double-digit rushes in seven of 10 games this season. Plus, he's coming off a week when he ran for 61 yards and a touchdown on nine carries — his highest rushing total since week four against Northwestern.
Iowa does come into the game with a red-hot run defense, though. Illinois and Michigan combined to rush for 159 yards in the past two weeks after the Hawkeyes gave up 359 yards to Penn State. That being said, Iowa has held four opponents to under 150 rushing yards, and they're playing their best football right now.
Jaleel Johnson and Josey Jewell both play a big part in stopping the run for Iowa. Although Iowa will rely on Jewell even more against Nebraska since Armstrong is a threat on the ground. Mitch Leidner is the closest thing to a running quarterback Iowa has faced this season, but Armstrong is a different animal.
Iowa should know how to game plan for Armstrong since they've faced him multiple times before, and stopping opposing teams running backs haven't been an issue in recent weeks. Nebraska has a very good receiver in Jordan Westerkamp, but they were held to just three points in the one game they failed to rush for 100 yards, which shows their dependence on it.
Get the Passing Game Going
Iowa can't have a third straight game with fewer than 100 passing yards, right?
Nebraska is allowing quarterbacks to complete 59.9 percent of passes against them and throw for 215.5 passing yards per game this season. Not to mention the fewest passing yards they've allowed this year is 114 to Wisconsin. That being said, Nebraska is coming off back-to-back weeks of allowing fewer than 200 passing yards.
Iowa's run game and strong defense hasn't forced their hand to try to take shots down field or establish the pass game. However, Iowa can't continue to solely rely on their run game. It's not to suggest that Iowa needs to become a pass-heavy offense like earlier in the year, but C.J. Beathard can't have another poor game if Iowa wants to win.
It's more than just poor throws from Beathard, though. Despite creating decent separation from defenders over the past two weeks, receivers continue to be plagued by drops. Screens to Riley McCarron have also become non-existent in the offense, and Jerminic Smith drops down field are becoming more common.
The Hawkeyes main source of receiving yards comes from LeShun Daniels Jr and Akrum Wadley. As good as they have been over the past two weeks, Iowa needs to stretch the field and force defenses to defend them more than at the line of scrimmage.
Besides, Nebraska only allows 4.1 yards per carry and have held five opponents to under 100 rushing yards. It becomes a lot easier to stop the run when there isn't a reliable pass game.
Iowa has gone four straight games without recording at least 100 rushing and passing yards. That streak can't continue this week if Iowa wants to win. They're running great but eventually they need to stretch the field, or at least get their receivers involved.
This article originally appeared on