Iowa Football: Is C.J. Beathard An NFL Quarterback?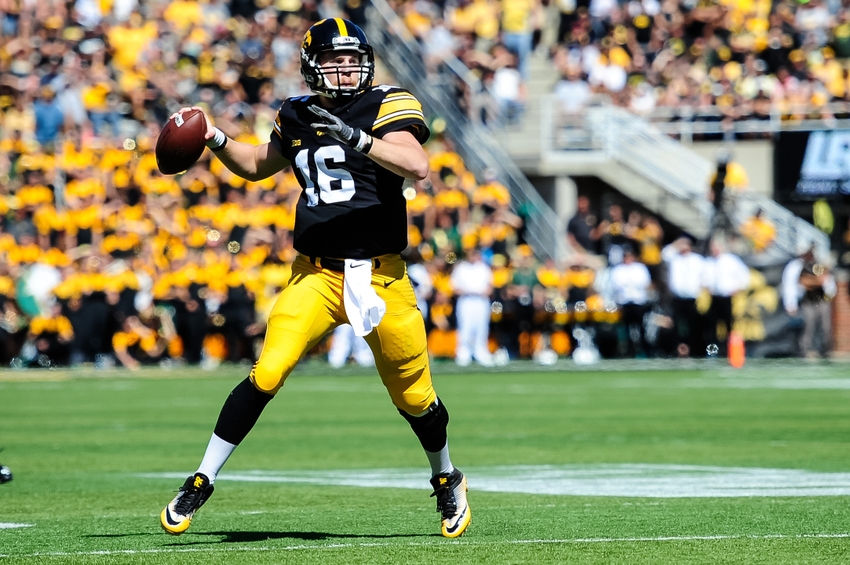 A look at whether C.J. Beathard will make a good NFL quarterback
The Indianapolis Colts drafted Austin Blythe late in the seventh round to help Iowa football avoid being shutout in the 2016 NFL Draft.
The year prior, the Hawkeyes had three players drafted, including Brandon Scherff, who the Washington Redskins selected fifth overall. It marked the first time since 2004 Iowa had a player drafted in the top-10, and the first time since 2012 Iowa had more than two players drafted in one year.
Iowa usually doesn't produce a ton of NFL talent every year. Although, this year is different. Desmond King, Jaleel Johnson, George Kittle and Cole Croston are just a couple of players who could be drafted in 2017. Defense, tight ends and offensive linemen are what Iowa specializes in producing, though.
However, quarterback C.J. Beathard might be the first Iowa quarterback drafted since 2011, when the Kansas City Chiefs picked Ricky Stanzi, and only the fifth quarterback ever drafted out of Iowa.
According to WalterFootball, Beathard is the 21st best quarterback prospect in the draft and his draft position ranges from the sixth round pick to undrafted free agent. CBSSports, who has Beathard as the ninth best quarterback prospect and a fourth or fifth round pick, is much more optimistic. Even USA Today's DraftWire has Beathard as the 11th best quarterback prospect.
Of course, the NFL Combine, pro days, the Senior Bowl and pre-draft workouts will alter the rankings. Although, as of now, the verdict on Beathard at the next level is similar across all draft projection sites — he's a late round pick that a team might take a chance on to be a backup or third-stringer.
Iowa Basketball: Hawkeyes rebound from three straight losses to Iowa State
It's clear and makes sense that Beathard won't be drafted as a team's future starter. There are too many question marks surrounding his game, and, frankly, there are better quarterbacks in this year's draft and next year's.
That being said, Beathard could have a similar path as former Northwestern quarterback, and now starting Denver Broncos' quarterback, Trevor Siemian. In college, Siemian only threw for 2,214 yards as a senior in 2014 and threw 27 touchdowns to 24 interceptions during his career. They're not impressive numbers, to say the least.
Although, Denver drafted him in the seventh round to see if they could develop him into a decent backup, and then he turned into their opening week starter in 2016. He's not great, however he doesn't throw interceptions (15 TDs, 7 INTs), is accurate on short throws (60 percent completion percentage) and relied on the run game and defense early in the year when Denver got off to a hot start.
If Beathard becomes an effective quarterback at the next level, he will need to be in a similar situation. It plays to his strengths and helps cover up the weaknesses NFL teams are worried about.
Teams know Beathard is one of the most accurate quarterbacks in short yardage situations. He completed 61.6 percent of passes in 2015 and 58.6 percent of passes this season. Although, his accuracy on the deep ball is what worries a lot of teams.
Beathard is averaging a mere 6.7 yards per pass attempt this season, which is telling of how infrequently he takes a shot downfield. Even though Iowa's game plan is to run the ball, throw screens and short slant routes, it hurts Beathard's draft stock since NFL teams don't have as good of a grasp on his deep ball accuracy.
Iowa's offensive game plan is also why he'd benefit from a strong run game at the next level. Besides the obvious reason of a run game relieving pressure off the pass game because the defense isn't as focused on it, it's also the type of offensive game plan Beathard is used to.
While coming from a pro-style offense will help his transition to the next level and be appealing to NFL scouts, Beathard's measly 278 pass attempts in 2016 doesn't scream gunslinger. He ranked just 86th in the nation in pass attempts this season and 50th last season.
A positive of not being a gunslinger, though, is that Beathard doesn't turn the ball over often. He threw just five interceptions in 362 pass attempts last season, and this season only has seven.
Out of every quarterback with five interceptions last season, only Dak Prescott and Brad Kaaya had more pass attempts than Beathard. Both are also praised for their ball security, just like Beathard.
Even though not taking risks causes him to hold onto the ball too long at times and take sacks, it's also one of his best attributes. Beathard got better at throwing the ball away when under pressure as the season went on, too.
A lot of young backup quarterbacks struggle with turnovers because they force throws. Although having a backup who can start for an injured starter and not beat themselves with turnovers is a huge plus.
The biggest thing Beathard has to prove, though, is his ability to get out of the pocket and be a scrambler. No, he can't dodge defenders and escape pressure like Deshaun Watson or DeShone Kizer, but Beathard is deceptively quick.
Iowa looked foolish when they called designed runs on the outside with Beathard, however he's a smart runner and knows when to scramble. His eight-yard run against Michigan to set up Keith Duncan for the game winning field goal is a perfect example of his ability to gain decent yardage and knowing when to take off.
He won't rush for 100 yards, or even 50 yards, in a game, but to say he's immobile is a massive understatement of his ability to scramble and make plays outside of the pocket.
Losing leading receiver Matt VandeBerg after four games and having George Kittle being banged up all season did not help Beathard's 2016 statistics or his draft stock. Considering he missed two of his top options for most of the year and needs just 126 passing yards in the Outback Bowl to reach 2,000 passing yards in 2016 is impressive.
Therefore, his 2016 numbers should be looked at with a grain of salt, especially since great collegiate numbers don't always equal success at the next level.
Beathard might never start or play in an NFL game, but it'd be very surprising to see him go undrafted. He played in a pro-style offense, is very accurate on short throws, can play in cold weather, has a high football IQ and doesn't turn the ball over.
The weaknesses are certainly there, too, and they'll likely hold him back from being anything more than a backup in the NFL.
Taking a chance on him in the fifth or sixth round wouldn't be a terrible idea for a team looking to develop a backup quarterback. Drafting Beathard in the seventh round would almost be robbery.
C.J. Beathard doesn't have the stats or highlight reel other quarterbacks do, but he gets the job done, and that's all that matters at the end of the day.
More from Dear Old Gold
This article originally appeared on