Iowa Football at Illinois Fighting Illini: How to Watch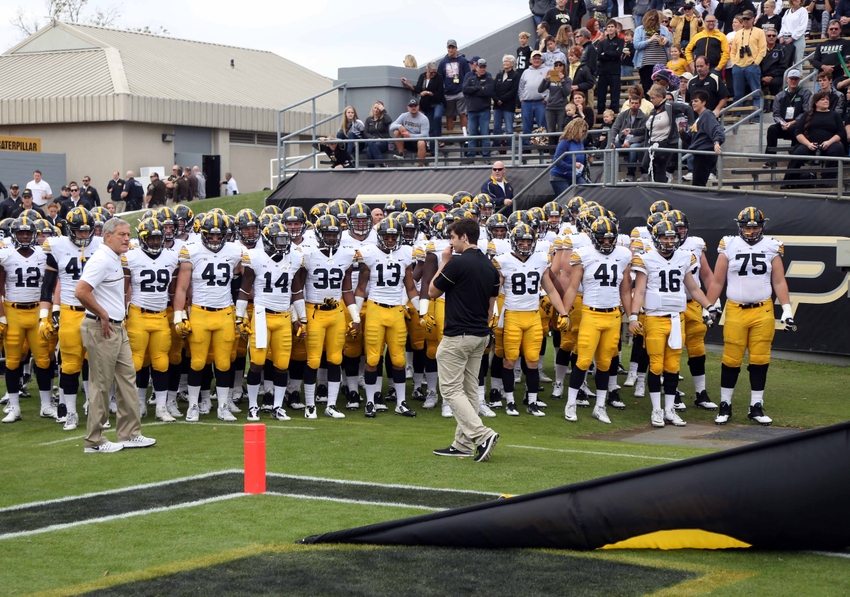 How to watch the Iowa Hawkeyes and Illinois Fighting Illini on Saturday
Iowa football ended a two game skid last weekend and will look for their third two game winning streak of the year this week. They travel to Champaign, Illinois to take on the struggling Illinois Fighting Illini. In Lovie Smith's first season as head coach, Illinois has gone just 3-7 this year, but they are 2-3 in their past five games after starting 1-4.
Here's a look at how you can watch the game:
Time: 11 a.m.
Place: Memorial Stadium in Champaign, Illinois
TV: Big Ten Network
Iowa enters the game with the 85th ranked scoring offense and 20th ranked scoring defense. They have held three of their last five opponents to under 20 points. Although, the Hawkeyes have only scored more than 20 points once in that same span, despite going 3-2.
Illinois only owns the 112th ranked scoring offense and 90th ranked scoring defense in the nation. The Illini do get starting quarterback Wes Lunt back after cycling through multiple quarterbacks over the past few weeks, but they face a tough test in Iowa.
Last week, the Illini only managed three points against Wisconsin, and it could be a similar outcome this week. Illinois has only topped 25 points three times this year and all came against teams with defenses ranking outside of the top-60 in scoring defense.
Their biggest challenge might be stopping Iowa's offense, though. Even though Iowa hasn't consistently played well this season, they come in with a lot of confidence after moving the ball well against Michigan a week ago.
Plus, three of Illinois' past four opponents have scored at least 40 points. That being said, Illinois is 3-0 when holding teams under 30 points. Iowa has not always found success against lesser defenses this year, therefore another 14-7 type game could be in store.
A low-scoring game would make it very interesting as Iowa is 3-3 in games decided by single-digits and Illinois is 1-1. The Illini have not been in a lot of close games, therefore a quick start to end any hope of any upset would be very beneficial for Iowa, especially after their slow start on offense a week ago.
It's a much different feel than a week ago for the Hawkeyes, but the game means just as much. They are bowl eligible for the fourth straight season and 14th time in Kirk Ferentz's 18 seasons, although the Hawkeyes are still fighting for better positioning in the division. Even though winning the Big Ten West is out of reach, it affects what bowl game Iowa will play in.
The 6-4 Iowa Hawkeyes and 3-7 Illinois Fighting Illini will be the early game on Big Ten Network today.
This article originally appeared on