Iowa Football: Are the Hawkeyes to Blame For Losing Recruits?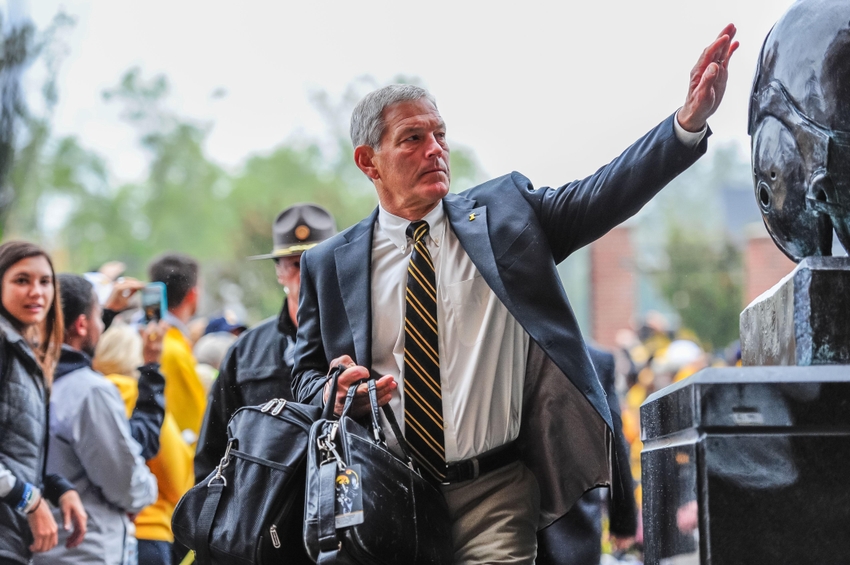 A look at why Iowa is losing so many football recruits
On Tuesday afternoon, Iowa football lost another recruit in their class of 2017 in Gavin Holmes. It marks the fifth Iowa recruit that has reopened their recruitment and fourth in the past month, which includes the Texas trio of Eno Benjamin, Beau Corrales and Chevin Calloway.
Due to Iowa's lack of ability to hold onto recruits in the past month, it begs the question, why are so many recruits decommitting from Iowa?
Through all the latest decommitments, one thing has remained constant: recruits don't like Iowa's policy that doesn't allow them to continue to visit other schools after verbally committing.
While Iowa does state their stance on that when sending out scholarship offers to recruits, it does seem somewhat hypocritical. Iowa has offered numerous of recruits offers after they've been committed to another Big Ten school, and have actually convinced a couple to leave and come to Iowa.
Maybe Iowa knows how teams can influence young student athletes and they don't want it to happen to them. Still, it doesn't sit well with recruits that see Iowa doing exactly what they're told they are not allowed to do.
Gavin Holmes made that a point of emphasis in his Twitter message when announcing his recruitment has reopened.
I see both sides to the argument, though.
For Iowa, it makes sense that they want to protect their top recruits. They don't attract multiple five-star recruits every year like Ohio State, Alabama or others, so holding onto their cream of the crop and not losing them to powerhouses makes sense.
Also, Iowa is simply taking advantage of other schools' leniency towards allowing visits after verbally committing. If other schools allow it, it makes sense that Iowa tries to sway them away and help their class.
At the same time, with the era we are in now, where recruits verbally commit early, there is a lot more room to change. Beau Corrales admitted to being overly excited at Iowa's offer, as it was his first Power Five offer, and he got caught up in the moment when verbally committing. Corrales is definitely far from the only high schooler to experience that.
As much focus as the national and local media puts on these high school student athletes, it's easy to forget that they are still trying to pick a school best for their athletic AND educational future.
They simply could be caught up in the moment or feel pressure to verbally commit somewhere, which can happen to someone their age. It's just exemplified when they change their mind, which is normal for any incoming college student, because everyone is watching their every move.
They're just like any college student and want to make sure they're in the right place for the next three-to-four years of their life.
Besides, just because a recruit visits other schools doesn't mean they're going to decommit from Iowa. They're just looking at all their options to ensure themselves that Iowa is the right choice. They obviously like Iowa, and have them as their top choice, if they verbally committed.
Kirk Ferentz addressed the issue on Tuesday and said that he knows there's no guarantees until signing day, and that he encourages all recruits to look around to make their best choice. He also adds that he's up front about Iowa's standards when verbally committing and he doesn't feel that he needs to change anything, as he already has an identity in the college football world.
It's the right thing to say after losing four recruits in the past month, but it also comes out as somewhat stubborn. Obviously, as I stated above, I understand where Kirk Ferentz and Iowa are coming from. However, with the way that recruiting is nowadays, change might not be a bad thing for the Hawkeyes.
It never seemed like Iowa fell behind another school in Benjamin, Calloway, Corrales or Holmes rankings, rather it was Iowa's rule against visits that caused them to reopen their commitment. Sure, Ferentz has his identity, and there are players who will be fine with those rules and standards, but most top recruits continue to take visits until signing day, no matter where they verbally commit to and get a scholarship offer from.
Sure, maybe once in a while you lose a commit to another school because of allowing visits. To be fair, that's how Iowa landed Beau Corrales. Although, in the grand scheme of things, it would make Iowa more appealing and have less of a negative aurora around how they recruit, while the Hawkeyes likely would keep most to all of their verbal commits.
Iowa doesn't need to adapt. They'll continue to own a solid recruiting class every year and be at least a decent team in the Big Ten. Although, sometimes adapting and change isn't bad, and it might be what's needed from Iowa at the moment.
They had one of the better classes in the nation, but now they rank 41st in the nation and one spot behind Iowa State, according to 247Sports.com, in 2017.
Recruits are watching. It's your move, Ferentz.
This article originally appeared on