Interview: Aggie Radio Michael Taglienti on Razorbacks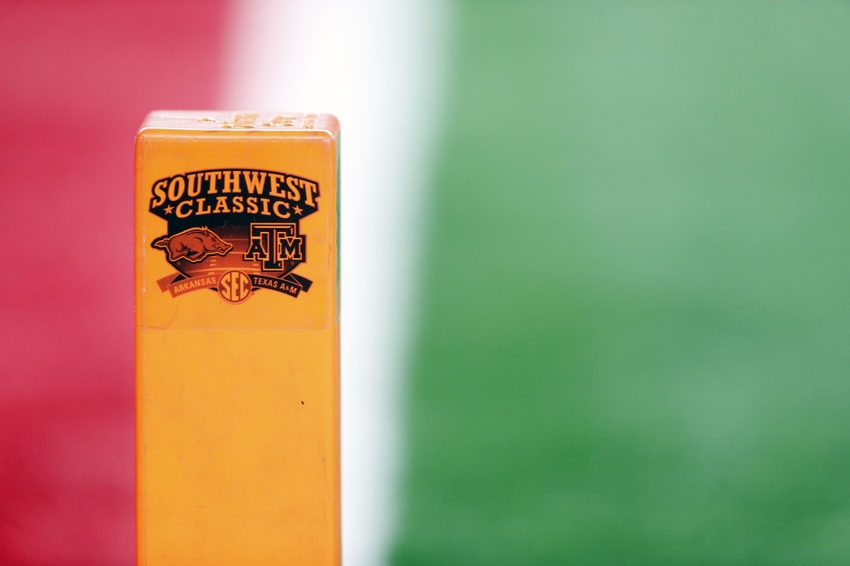 We sat down with VSporto Network's "Aggie Tag Team" host Michael Taglienti to talk about the Aggies vs Razorbacks. After an exchange of pleasantries we got down to the important SEC matter of the week: Arkansas vs Texas A&M, Saturday, 24 September 2016, @ AT&T Stadium in Dallas, Texas.
Something inspired us to ask the following five questions. "Something" also once inspired me to eat an entire large pizza before a flight to San Francisco one time… We'll see how this Q&A plays out.
1. Arkansas's offensive line vs A&M's defensive line – who has the advantage?
I have to go with the Aggie defensive line here because I think the presence of DE Myles Garrett gives them an advantage over any offensive line in the country. Fans will remember that the Arkansas offensive line pretty much controlled the game last year and kept the ball away from the Aggie offense. Three of those Arkansas linemen moved on to the NFL. The Aggies have had to replace a starter at defensive tackle but have better depth and are more mature than a year ago. As long as the Aggies avoid turnovers on offense, I expect the defensive line to control the Razorback running game on Saturday night.
2. How will Kevin Sumlin utilize Trevor Knight to outplay Arkansas's defense?
Knight is not going to be the typical A&M quarterback that Razorback fans have seen the past few years. I'm not sure he could lead a one-minute drive to tie it up at the end and send the game into overtime. The coaches will use Knight's ability to run to extend drives. He is basically a 50 percent passer, so the coaches will try to get the ball out of his hands quickly with short passes to get the ball to the Aggies' playmakers in space. This way he can avoid Deatrich Wise and the Arkansas' pass rush.
3. Why will Texas A&M win the game?
First of all, the Aggies are a better team than the unit that beat Arkansas in 2015, while I think Arkansas has taken a step back in overall talent. Texas A&M will be able to exploit the Razorback's vulnerable secondary and Josh Reynold's will torment Arkansas fans for the third year in a row. The Aggie defense will shut down the Arkansas running game and force Austin Allen to beat them. Garrett will pressure Allen into two turnovers and the Aggies will win 30-22.
4. Why will Arkansas win the game?
Rawleigh Williams is not as good as Alex Collins or Jonathan Williams. Deatrich Wise is not as good as Trey Flowers. It does not matter because the 2016 version of the Razorbacks believe they are going to win. The comeback victory over TCU has this team bursting with confidence and trusting in their coaches. A little belief can go a long way. Arkansas intercepts a couple of Knight overthrows and is able to scrape out enough yards on the ground to extend drives and keep the Aggie offense on the sideline. Allen hits Jeremy Sprinkle and Drew Morgan on play-action TD passes to give the Razorback's their first win over Kevin Sumlin, 24-20. 
5. It has been suggested that these two teams are more of rivals than what the SEC is pushing for in A&M with LSU and Arkansas with Missouri. What are your thoughts?
This is an interesting question because both schools have an extensive history with each other before A&M joined the SEC. I think most Aggies would prefer to beat LSU over Arkansas right now because it has been so long since A&M has gotten a win over the Tigers. Honestly, I do not think there is a lot of hate in either game right now. Any objective fan can watch Arkansas play LSU and see there is more emotion there than when Arkansas faces Missouri. Also, I think both teams feel more of a rivalry with LSU than with each other.
Thanks, Mr. Taglienti. Good luck to your Aggies this weekend. We do appreciate your thoughts and opinions. We know that you will be rooting for your A&M squad. I also tend to be a little biased, so, therefore, we will go with a little prediction of our own (which can be found on Mr. Taglienti's blog). We think it will be a tough fought game. Therefore (and unfortunately), we may have to agree with Mike on this one; Arkansas may be a little outmanned. Hopefully, Bielema can out coach his old friend Kevin Sumlin and counteract this. Regardless of who has the better mind for the game, A&M is just a little too strong. Aggies by 10.
More from Razorbackers
This article originally appeared on