Instant Reaction: The Uninspired LSU Tigers Fall To Florida Gators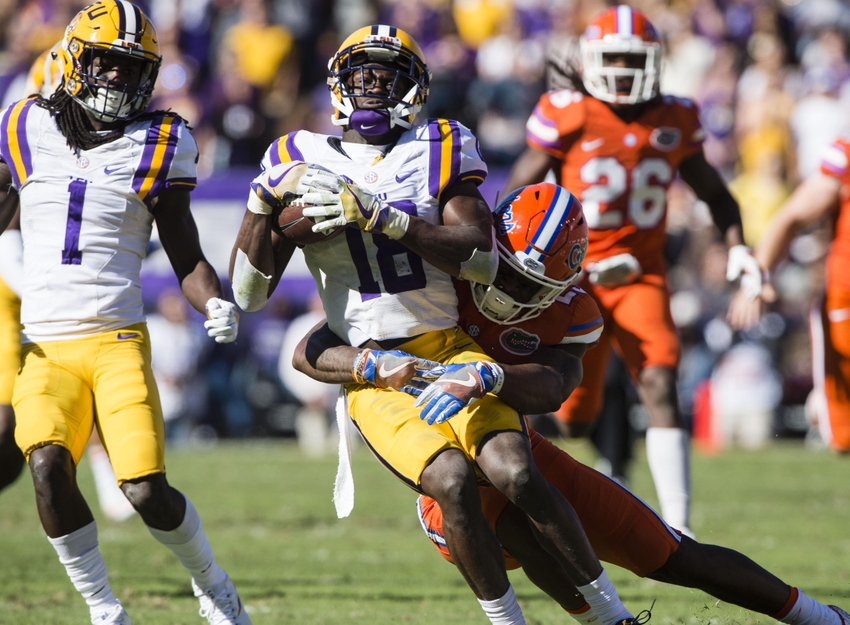 In one of the most pathetic, sloppy efforts I have ever seen from this team, the LSU Tigers fell to the Florida Gators by a final score of 16-10 in Baton Rouge. Ed Orgeron's team drove down the field in the final minutes of contest, and with less than a minute left on the clock, the team had four shots in a goal-to-go situations. They were unable to capitalize, dropping the Tigers to 6-4 on the season.
The story of the game was LSU's inability to capitalize in big moments. The team never at any point in the game struggled to find offense like many expected they would, but every time the Tigers moved the ball down the field they found a way to screw things up.
Whether it was a Derrius Guice fumble inside the 10-yardline, a dropped snap on a field goal attempt, or an untimely sack or incompletion near the end zone, the offense seemed to always find a way to not get the ball past the goal line. Had LSU executed as we've seen them do routinely time-and-time again, the Tigers would have easily won this game.
On the defensive side of the ball, we saw this unit have their worst game of the 2016 season. Coming into this contest, we had seen Dave Aranda's defense take control of entire games, shutting down some pretty high-powered offenses in the process. Not even Nick Saban and the Alabama Crimson Tide could faze this group.
But as the Gators came into Death Valley, we saw this defense get pushed around like never before. Florida lined up and pounded the ball up the middle play-after-play, daring the LSU defense to stop them. The Tigers looked weak, uninspired, and out of place throughout the entire game.
With the loss, LSU can likely say goodbye to their Sugar Bowl hopes, and interim head coach Ed Orgeron can probably forget about any shot of winning his job long-term.
LSU will travel to College Station to take on the Texas A&M Aggies next week.
More from Death Valley Voice
This article originally appeared on