Instant Reaction: Iowa Football Pitches Shutout at Illinois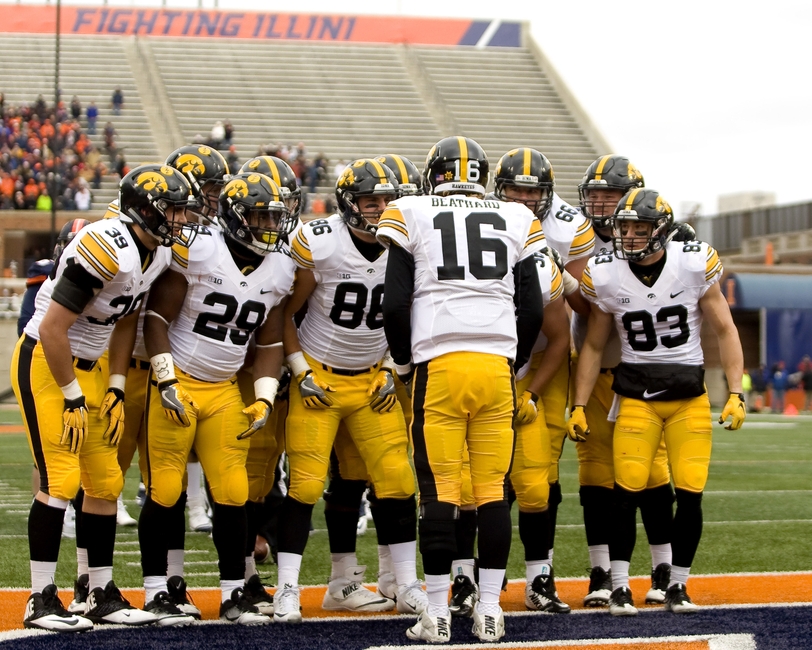 The Iowa Hawkeyes improve to 7-4 on the season with a win over Illinois
In the most Iowa football way possible, the Hawkeyes won their second straight game on Saturday afternoon. The Hawkeyes defeated Illinois on the road 28-0. It wasn't pretty, but just like Iowa has done multiple times this year, they found a way to win.
It seemed like Iowa was poised to win another game 14-7. Illinois punted four times and Iowa punted three times in the first quarter. In fact, six Illinois' punts, three Iowa punts and two turnovers happened before Iowa finally scored on a Riley McCarron punt return touchdown late in the first half.
The Hawkeyes took a 7-0 lead into halftime, with very little momentum on offense. The Hawkeyes best drive of the half, which went 12 plays for 79 yards, resulted in an Akrum Wadley fumble at the one-yard line. It's safe to say that nothing went right for Iowa on offense through the first three quarters.
To no surprise, though, the defense stepped up. They didn't allow a play over 20 yards, intercepted Wes Lunt and held Illinois to 298 total yards of offense. The Illini didn't start effectively moving the ball until halfway through the fourth quarter when Iowa put in their backups.
Eventually, the offense picked up the slack for Iowa and relieved some of the pressure off the offense.
Once Iowa started to run the ball and not try to throw in windy conditions, which often resulted in overthrows or drops, they moved the ball down the field with ease. LeShun Daniels Jr scored two touchdowns and Akrum Wadley added one late in the fourth quarter to give the Hawkeyes a devastating 28-0 lead.
It wasn't a huge surprise to see Iowa's offense struggle to start the game. Their poor play calling, with an occasional great play call, returned, as well as Iowa's struggles in the passing game. As previously mentioned, once Iowa relied on their ground game, they started to move the ball.
It simply looked like an Iowa Hawkeyes football game in every aspect. Illinois isn't a good team, and Iowa's defense made sure everyone knew that. The defense dominated the Illini from the beginning, as they never let them get into the red zone and had their first shutout since 2010.
The oddest part of the game, though, is that Illinois didn't kickoff once. Iowa won the toss and chose to go with the win to start the game. That meant that Illinois would receive the first and second half kickoff. Therefore, because Illinois never scored, they never had a kickoff, which is one of the oddest feats in college football this season.
Since Wisconsin beat Purdue today, the Hawkeyes are officially eliminated in the Big Ten West. Still, somehow through poor play and games that Iowa had no business winning based on how their offense has performed in some games this season, Iowa is 7-4 with a chance to win nine games this season.
Sure, it's against Illinois, who had basically no home crowd supporting them today. Although, with a winnable game against Nebraska next week and a bowl game, Iowa's lackluster of a season has a chance to look a lot better on paper, similar to their 28-0 win this afternoon.
It wasn't pretty, and it seemed like Iowa might win the game 7-0 due to the lack of offense on both sides, but Iowa escaped Champaign, Illinois with a solid 28-0 win, one that isn't sore to the eyes on paper. The Hawkeyes are 7-4 overall and 5-3 in conference play, something that doesn't seem possible.
This article originally appeared on