Indiana vs. Northwestern Game Preview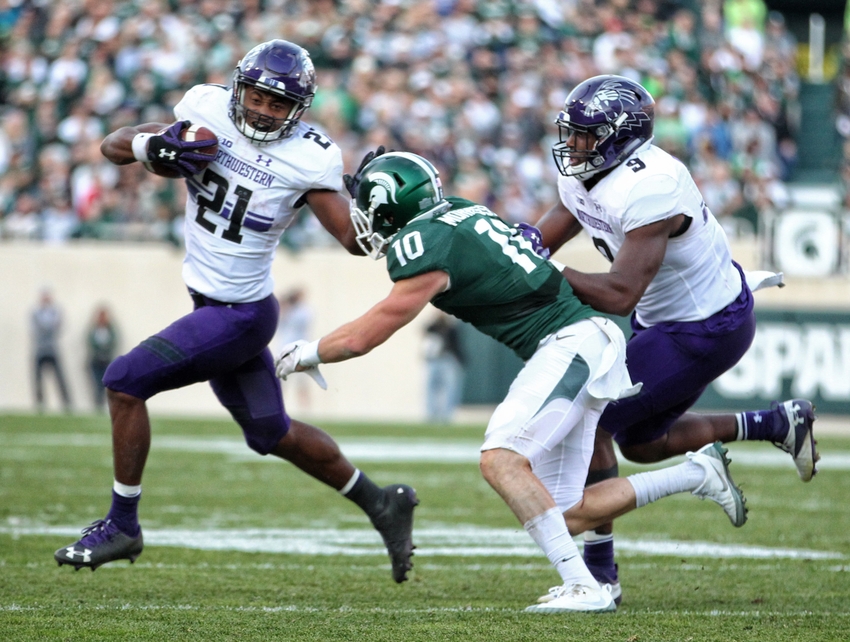 Both Indiana and Northwestern look to improve on their 3-3 records this weekend when they face off in Evanston, Illinois.  Indiana has lost the last four games against Northwestern, and has not won against the Wildcats since 2008. Overall, Indiana is 34-46-1 against Northwestern and seven of the last nine contests have been decided by a one possession.
The Wildcats come into their homecoming contest on a two game win streak after dropping three of their first four. The first of those games came against Western Michigan, a MAC team thought to be inferior to Northwestern. However, those Broncos from Western Michigan have reeled off seven straight wins and are sitting undefeated, ranked 20th in the country – proving that they're better than anybody could've predicted this season.
After that game, Northwestern went onto lose to FCS opponent, Illinois State, 9-7. The Wildcats got back on track the next week as they took down Duke, but then lost to Nebraska the next week under the lights. Northwestern was at home for all of these four games. After winning the past two weeks away at Iowa and at Michigan State, the Wildcats have a better record on the road (2-0), than they do at home, (1-3).
Northwestern has won their past couple Big Ten contests away from Ryan field, but Indiana is the polar opposite, coming into this contest after losing their past two conference games against Ohio State and Nebraska, respectively. Granted, those are two top-ten teams in the country but IU had a legitimate chance to beat both of those teams.
Matchup to watch for 
The main mismatch in favor of IU is at the wide receiver position. Northwestern's corners are extremely weak. Starters Matthew Harris and Keith Watkins II have been injured for the main part of the year, forcing youngsters Trae Wiliams, Alonzo Mayo and Montre Hartage to fill in.
Ricky Jones, Mitchell Paige and Nick Westbrook should have a field day against this group. Their corners give up big plays and Lagow needs to take advantage of that right of the start. Northwestern has the worst pass defense in the Big Ten by far at 276.3 yards per game, the next closest team being Michigan State with 229.7 yards per game. Indiana has the second best passing offense in the conference at 285 yards per game, but have struggled to find to convert in the red zone.
It will be of the utmost importance to attack Northwestern's secondary because their daunting front seven may make it difficult for Devine Redding and the running game to get going.
NU offense coming to life
For a team that only score 7 points against FCS foe, Illinois State, the Northwestern offense is back to its old ways of scoring the ball in their spread offense. They scored 38 points at Iowa and 54 points in East Lansing last week against the reeling Spartans.
The main catalyst has been the connection between quarterback, Clayton Thorson and wide out, Austin Carr. Thorson connected with Carr for three touchdowns at Iowa and 2 touchdowns and 130 yards in their win at Michigan State. There have been some flashy plays, especially this sweet diving touchdown against Iowa.
While Thorson and Carr have been connecting more recently, one factor has stayed consistent over the season, Justin Jackson is the main ball carrier. Tom Allen and the IU defense will be sure to prepare for Jackson, who goes into the contest as the leading rusher in the Big Ten at 116.3 yards per game. Tegray Scales and Marcus Oliver, two of IU's leading tacklers, will surely have their hands full with Jackson come Saturday.
This is a game that Indiana has to win if it wants to go to bowling for the second straight season. This Northwestern team is beatable, if Indiana's defense can step up and stop the Northwestern connection of Thorson and Carr. Indiana needs to throw the ball. Kevin Wilson has been reluctant to trust his quarterback in crucial situations, running the ball on 3rd and 10 multiple times in opposing territory, seeming to settle for field goals.
Taking advantage of Northwestern's inexperienced corners is a must if Indiana wants to win this game. However, Indiana's offensive play calling has been suspect all year long and sadly I don't see Wilson changing his ways this late in the season. Too many field goals, not enough touchdowns.
Indiana 26, Northwestern 31
More from Hoosier State of Mind
This article originally appeared on