Indiana Football: Twitter Reacts to Kevin Wilson Dismissal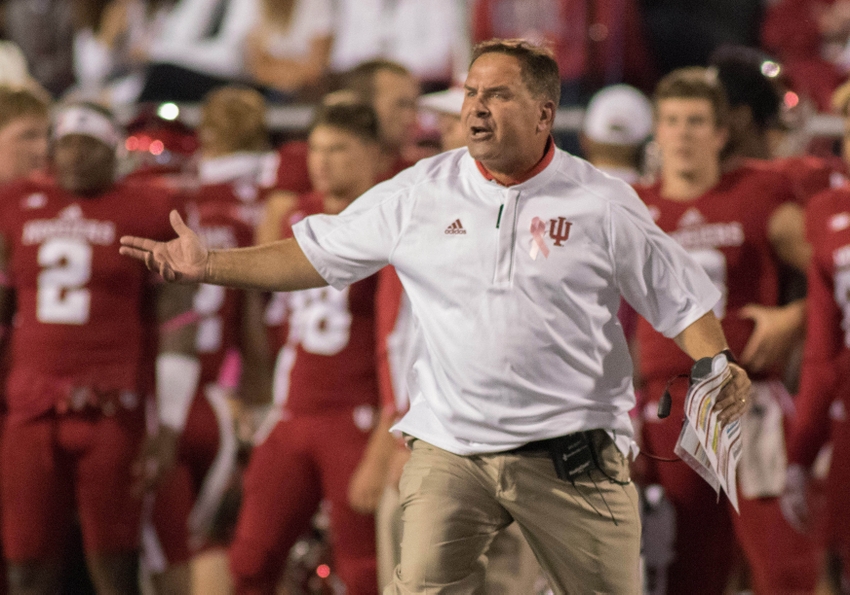 Shocking news coming out of Bloomington today; Indiana football will be looking for a new head coach, as Kevin Wilson has been dismissed.

After the recent win on Saturday against rival Purdue, Kevin Wilson has been notified that he will not continue with the team. As first reported by the Indianapolis Star, the decision comes from multiple reports of players being interviewed about the behavior of Wilson to the team.
Wilson started in 2011 as Head Coach of the Indiana football program, and most recently saw success in bringing the Hoosiers to presumably back-to-back bowl games since the 1990-91 seasons. As the news continues to fly around the sports world, more and more players and journalists have taken to Twitter to voice their opinion on the decision.
ESPN's Mark Schalbach tweeted about possible issues among the team in regards to Wilson's treatment of players.
Former Indiana player told ESPN on Thursday that he & at least 5 other IU players interviewed about Wilson's treatment of players

— Mark Schlabach (@Mark_Schlabach) December 1, 2016
Former IU player suffered concussion in practice b4 '15 season. His father said son was rushed back to workouts & symptoms went "haywire"

— Mark Schlabach (@Mark_Schlabach) December 1, 2016
Gabe Ikard, Center for the Cleveland Browns played under Kevin Wilson in his time at Oklahoma as offensive coordinator.
Kevin Wilson once ripped my buckled helmet off my head, spit on my jersey, & punched me in chest during practice.

But the guy could coach.

— Gabe Ikard (@GabeIkard) December 1, 2016
That being said…Kevin Wilson got the absolute most out of his players. I will forever be indebted to him for teaching me what it took.

— Gabe Ikard (@GabeIkard) December 1, 2016
Kevin Wilson was just old school. Maximum effort/toughness or you don't play for him. Unreal intensity & candor. Not for the thin skinned.

— Gabe Ikard (@GabeIkard) December 1, 2016
Current Indiana Football Players have also expressed their opinion about the decision, some with more to tell.
Dominique Booth tweeted this just two days prior to the announcement:
Won't be able to hold my tongue much longer

— Dominique Booth (@3rzns) November 30, 2016
And then minutes after the announcement had been released to the national media:
A week prior, quarterback Zander Diamont had issued a statement saying that he would no longer play football after this season. The moral of the message including "I want to keep my brain", after suffering multiple concussions in his career. He issued a statement on the recent news of Wilson via Twitter:
If the reports are true about Wilson's aggressive coaching style and forcing players to play under injury, this could be a quick transition for the program. What becomes even more interesting is the 6 year extension that Kevin Wilson signed after last year's season.
Reports about player abuse stem back to the 2015-16 season, which makes most wonder why now? If there were rumblings about his coaching style and push back against the administration, why extend his contract?
Want your voice heard? Join the Hoosier State of Mind team!
The Indiana Athletic Program will hold a press conference at 6pm ET today to officially announce Kevin Wilson's dismissal from the program. It is unclear who will become the interim head coach, most are reporting that Tom Allen will take over.
More from Hoosier State of Mind
This article originally appeared on