Indiana beats Purdue in ugly contest 26-24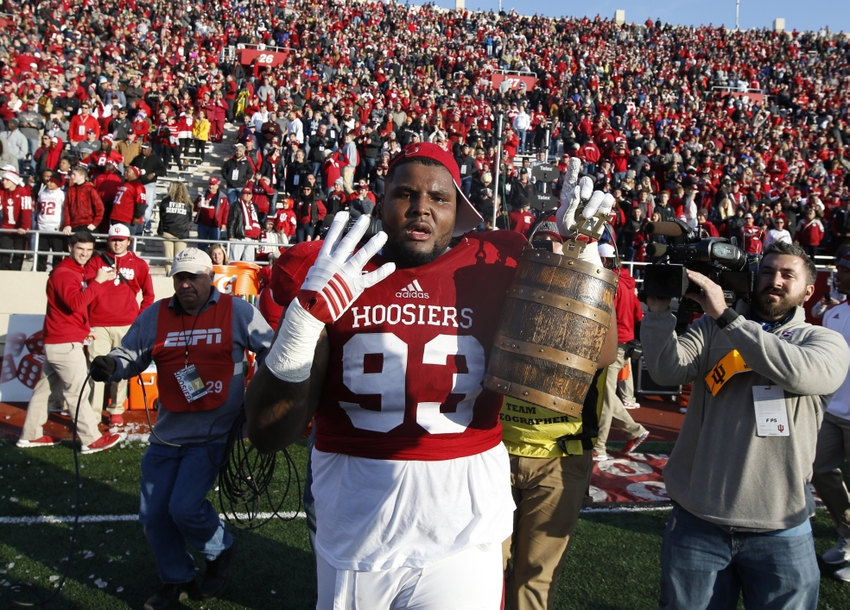 A late fourth quarter push by the Indiana offense lifted them to a 26-24 win over rival Purdue, making them bowl eligible for second straight season – a feat that has not happened in over 25 years.
This game was also Indiana's fourth straight win over Purdue – keeping the Old Oaken Bucket in Bloomington for at least another year.
Indiana is a much better team on paper, but talent seems to usually become irrelevant in these rivalry match-ups due to the other team's extra desire to win. Purdue would have liked nothing better than to snatch away the Bucket, as well as the Hoosiers' hopes of making a bowl game. That what this game is about – bragging rights for the state of Indiana.
If you are a fan of offense, then you probably struggled to enjoy this contest. Both teams combined for just more than 500 yards, and turned the ball over 7 times. The game failed to produce a 100-yard rusher or receiver, and both quarterbacks were held to less than 230 yards. Purdue threw two interceptions, and Indiana threw 4. It was ugly.
Somehow, though, Indiana got it done. One big part was the performance of sophomore defensive-back Jonathon Crawford. Not only did Crawford come away with 2 interceptions, but he also played tight coverage, blocked an extra-point and recovered the game-ending fumble on the final kickoff.
Another was the pressure brought by the front four, with a special shout-out going to Ralph Green III, who only managed to record 3 total tackles, but was constantly hurrying Purdue's quarterback into bad throws. Linebackers Marcus Oliver and Tegray Scales picked up right where they left off, combining for 18 tackles, including two crucial late sacks to make things extremely tough for Blough and the Purdue offense.
More from

Hoosier State of Mind
It was fitting that Indiana's defense was able to close out the game. They deserve all the credit in the world. If it weren't for that unit believing in Tom Allen and his new system, there is no way they would be going bowling. While the offense has been good at times, it has been less than what Indiana fans have come to expect over the last few seasons.
In the end, it doesn't really matter how they got the win, but that they got it. Kevin Wilson said he knew Purdue was going to give them a good contest because that's just how these types of games go. The team finished with the same record as last season, but you can't help but think that this year was a step in the right direction.
With such a young defensive unit, they will continue to perform at a high level for a few more years, and it is probably safe to assume that a lot of defensive recruits will want to come and play for a coordinator like Allen. Meanwhile, I can't imagine that Indiana's offense will ever be as sporadic as it was this season. Wilson always gets the best out of his players, and a lot of them were experiencing playing in the starting unit for the first time. They will improve.
This seems to be the start of something really positive for the Hoosiers program. The next step is obviously to bring home a bowl trophy. Hopefully their four losses to top-ten teams gets taken into account when they get selected for a bowl, and they get matched up against a worthy opponent.
More from Hoosier State of Mind
This article originally appeared on