Illinois Football: What Is a Successful Tenure for Lovie Smith?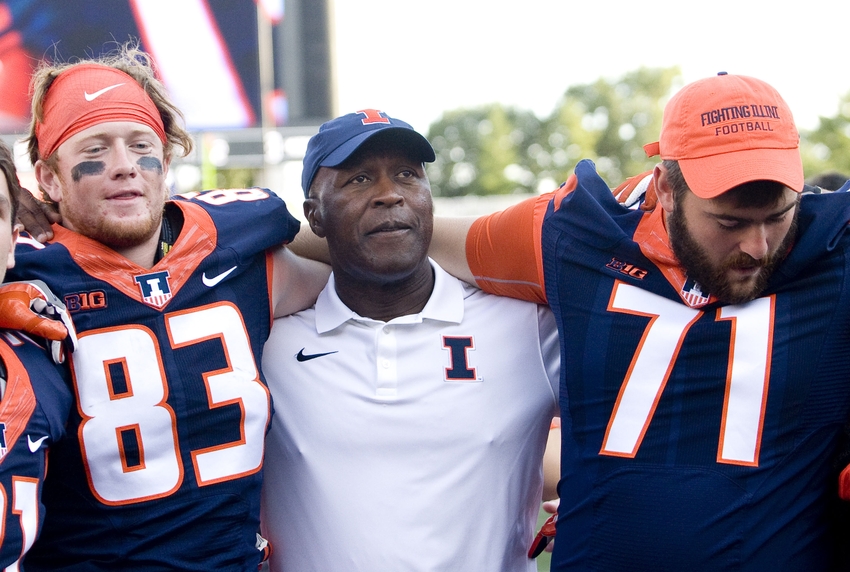 When Josh Whitman was hired and brought in Lovie Smith to coach the Illinois football team, he used the slogan we are all familiar with now…WE WILL WIN.
At first, I was beyond excited for Lovie to be the coach, and I am still pretty excited right now, despite a 3-9 season.
I have just come to realize a few things over the course of this season.
Respectability is What Matters Most
I am not asking Lovie to bring home a National Championship, I am not asking Lovie to bring home a Big Ten title and I am not even asking for a Big Ten West title.
I am just asking for respectability. Illinois fans do not ask for much, but we do ask that our football program is decent and gets to bowl games.
Illinois Football: Good Luck Desmond Cain and Your Future In Football
In-State Recruiting is HUGE
How frustrating has this been Illini fans? We watch big in-state recruits leave Illinois to go elsewhere.
Lovie has to do a good-to-great job at recruiting these in-state prospects. I don't even think that the recruits even need to go here necessarily, but I do believe that Illinois should be in their Top 3 on signing day.
If the Illini want to compete well in the Big Ten, it starts in the state of Illinois.
A Good Recruiting Class for 2017 is Vital
When was the last time Illinois football had a recruiting class to be excited about?
It is hard to recall, and with the recruiting success of Illinois basketball, Lovie should be looking to bring in a solid class in 2017 and really try to get the entire fanbase fired up.
Lovie may not be a good recruiter or he could be an awesome recruiter, the jury is still out.
The recruiting class for 2017 will give fans a good idea of what's to come. I really hope that Illinois lands some solid recruits and gets it going again.
Give Us Some Good Memories
I remember exactly where I was when Illinois knocked off No. 1 Ohio State Buckeyes. It was a surreal moment, and one I will never forget.
That is an example of something I want from the Lovie era of Illinois football.
Even if the teams he puts on the field are not challenging for a playoff spot, I want to remember some awesome wins when it is all said and done. Beat some teams you shouldn't, and Illini fans will be pleased.
Recap
Illinois Football needs to be respectable, they need to recruit well and recruit well fast, and they need to beat some teams they probably shouldn't.
Now that is what I would call a successful tenure at Illinois for Lovie.
This article originally appeared on