Illinois Football: The Lovie Smith Era Is Bigger Than This Season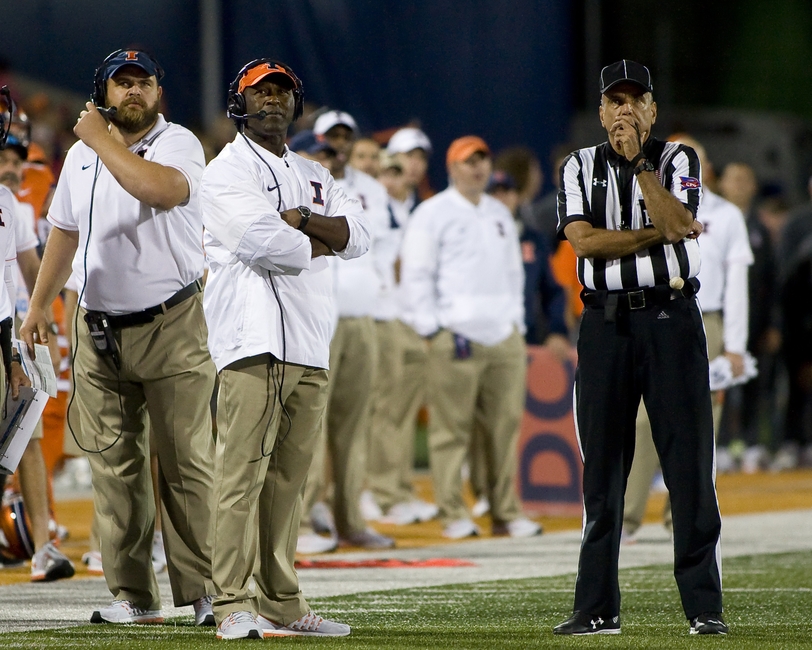 The loss last week against the North Carolina Tar Heels was tough for the Illinois football faithful.
This was a game that Illinois Fighting Illini fans had marked on their calendars for about a year now.  We then circled that game once Lovie Smith was hired to tell where the program currently sits.
Illinois was within eight points in the fourth quarter of that game against the Tar Heels.  I feel like most of Illini Nation knows that we are a much better team than last season.
The Illini played well in most areas and the areas that they fell short can be fixed quite easily.  But, it was a loss and that hurts the Illini's chances of getting to a bowl game.
Illinois Basketball: Mayan Kiir Could Be the Next Piece to the Puzzle
A statement was sent to me via Twitter yesterday saying it would be disastrous if the same result happened this upcoming weekend against Western Michigan.
This got me thinking, as a steadfastly denied that statement, does this person have a point?  Would this be a devastating blow if the Illini fell to the Broncos?
I am sticking to my guns on this one and saying it would not be a devastating blow to the program and all momentum we carried.
I want Illinois to beat Western Michigan in the worst way.  They need a win and I would love to see the Illini in a bowl game this season.
But if the worst case scenario happens, which is Illinois falling to Western Michigan, then it is only a bump in the highway to the real goal.
When Josh Whitman hired Lovie Smith back in March of this year it wasn't a quick fix project.  No one, not even Lovie, can fix this program overnight.
Illinois needed a head coach with staying power and the ability to mold young minds and football players.
That is what Whitman hired with Lovie.  He is a coach who will be around for years and has the name and coaching ability to bring this program from the depths of the college football universe.
Lovie inherited the same team and program that was left behind by the end of the Ron Zook era and the disastrous Tim Beckman and partial Bill Cubit era.
That isn't an easy spill to clean up, but just for a second look at the big picture people.
Just looking at the 2016 season and judging what Lovie can do and what this program will be is such a micro view.  You need to start looking at this project in a more macro view.
Let's start with the recruiting.  Lovie has 11 players signed up and a class that currently ranks No. 56 in the nation for 2017.
That is an impressive feat considering he was just hired six months ago.  He also has multiple 4-star recruits signed up depending on what recruiting site you look at.
Now let's take a look at the team on the field.
There is an extremely small sample size to look at here, but you can just take one game into account.
The Illini were within eight points in the fourth quarter against a North Carolina team that should be ranked in the top 25.
Just roughly 365 days earlier and with the same team, Illinois fell to North Carolina 48-14 in which they were down 27 to start the fourth quarter.
I don't care what anyone says on this matter, the Illinois football team is greatly improved thanks to the hiring of Lovie.
So, would a loss this weekend to Western Michigan hurt Illinois' bowl chances?  Yes, it would but it wouldn't kill momentum or what Lovie and Whitman are building.
This Illinois football program, no matter the result this weekend, is heading in the right direction and I can't wait until we reach that ultimate goal.
This article originally appeared on